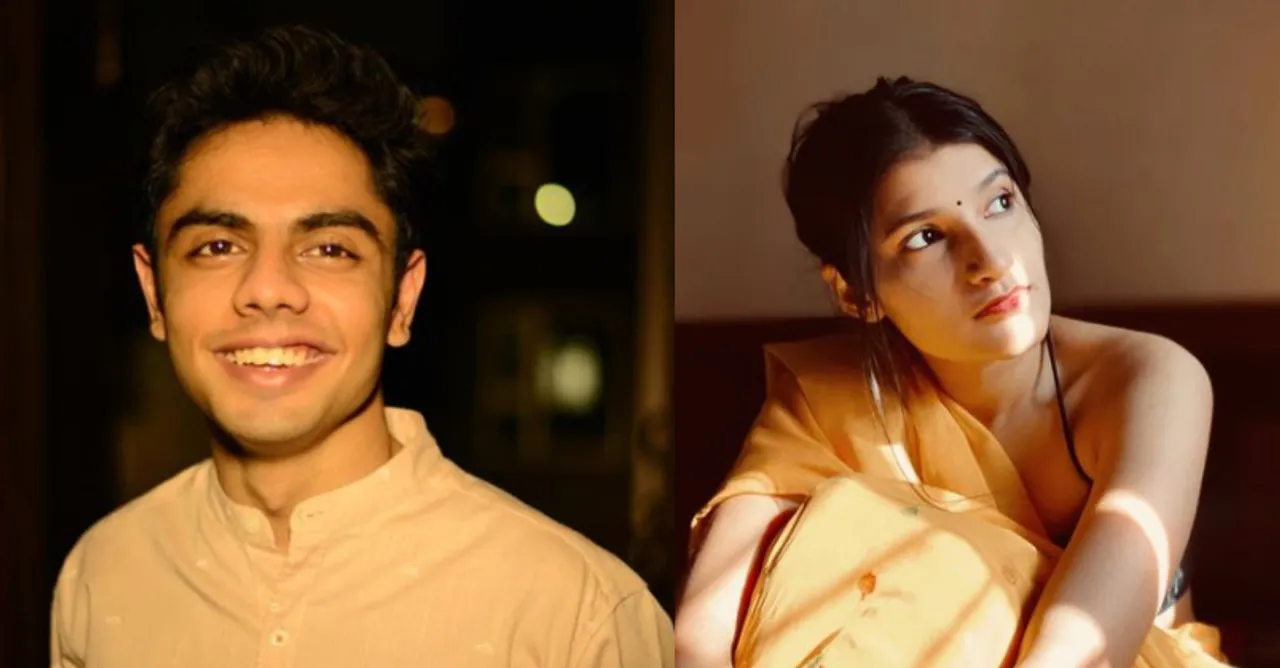 These spoken word poets not only write beautiful poetry but are also a pro when it comes to reading them out loud. Their voice is gorgeous, the tone is apt, and listening to them is nothing but music to ears. 
Writing poetry is an art! But you know what makes it even more soothing and impactful? Well, it's the magic of the poet's voice as well as the way they represent it. These spoken word poets on Instagram are not only writing breathtakingly beautiful poems but are also leaving us enchanted with the right visuals and background music.
1. Gunjan Saini
Gunjan Saini is a poet who'll leave you awestruck with her sweet voice and meaningful poems. Her poetry on 'Ved' is a must-watch. Gunjan writes about everything, right from love, self-respect, tragedies, friendship, and almost all aspects of life, and she is really good at it. Her work is beautiful and so if you are into Hindi poetry, you should check her.
2. Viraj Kapoor
Viraj's bio reads 'A Chalta-Phirta Quintessential Hindi Film', and we couldn't agree more. On his feed, you will see him reciting his beautiful Hindi poetries in the backdrop of some classic Bollywood movies like Rockstar, Jab We Met, KKKG, Veer Zara, and many more such films. His voice has depth and we love how he changes his tone in each video.
3. Taabeeraa
Taabeeraa is a writer who seems to be in love with the Urdu language. She is currently doing a series by the name #300urduwords and making reels explaining different Urdu words. Her poetry has many layers and it's mesmerizing to watch it unfold itself as she speaks. She also keeps posting poems and ghazals of different Urdu poets and her feed is a mix of everything Urdu.
4. Ishpreet Balbir
Ishpreet Balbir is a writer and his feed is all about kahaaniyan aur kavitayein. He talks about modern love, self-love, relationships, and everything that love has to offer. His feed is flooded with his videos that are so well shot that they make his poems sound even better. Check his work to know what we are talking about.
5. Old School Bastard
Nitin Jai Singh Siwach, a.k.a Old School Bastard, is celebrating Bollywood, its iconic characters, and Urdu poetry with his soulful voice on his social media. He calls himself a poet on a Motorcycle and is taking us on a poetic ride with his amazing work.
6. Yahya Bootwala
We all have watched 'Shayad Wo Pyar Nahi' on repeat and let's also agree Yahya Bootwala has never disappointed us with his poetry. His voice is sweet, his words are precious and so when they both combine we can't help but fall in love with his poetry again.
7. Amandeep Singh
Amandeep Singh is definitely winning hearts with his mesmerizing shayaris and kavitaye. With more than a million views on his videos, he has become a favourite of every Hindi poetry lover. Watch him spill some beautiful poetry in the backdrop of empty roads, train compartments, his room, or local places and get lost in the world of poetry.
8. Priya Malik
Priya Malik is not an unfamiliar name among poetry enthusiasts. We love her work and the way she recites them. Other than performing for various spoken poetry events, she also makes some aesthetic and very soothing videos, where she recites her kavitaye in a unique way. These videos have themes and simple concepts that go very well with her poems. Check her out to enjoy your tea with some good poetry.
Did we miss other spoken word poets? Tell us in the comment section below!
For more such stories follow Local Samosa on Facebook,  Instagram,  Twitter, and Telegram.