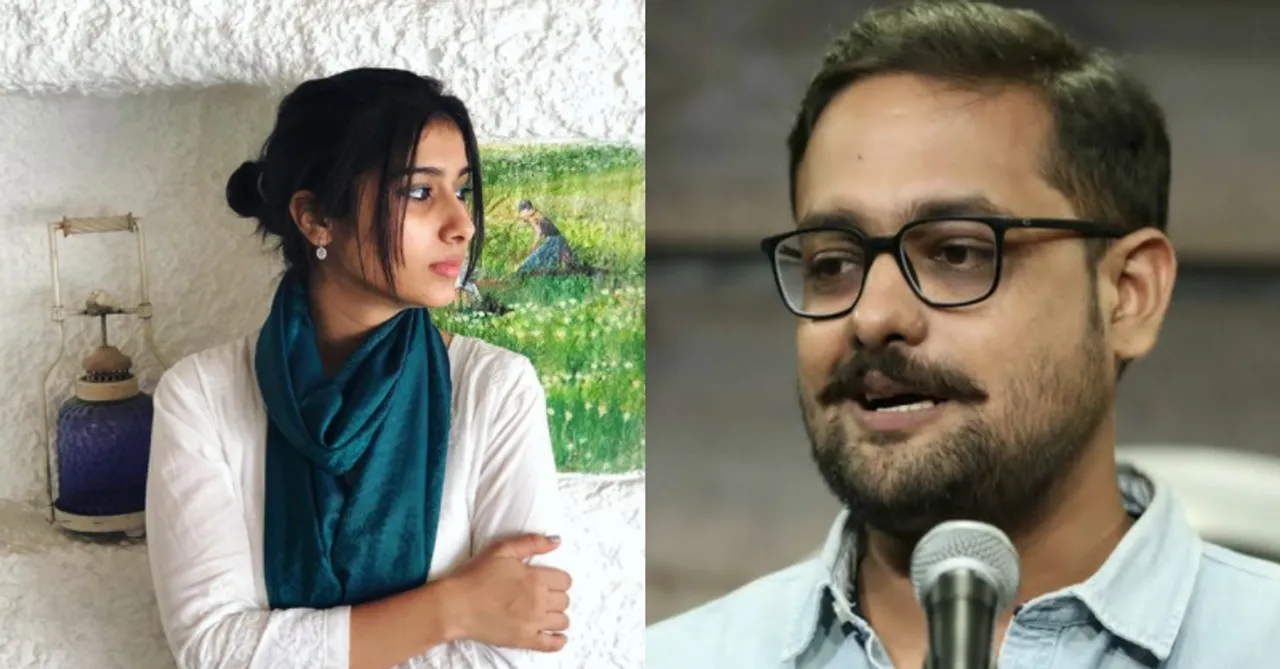 If you find your solace in poetry, and listening and reading Kavita leave you in awe, then check these must-follow contemporary Hindi Poets on Instagram to get yourself immerse into a rhythmic and poetic ocean of words.
Writing poetry is indeed an art and requires someone who knows the layers of poetry writing and the language well. These must-follow contemporary Hindi Poets on Instagram are writing those poetic gems that will leave you saying 'Waah'. Dive into these poetic lakes if you love how the arrangement of words portrays various feelings beautifully.
1. Gaurav Tripathi
Gaurav Tripathi, aka Gaathi Writes, will leave you enchanted with his work. His Kavitas are thought-provoking, and the way he reads them will keep you hooked until the very end. We suggest you check his 'Ghalib hawalaat me hain', Almaari, and My friend from Kashmir as they are some of our favorites!
Check his work here.
2. Rakesh Tiwari
Rakesh Tiwari is a rhyming Poet, storyteller, and TedX speaker. This talented Kavi has over 50+ poetry collaborations with leading Spoken word platforms garnering over million views. He has been featured in podcasts of poetry and stories with Jio Saavn and Spotify. We are in love with his Chaand Par Kavi, and the latest Zindagi! Check his work here.
3. Zubair Ali Tabish
If you are into poetry, ghazal, and couplets, you should check Zubair's work. There's an energy in his persona that he oozes, and his work is an amalgamation of romance, philosophy, and emotion. We can't stop listening to his Ab wo mere sath nahi, and Mohabbat do qadam par thak gayi hogi. Follow him here.
4. Arunendra Kumar
Along with writing poetry, Arunendra Kumar also promotes fellow young poets by conducting events through his initiative 'Ek Khwaab'. His couplets are worth listening to, but we also suggest you check him narrating different stories on his Instagram account. Check the amazing work of this young poet here.
5. Geet Chaturvedi
Geet Chaturvedi is one of the must-follow contemporary Hindi poets for all right reasons! He is an author, writer, journalist, and columnist. His feed is aesthetic, with poetry beautifully written in Devanagari on his diary, and it's a delight to stop and read each post! See his work here.
6. Saru Singhal
Saru Singhal is a passionate storyteller, and we love how she narrates stories through short couplets. Her Instagram feed is aesthetic with her poetry typed in Devanagari accompanied with images. Saru mostly talks about love, friends, feelings, and we find most of her work pretty relatable. Follow her work here if you are a sucker of two-liners, and still keep them as your WhatsApp status!!
7. Swastikaa Rajput
Writing a good poem is an art, but performing in a way that can reflect its beauty is an equal art too, and we love how Swastikaa Rajput does it flawlessly every single time. Her voice makes her poems even more pleasing, and if you are someone who likes to hear poetry with soothing music in the background, then you should hear Swastikaa at least once. Watch her performing here.
8. Akhil Katyal
Akhil Katyal is a writer and poet who writes in Urdu, English, and Hindi. His poetries and couplets are a piece of art and will leave you wanting more. He also posts various poetic gems by other poets, and that is another reason, why we love scrolling through his feed. Check his work here.
9. Faizan Anjum
Fire! This young Kavi is on fire! Meet Faizan Anjum, who is a poet and a journalist, and someone whose work is quite thought-provoking. He has been featured on many spoken poetry events and is a known name among Hindi lovers. We love his confidence and the way he reads his poetry! If you are in a mood to hear some rebel kinda poems, do check his work here.
10. Nayab Midha
Nayab Midha is a spoken word artist and finds passion in connecting people with words and poetry. She has been performing for more than 3 years now, and there's a lot to listen to from her pieces. Some of her must-listen pieces are ' Kya Ek mulaqaat kaafi hai, Tum Khoobsurat Ho, and Ishq Behisab Ho'. Watch her create magic here.
For more such stories follow Local Samosa on Facebook,  Instagram,  Twitter, and Telegram.