Coconuts have been a major part of agriculture in Kerala, and Maria Kuriakose, the founder of the online store, Thenga Coco, is making sure to make the most use of its shells by creating sustainable products out of it.
Our motherland, India, has always been famous for having in abundance, various resources that, if utilized consciously and carefully, can do wonders for humankind. Being a native of Thrissur, Kerala, Maria Kuriakose explored the great potential of coconut shells that led her to start making beautiful and sustainable products from the shells through her online store Thenga Coco.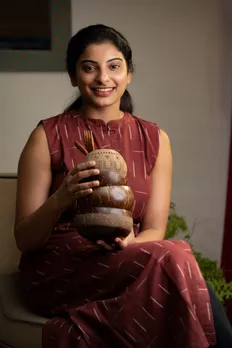 Interestingly, 'Thenga' means coconuts in Malayalam- the regional language of Kerala. And, as one enters the state, the sights of coconuts are not very uncommon. Apart from the locals using them for various purposes, coconuts are also used by industrial units and oil mills. However, what Maria observed is the fact that these units often leave the shells of coconuts to go to the landfills. "Shells are considered 'waste' and people also burn the shells as fuel," she says.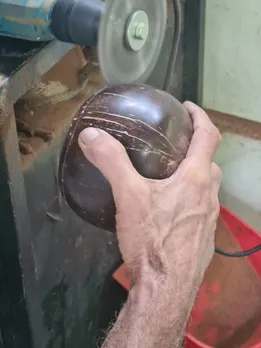 Soon upon the realization, she saw an opportunity to create useful products out of shells, making way for her to start with the coconut bowls. "The best part about the bowls made of coconut shells is that they are not only eco-friendly but also durable," she says. No doubt, why the bowls are the best-selling products for her venture. However, Thenga Coco has also been making other handmade items like candle holders, salt and pepper shakers, coconut shell container, cooking sets, planters, soap dishes, teacups, forks, spoons, etc.
The love for home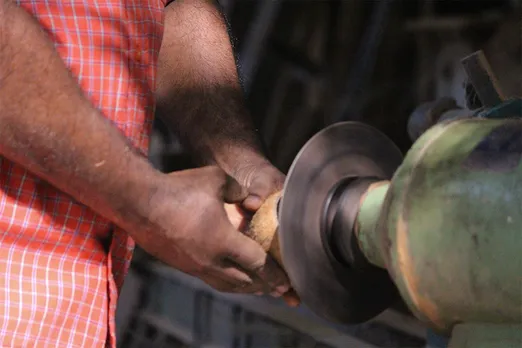 However, it was not the initial plan for Maria to indulge herself in this business. Earlier, she was living in Mumbai, studying Economics and Business Administration, and later, also worked in the same city. But that was not satisfactory for her as she was keen on giving a boost to the agriculture sector of Kerala.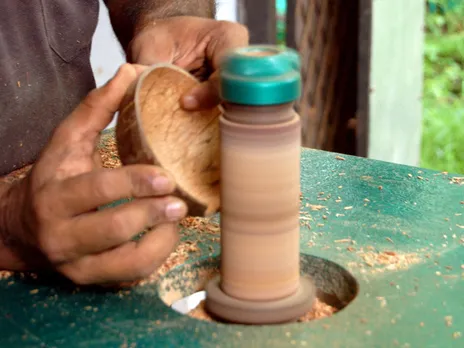 After doing research and an urge to revive the tradition of using serveware made of coconut shells, she started digging deep into it and later found a way of making the products out of it. "The process involves 'Sanding', which is essential to make the shells smooth and 'Buffing' to make shells clean. After this, we polish the surface with coconut oil," says the 27-year-old.
Even though Maria, who is currently residing in Palakkad, has various units present in different parts of Kerala, several artisans, mostly women, also work from their respective homes for the venture. The shells are collected from the oil mills and manufacturing units, after which the entire handmade process of converting them into finished products starts. The only disappointment for such eco-friendly coconut shell products, as Maria says, is that they do not sell out locally. "There is no market for such products here in Kerala. One of the major reasons could be that the shells are easily available here," she says.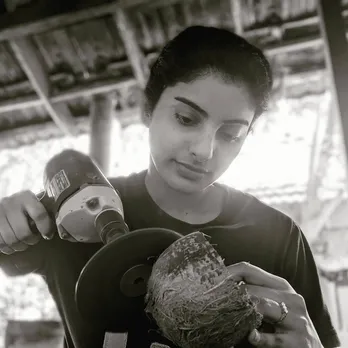 As a matter of fact, the rural and regional markets in Kerala also lack the affordability for using such products, unlike in cities. Maria says that the products sell best in South Indian cities like Chennai and Bengaluru, adding that even cities like Mumbai and Delhi have a good customer base for the products too. "The increasing culture in cities to stay healthy and opting for sustainable options also help these products sell better, especially after the pandemic hit the country," she says.
This could be the reason why her store, which was opened in 2019, just one year before the pandemic, saw a boom during the pandemic period. "People were sitting at their homes and were looking for healthy eating habits during the first lockdown, which could have aroused their interest in our products," Maria says reminiscing how people tell her that they have now been able to eat "junk food in an eco-friendly bowl" making it the biggest compliment for her!
By 2021, the brand had sold around 24,000 coconut shell products to people, including the ones who took them along to different countries to use themselves or resell over there.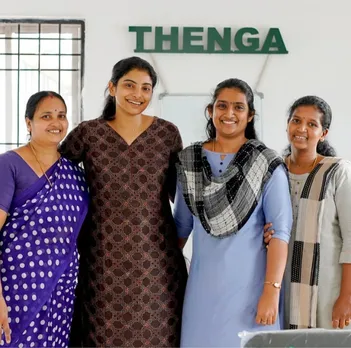 Now, working with a team of twelve artisans, out of which seven are women, Maria is not just proud of the fact that she has been able to influence the lifestyle and eating habits of people in cities, but also that she is the medium for these women on her region to earn their livelihood.
For more such stories follow Local Samosa on Facebook, Instagram, Twitter, and Telegram