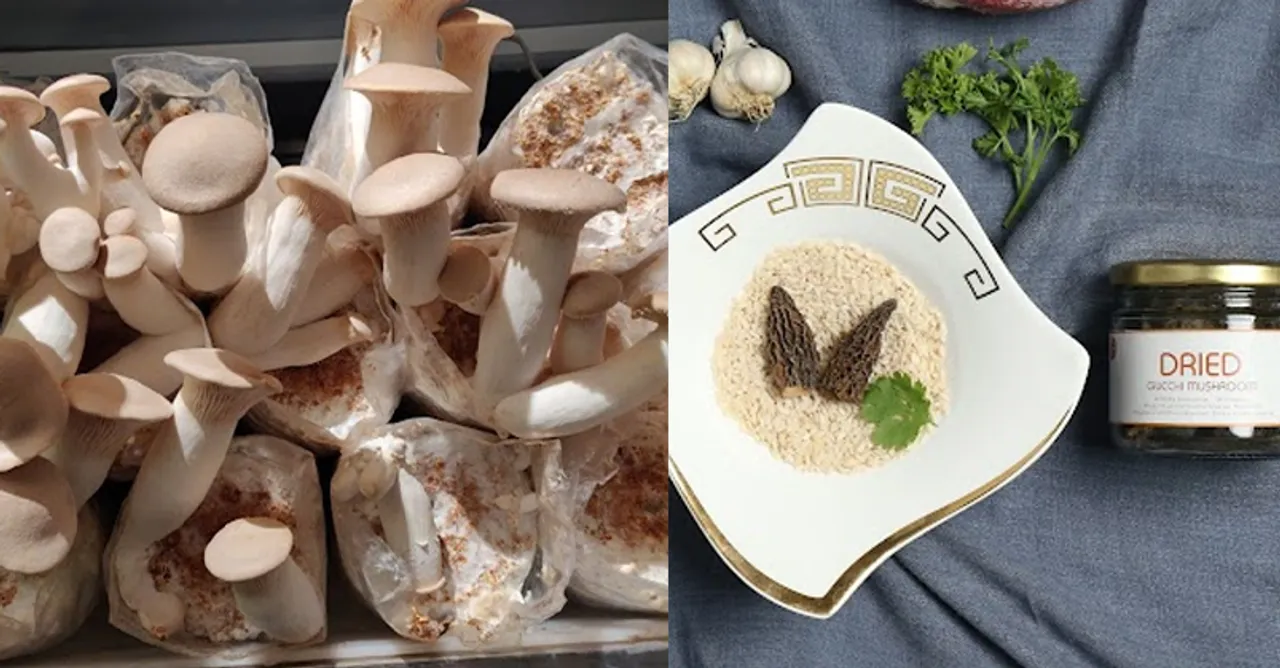 The founder of The Mushrooms Hub was engaged in researching and marketing for government policies and programs, and one day, she decided to plan for her retirement at the age of 37 and quit her job!
"When I left my last full-time job in 2017, I had reached a point of typical corporate burnout and was looking for alternate areas of work. The psychological impact of a corporate burnout is generally so deep that at the age of 37, one starts to think of identifying areas of work with which they would like to retire!" says M. She ultimately found her peace in growing a variety of mushrooms and distributing it to people through her online store, The Mushrooms Hub.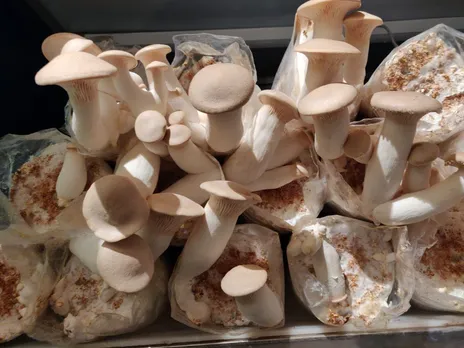 Based in Gurugram, the products available in her store are 100% chemical-free and do not have any chemical preservatives either. People often go in awe of some of her best-selling products like mushroom soup premix, mushroom powders (Oyster, Shiitake, and Portobello variants), and dried mushrooms of all the above three types. "The kind of unique variety that we offer is quite rare in the market, especially for the mushroom lovers, who often look out for dried imported alternatives," says M, as she doesn't want to disclose her name.
With no background to a master of business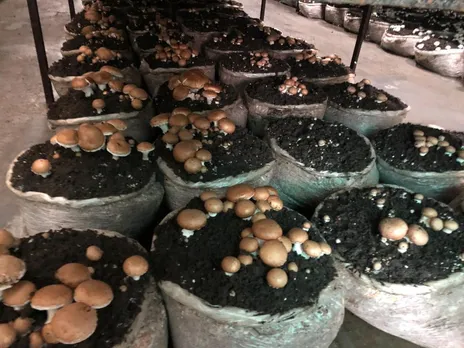 M worked as a consultant to government entities where her work included research and marketing for government policies and programs, in both domestic and overseas markets. She has also worked with a few private organizations, mainly in the digital marketing space. But all that had to end for her in 2017, as she started making her retirement plans at just the age of 37. "I created an online platform for crowd-sourced vernacular comedy content and within a few months, realized that this is another rabbit hole, which I would not want to dig deep into," says M about her first venture.
"A point of breakthrough came when my husband randomly mentioned about a mushroom farming course that he applied to (out of his boredom of job) and got rejected. That idea struck me and I started researching more about that. I applied for the next batch of the course in November 2017 and was rejected. And then, I made it my life's mission to get enrolled into the next batch, which did happen in April 2018," reminisces M.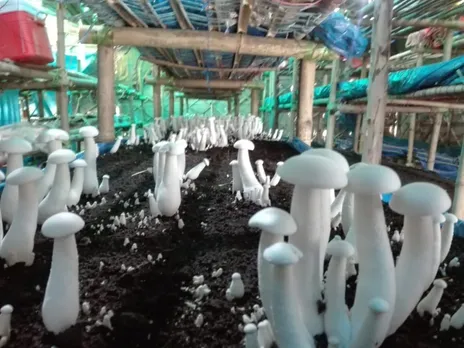 As she came back from the training program of 7 days, she started experimenting in a rented room but failed in all her attempts to grow mushrooms till August 2018, after which on one rainy day, she harvested 5 kg of White Oyster Mushrooms for the first time. However, to start a business was not as easy as it seemed to M as she did not have any background in farming, except for the 7-day course from Solan, Himachal Pradesh. "I come from a family of pure service class people, who are mostly satisfied with getting a salary at the end of each month. And here, I was not just venturing into a business, but to top it all, agri-business. In hindsight, I now see how challenging my first year of business was," says M, adding that she had a shoestring budget for everything as she had lost most of her savings in an earlier online portal project. "From second-hand drums to working alongside labour to save a salary, I have done everything one can think of to survive my first year of business," says the 41-year-old.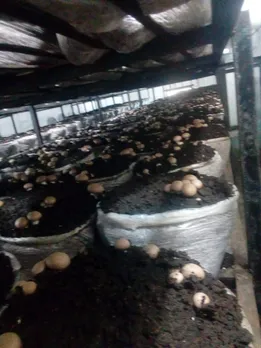 Now, after three years, M not only loves her work, but also explains the process of harvesting mushrooms, even though the process differs with the variety. She explains the first step is to prepare base media and bag it. "It could be compost (for the button, portobello and cremini). Compost is generally taken readymade by smaller growers and made in houses by larger growers. It could be wheat straw, sterilised by steam or a chemical method (for Oyster, Milky etc). Wheat straw is available in straw mandis or taken directly from a wheat farmer nearby the farm," she says, mentioning that it could also be sawdust, prepared to create artificial wood logs using an autoclave (For shiitake, King Oyster, etc). "Sawdust is sourced from furniture manufacturers or bigger factories in outskirts of Delhi making matchsticks," M says.
The second step says M is adding Spawn(the seed of mushroom). "Spawns are not available in regular seed shops. Specific labs make these on a requirement basis as these have a shelf life of 30 days," she says, who, in January 2019, had another training from Solan on spawn making. Moving ahead with the third step is the incubation period, for which M says, "This is a period required by mushroom bags for spawn (or technically mycelium) to spread through the base media in the bag. Some varieties of mushrooms need another period of the case run after this."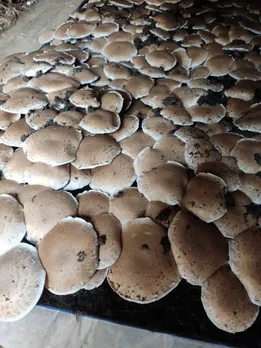 About the fourth step that she also names the "pinning period", she says that during this time, certain variations in CO2 (Carbon Dioxide) levels, fresh airflow, and temperature are done to introduce pinning (baby mushroom pinheads). "Think of this as an equivalent of sprouting in regular farming. Some varieties also need something called scratching, quite literally like scratching the surface of a bag to introduce pinning," she says. Then comes the fifth and the last step of "fruiting and harvesting", and M states, "Different mushrooms take a different number of days to develop into a full fruit body and once mature enough, they are harvested."
Self-delivered during the second wave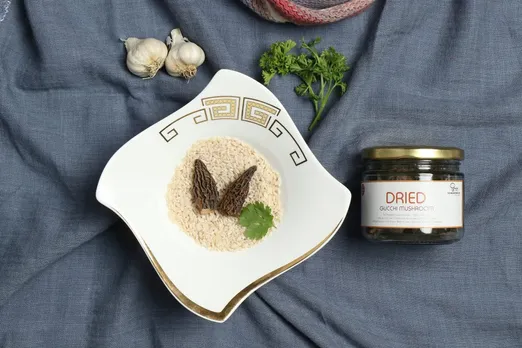 Like all other businesses, even The Mushrooms Hub was impacted due to COVID-19. "During the second wave, when so many of our local Delhi NCR regular customers were unwell and quarantined, I used to get so many calls for the desperate supply of mushroom soup premix as it was one healthy, filling snack that one could make easily, while locked up in a room. However, my delivery boys were also either sick or were not issued a movement pass. I, fortunately, got a pass and I remember making so many deliveries personally myself. It was so satisfying to receive gratitude messages later," M says.

The Mushrooms Hub has recently done a soft launch of three new products called the Umami Seasoning, Umami Spice Mix, and Umami Pasta Blend. Explaining the products, M says, "Seasoning is a granular mix of rich mushrooms, full of flavour and add a punch to your soup, pasta, egg, bread and everything you put a regular seasoning on. The spice mix is a powdered version to add to any dish for a punch of umami flavour. Simply add to your gravy, risotto, vegetable stock, soup etc and get everything mushroomy without any effort. Pasta blend is your healthy base for making a white sauce with a mushroom flavour for your pasta. And important to know is that it doesn't have any corn starch in it!"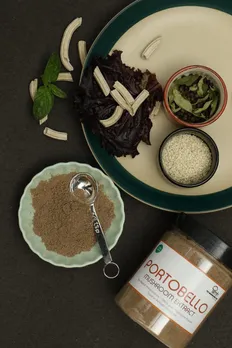 On why she decided to try her hands at the mushrooms business, M says it was more of a gut feeling for her and something that drew her towards the fantastic world of fungi. "I had also done some initial research which indicated that mushroom farming can be done with comparatively lower budgets and without owning land of your own as it is done inside rooms. And, I didn't have money and land, both!"
"My biggest motivation was that I wanted to do something that didn't require me to sit in front of a laptop for 20 hours a day as well as do something more meaningful in life like helping people improve their health with food," M adds.
For more such stories follow Local Samosa on  Facebook,  Instagram,  Twitter, and Telegram.