Gajraj Singh Kachhawa has been feeding nutritious food to dogs for the last 10 years. And in 2022, he took it to a new level. He officially started selling food packages for stray dogs through Bejubano ki Rasoi at a mere cost of Rs 5.
Most stray dogs and cats get their everyday food from leftovers from restaurants, homes, and eateries. And due to the COVID-19 pandemic, many restaurants had shut down, leading to even lesser means for dogs to be fed. Gajraj Singh Kachhawa, with his team of 20 people, fed 300-400 dogs during this period with healthy, dog-friendly, and nutritious food.
'Bejubano ki Rasoi'
In Jaipur's Sodala, stands a stall, 'Bejubano ki Rasoi', which sells freshly made food packages for stray dogs and cats. People can buy a 400 gm packet at just Rs. 5 and feed these stray animals. Officially started as a stall by Gajraj Singh Kachhawa in February 2022, the initiative can feed 700 dogs a day. Mr. Kachhawa owns a club near the stall, and it is in the club's kitchen that all this food is prepared every day and sold at the stall between 6 to 10 pm. He sets up the stall himself every day.
Feed animals at just Rs 5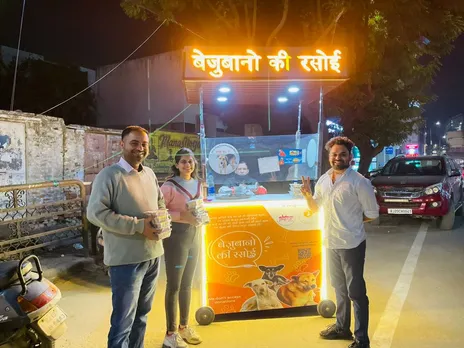 "I have been feeding dogs for 10 years and started distributing food packages to some people. The idea for 'Bejubano ki Rasoi' came to my mind when I saw a man feed a packet of Rs. 5 biscuits to a stray dog. When I told him that biscuits might be harmful to the dog, the man said it is all he can afford under his will to feed these needy animals. So, I decided to charge only Rs. 5 per 400 gm packet of food so that everyone could buy one and feed a stray", said Kachhawa. The on-cost value of a food package is Rs. 20 but is sold at Rs 5.
A nutritious food packet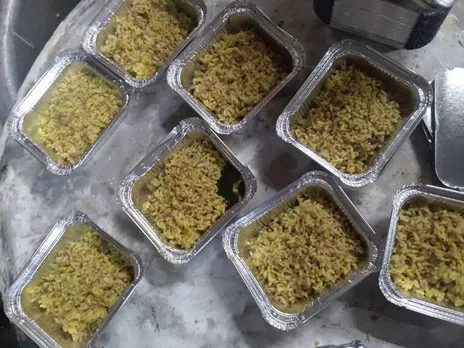 "Each food packet contains rice, paneer, soybean, eggs, eggshell powder and some multivitamins necessary for dogs and cats. Rice contains water and prevents the animals from being dehydrated, whereas paneer and egg provide the required protein," says Kachhawa. This is a dog-friendly diet that has also been approved by a veterinarian.
Expanding the initiative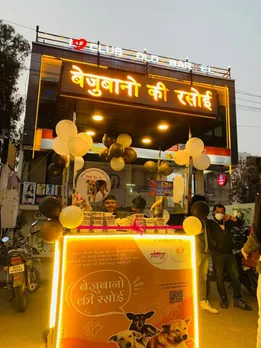 Kachhawa used to feed 100 dogs before. Today, he feeds 700 a day because of Bejubano ki Rasoi. But, he aims to feed 3000 dogs a day. To do this, he is planning to set up stalls in other areas of Jaipur like Malviya Nagar, Mansarovar, Vaishali Nagar, Raja Park, and Transport Nagar. He says, "there are many people who want to feed dogs, but don't know what to feed exactly. These food packages are a good option for those people."
Where: Pillar No. 83, Near Vivek Vihar Metro Station, Sodala, Jaipur
For more such stories follow Local Samosa on  Facebook,  Instagram,  Twitter, and Telegram.