After attending a workshop on soapmaking, retired PR professional Suchita Ullal made soaps for a year while reading and researching about the same. She gifted these soaps to her dear ones, but still, there were many left on her shelves. Later, when Suchita participated in a city fare, she sold all her soaps in just one day. This motivated her to the extent that she started her own venture, 'Suchi's Handmade Soaps and skincare products', which has been a big hit among her customers.
"I think retirement doesn't happen at the age of 60 and neither you stop working", says Suchita Ullal, a retired Erstwhile PR consultant from Bangalore, who became an entrepreneur after making soaps at home for about a year. Her venture 'Suchi's Handmade Soaps and skincare products' offers over 30 soap recipes and many more skincare products. But, it wasn't soap-making she wanted to go ahead with at first. Initially, after her retirement, she aimed to open up a cloud kitchen catering to senior citizens. But, one day, she happened to attend a workshop, and that made her fall in love with the process of soap-making.
"I used to buy these natural and organic soaps and send them to my son in Switzerland. So, after attending the workshop, I thought it would be interesting to make them at home. So, I looked for a teacher online and found someone who was taking classes", she says.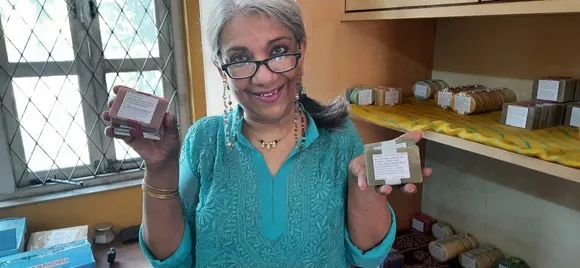 For the next year, Suchita Ullal kept making soaps with the Cold-pressed method. By the end of 2016, she had a massive stock of soaps of different combinations. She started gifting them to her friends and family, yet there were plenty of them left. One day one of her friends suggested Suchita take part in the local fare where she ended up selling all the remaining soaps.
"That's when I sensed an opportunity and thought the time is right. So, I took it full-time thinking let's see where it goes, and eventually started making different types of soaps. In that one year, I also read up a lot on the internet about soap making. I also joined a couple of International Facebook groups that helped me a lot as far as knowledge sharing was concerned", she says.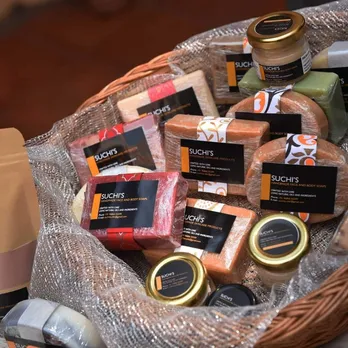 After this, Suchita kept experimenting and gradually expanded the range and today she offers 35 recipes with different combinations and ingredients. She sources all her raw materials and ingredients locally. Suchita started reading more and further experimented with ingredients like neem, tulsi, hibiscus, and gradually started adding them into soaps. With proper research and her passion, she was even able to introduce a few very unique combinations. "Banana leaves soap is something I haven't seen in the market yet. The juice of the banana leaf is very therapeutic for the skin. So we squeeze out the juice from the leaf and use it in our soap called Parna", she says.
Other than these, her catalog also features unique names and combinations like Blue Lagoon which has tulsi and vitamin E drops. Raat Ki Raani, Naani ka Pitara inspired by her grand maa, Manthan featuring all 5 ingredients of Panchamrita and many more interesting names. "My nani used to churn the buttermilk and would use the liquid that would fall out during the process. She would take that and put it on her skin. So that was the inspiration for the soap", smiles Suchita.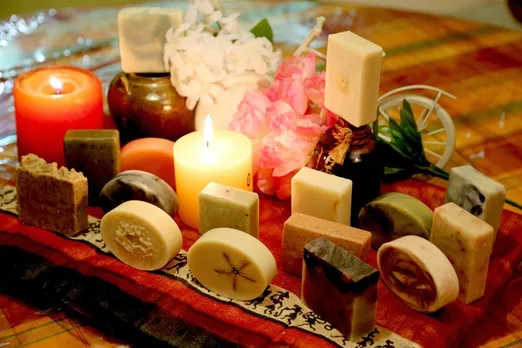 Suchita Ullal makes 3-4 batches of 18 soaps every single day. The process is simple but requires patience and a lot of knowledge. Since it's a cold-process method, there is no heat involved, and all she needs is a pot and her ingredients.
"The most important part is mixing the lye which is a combination of caustic soda, edible oil, and other ingredients. So, we start by mixing them together. After which we set them aside for saponification to complete and for water to evaporate out. Saponification is the chemical reaction between the lye and other ingredients to form the soap. It takes about 4 to 6 weeks for the soap to dry and the lye to be totally transformed", she says.
These final products, a.ka. the soaps, even have glycerin in them and that's the reason why they are softer than the commercial soaps. "So, in a nutshell, we start by making the lye. Then we cool it down so there's a cooling period in between. And, then mixing and pouring takes about 15-20 minutes. The entire process takes 45 minutes and we make 18 soaps in each batch", explains Suchita.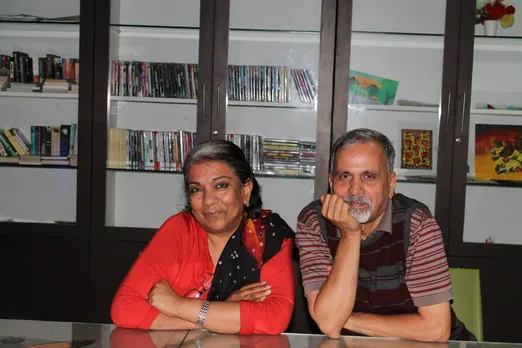 According to Suchita, soapmaking and especially cold-pressed is not very labour intensive. However, it's a continuous process and requires her to work every day. "My husband helps me out as he likes the process of making the soap and chemistry behind it. Besides that, I have a girl who helps me with packing. I hope to train her and bring her into the soap-making process in the future", she further adds.
Currently, Suchita is making more than 30 types of soaps along with a range of skincare products like lotion, body butter, scrubs, shampoo soaps, and more. Every month she sells out around 500 such products in different parts of the country, including cities like Mumbai, Pune, Delhi, Varanasi, Kolkata, Bhopal, Dimapur, and Vizag. She sources all the ingredients from a few trusted vendors and uses handmade papers to pack the products. " We have enough suppliers. The fragrances come from Bombay and Delhi, while I buy the expensive oils like almond and apricot kernel oil from a company in Delhi", she explains.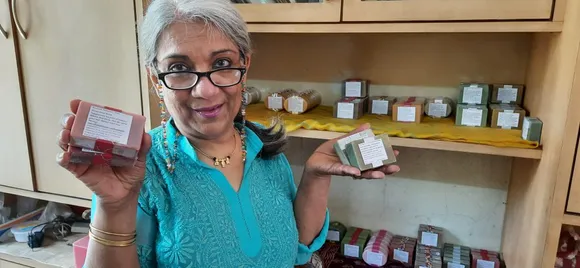 The feedback Suchita has been getting is also very positive and there have been various instances where her customers tell her that the products have been really helpful. "There was this lady who pulled her daughter towards me when I was going somewhere. She told me that her daughter had eczema and it got better because of my products. There was another girl who came and said her skin had become blemish-free. I get such positive feedback on WhatsApp too. And, it really gives me the motivation to discover the next stop", she smiles.
During the first lockdown, Suchita didn't get any orders, but it gave her ample time to come up with new products. She took it as an opportunity and came up with lotions, body butter, creams, and many such skincare products. She also feels there's enough space for everybody in the market. If you offer an honest product and win the trust of your customers, there's no going back for you. "Start small, keep your price competitive, fulfill the promise, and don't go for profits immediately. Keep your margins low and gain the trust of your customers, and you'll see wonders", says Suchita.
The soaps are available in the price range of Rs.120- Rs.150 and look like a good bargain. If you wish to place an order, then DM Suchita Ullal.
For more such stories follow Local Samosa on  Facebook,  Instagram,  Twitter, and Telegram.