Jaipur's first houseboat restaurant 'Zarpar' is like a slice of Kashmir in the Pink City. It was started by Suman Raina in 2017, who's a Kashmiri Pandit and offers authentic Kashmiri cuisine!
Jaipur wasiyon, if you are looking for a unique place to dine in with your dear ones, then there's one place that will give you a good vibe, a fabulous ambience, and authentic Kashmiri food, that too inside a houseboat! Sounds like a plan, right? Well, you should check Zarpar, which is Jaipur's first houseboat restaurant, and it looks like a must-visit.
Kashmiri carpets, selfie point, sovenier counter, and beautiful decor!
With an aim to promote the beautiful culture of Kashmir, Suman Raina opened Zarpar in 2017. This gorgeous houseboat has an Instgrammazing ambience and its well-thought decor will transport you to Kashmir. The restaurant feature two main parts- Deewan Khana (Fine Dine) and Pari Mahal (Houseboat).
The Deewan Khana has been adorned with plush Kashmiri carpets, wooden chairs & tables with intricate details. There are also a few low tables for those who want to enjoy the food in a traditional style by sitting cross-legged. These lower tables have Kashmir's famous Namdas and Gabbas as their flooring, where you can comfortably sit and look elegant, while Pari Mahal takes its inspiration from the Kashmiri houseboats of the Dal Lake.
A Shahi meal!
The menu is the main highlight of the entire restaurant and offers Kashmiri wazwan, a multi-course Kashmiri meal, which is a staple at Kashmiri weddings & festivals. For vegetarians, Zarpar serves authentic veg dishes like Dum Aloo, Yakhni, and Tchoki Wangan (Khatte Baingan or Sour Brinjals). Other than that, there's also Rajasthani, continental, and Chinese food for all kinds of foodies.
Making it more fun and welcoming, Suman Raina even has added a selfie point by the name ' Tasveer' where the guests can click their photos while wearing traditional attire and jewellery. There's also a counter, where one can buy handicraft items, dry fruits, and more, while one can enjoy some tranquil moments at its sweet mini-waterfall.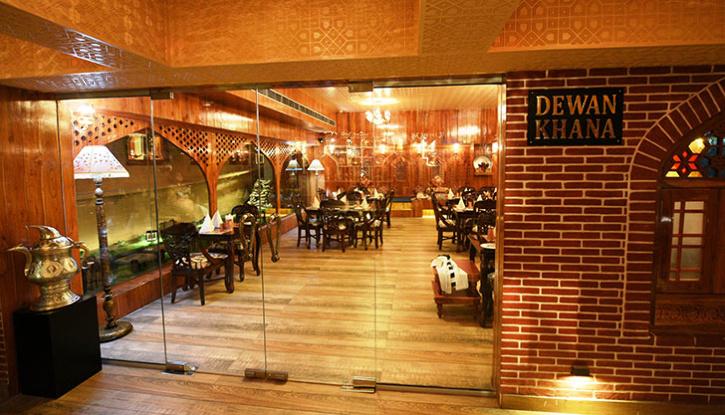 The man behind the gorgeous decor of Zarpar is Mushtaaque Ali Ahmad Khan, who's a Kashmiri filmmaker. In fact, even the cutlery and furnishing were designed and made in Kashmir so that people can have a genuine experience. Talking to a publication, Raina mentioned that she wishes to take Kashmir to the other parts of the country.
We can't wait to dig in Kashmiri food inside this beautiful houseboat. What do you think? Tell us in the comment section below.
For more such stories follow Local Samosa on Facebook, Instagram, Twitter, and Telegram.
Comments
comments