With gorgeous indoor and outdoor seatings, a delectable menu, and courteous staff, Donna Deli is our new favourite in the city!
We were on our way to Linking Road, and that's when our stomachs started growling. We quickly headed to this newly opened cafe named 'Donna Deli' and decided to spend some time in its aesthetic and cozy space. The outdoor seating area is enough for 10-15 people and has plants everywhere to give a cool ambience. As we stepped inside, the modern and chic decor made us shoot a quick reel as the vibe was just right. The menu featured Italian, European, Mediterranean, and Pan Asian dishes, and so we quickly placed our orders and were fork-ready!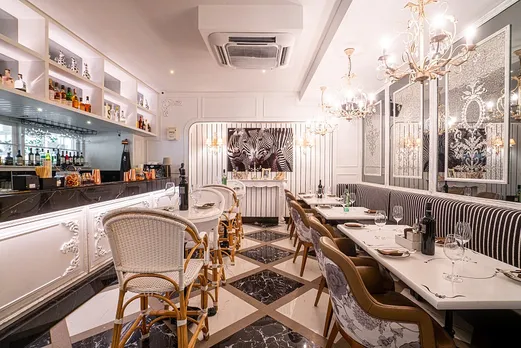 We started off by sipping a chilled glass of Donna's Gossip which is one of their best sellers. The sweet & sour flavour with a hint of orange and soda was quite impressive and just what you need to cleanse your palate. Meanwhile, we ordered a few more things. Vintage elements like old photos, candles, table clocks, and more were flawlessly combined with the chic decor. The cafe is well lit and has a lot to offer when it comes to the ambience and decor. Donna Deli is 5/5 if we talk about the atmosphere and entire vibe of the cafe.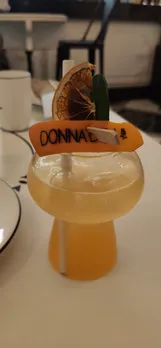 After about 15 minutes the waiter came with the plates of Ravioli truffle shuffle and BBQ Chipotle Pizza. Both the dishes were a delight to dig into. The thin crust pizza was spicy, flavourful, and loaded with chicken bits. It was just what you expect from a thin crust pizza- a lot of crispiness and enough toppings.
The Ravioli was another favorite! The truffle stuffing, the very creamy and cheesy sauce, and the soft ravioli make it a must-try. It came with a pair of crispy garlic bread on the side and we just loved this warm combination.
As the food quantity was quite good, we were almost full but wanted to try something more as the menu looked great. So, from their burger station, we ordered  Nashville Hot Chicken Burger, which was totally Instaworthy. This pink burger with a rose stamp on top of it was loaded with cheese and had a huge and crispy fried chicken inside. It was one messy bite, and those of you who love juicy burgers should definitely try out Donna Deli's burger menu.
We ended our flavour-packed lunch with a plate of Cappucino Chocolate Ganache and raspberry sorbet. This dessert was not only eye-pleasing but also very luscious. To sum up, Donna Deli is a must-visit if you want to relax, eat and drink, and want great pictures. We simply loved it!
Where: Ground floor, Manorama Chambers, SV Rd, Bandra West, Mumbai.
When: 12noon – 1:30 am 
Price: Rs.1,400 for two
For more such stories follow Local Samosa on  Facebook,  Instagram,  Twitter, and Telegram.