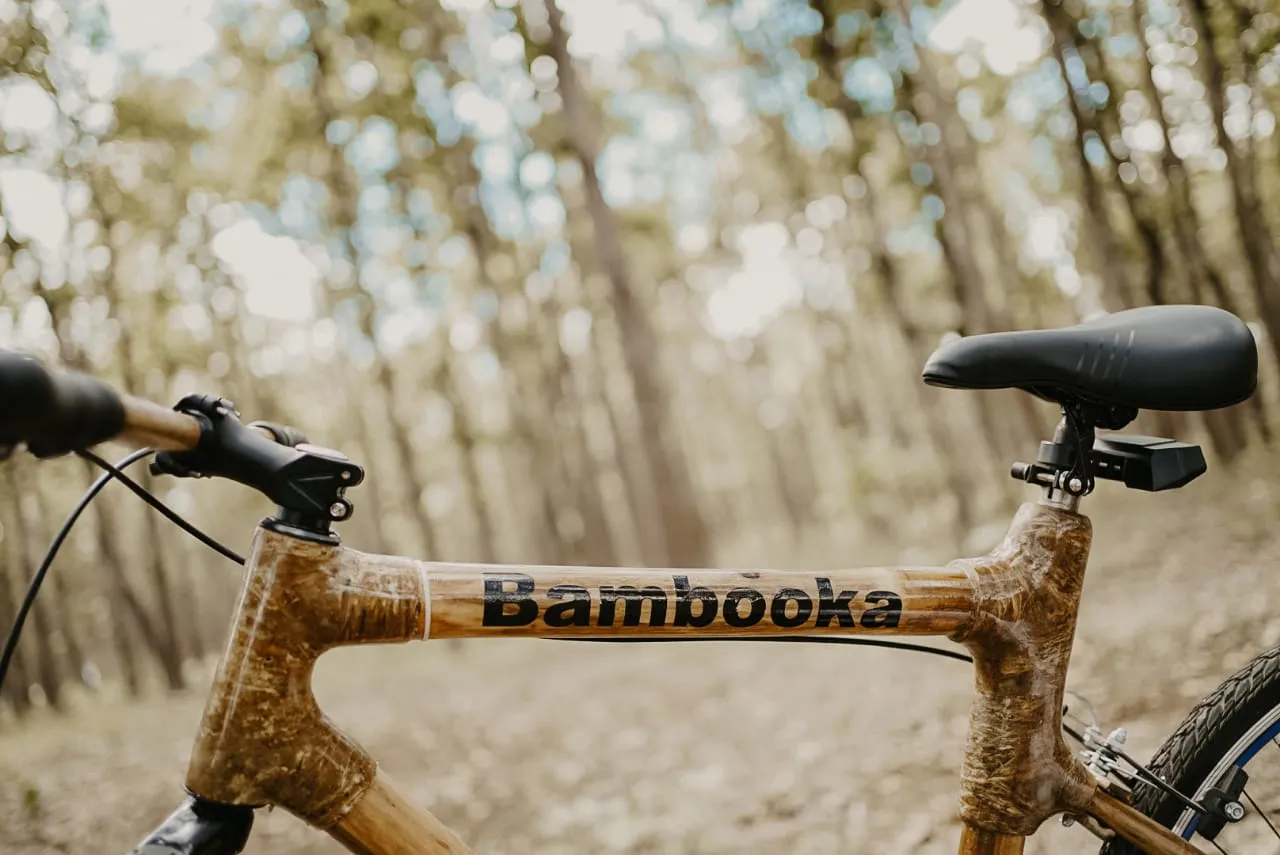 Born and brought up in the Bastar district of Chattisgarh, Asif Khan holds a postgraduate degree in Social Work. After working for Tata Trust for 6 years, he left his job and decided to come up with a business model that could provide livelihood opportunities to the tribal community of Bastar, and that's how Bambooka, Chattisgarh's first eco-friendly bicycle was created.
It was late 2019 when Asif Khan completed his term with Tata Trust and left the job to do something that would involve the art, craft, and the skilled tribal community of Bastar into something. As he was working on tourism and art & craft at his previous job, he registered a sole proprietorship to work on the same. He decided to make wooden bicycles initially, but after realizing that the wooden ones would be heavier, he thought of giving bamboo a try and ended up with Bambooka, Chattisgarh's first eco-friendly cycle!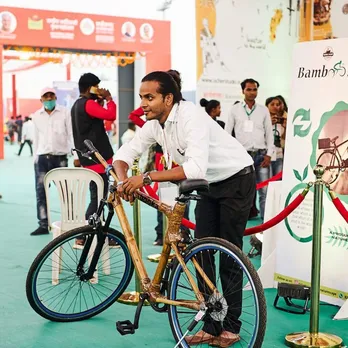 "There are a very few bamboo artisans in Bastar as plastic and other alternatives have made it unpopular. Also, I really appreciate the bamboo crafts. The tribal community adds bamboo to everything, and it has multiple uses. It even has the potential to become an alternative to steel, I feel", says Asif Khan. With this thought, Asif reached out to the artisans he knew and shared his business idea of making bamboo bicycles. He later even trained them, and after working for a year on various prototypes and designs, he finally launched Bambooka, a bamboo bicycle, which is 10 kg lighter than the regular metal cycles.
Choosing Bamboo!
"In early 2020, I was working privately for local NGOs and government departments. Some delegates from Delhi were visiting Bastar and the district administration told us to represent an Innovative craft to send across a good message. So, they asked us to make a wooden bicycle. But, after doing a lot of research, I found out if we design the cycle frame with the woods we have in Bastar, it would be very heavy. So, we did more research and came across the concept of Bamboo cycles", says Asif.
These bamboo cycles were quite popular in the African subcontinent as well as in Asian countries like Myanmar and the Philippines. Asif also found that the tribal condition in Bastar and these countries were very similar, so the bamboo bicycle might work here as well. "The bamboo market was also in trend as people had started choosing sustainable products, so we decided to go ahead with bamboo", he further adds.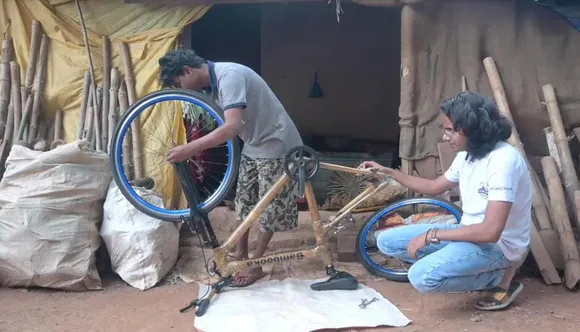 Bambooka took almost a year to get designed. In the first two months, Asif kept working on the wooden bicycle. After that, he shifted to bamboo, and for the next 4-5 months, he made several prototypes. "We consulted experts and other people who were working on similar models and after a lot of brainstorming and work, we finalized the geometry and the frame of the bicycle.", says Asif.
The Making!
The process of making these bicycles is quite interesting and involves several steps. Firstly, the bamboos are cut into a particular size. After which, they are treated and boiled with herbs for hours. Then they are left to dry for a week. Later, they are chemically treated and finally dried in the sun for another week. "After this, we assemble and settle them in the frame, and then do the binding by dipping Sisal fiber or Carbon fiber in epoxy resin. We give a four-layer binding and then do the assembling", explains Asif.
This binding is done in a way that the curves are smooth and the weight is distributed proportionally. This entire process can take up to 38-45 hours, after which the assembling of the rest of the components like the seat and tires takes place. After checking, the team de-assembles everything and sends the frame for polishing to give it all-weather protection. Finally, they assemble the cycle for one last time, after which it's ready for the ride. "It usually requires 15-20 days to make one bicycle. But in the future, as the production increase, we'll be able to manufacture each cycle in 5 to 6 days", says Asif.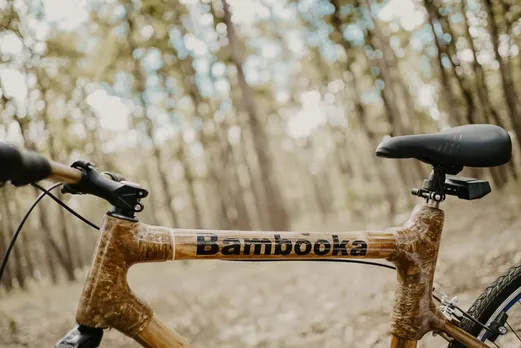 Lighter than the regular bicycles
The bicycle has 60 percent bamboo components and weighs 8.5 kg which is around10 kgs less than a regular metal cycle. This road bike costs Rs. 35,000 and is suitable for plain terrain. "When you ride a regular bicycle, the sudden jerks have an impact on your bones. But when you ride a bamboo bicycle, the lightness and the soft absorption nature will improve your ride. The cycles made with carbon fiber usually offer this kind of experience but will cost you 50k-2 lacs. So, I think Bambooka is a convenient and budget-friendly option. We'll also be targetting different social classes in the future and also introduce off-road bikes", says Asif.
Promoting different handicrafts of Chattisgarh!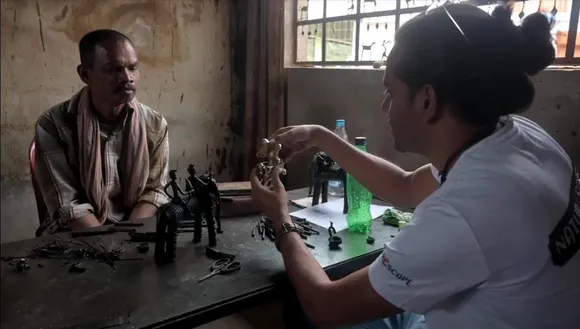 It's not just the weight and the design that makes Bambooka a must-buy, but there are other reasons too. It uses Hemp or carbon fiber for binding. The sourcing of the raw material happens locally, and the cycle also features four different handicrafts of Chattisgarh. "We use Bamboo craft and also make the mudguard with the wrought Iron craft. While the T bar (which holds the handle) has brass and features the Dhokra art. The seat cover is also handcrafted by the women of Sisal Sway Sahayata Samooh ", says Asif.
Bambooka is the first bike in the segment of Naturexscape, an organization that promotes art & craft innovation. It is currently working with 20 artisans and aims to provide livelihood opportunities to more such people. Asif also hopes to stop the issue of migration and Maoism with it. He is also working towards introducing more varieties and innovative products.
For more such stories follow Local Samosa on Facebook, Instagram, Twitter, and Telegram.