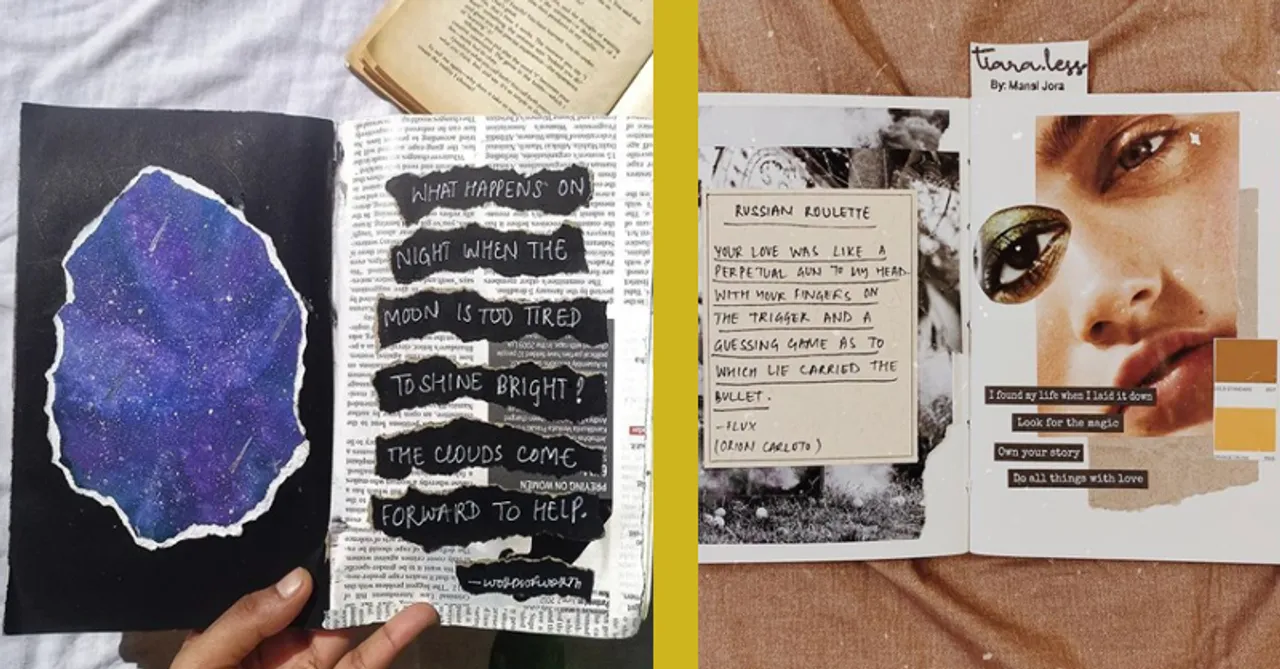 These must-follow journalling artists, journal the little things in the most beautiful ways, and we can't get enough of their work!
Art Journaling is a visual diary. It's record-keeping combined with creativity! It's an open-ended form of art on loose paper or in a bound journal where the focus is on the process of creating and self-expressing. Drawing, mark-making, writing, painting, and collage are often components, and these must-follow Journaling artists are using them creatively. Check their work, and see why we love them!
1. Kumudini
Kunumudini teaches creative journaling and has trained many in her live sessions and workshops. Her work is aesthetic, and she also keeps posting videos on Journal designing, and other important related things. If you are looking for tips and are confused about how to start journaling, check her on Instagram as she is one of the must-follow journaling artists on Instagram.
2. Manjeet Kaur
Manjeet Kaur, aka The Missing Brush, is a floral journaling artist, and it's a delight to see her Instagram feed. With gorgeous paintings on one side and thought-provoking quotes on the other, her journals are nothing but mesmerizing. If you like floral aesthetics, and like colours, follow Manjeet's work.
3. Noor Arora
We love how Noor draws people and puts them beautifully in her journal with quotes that are equally enchanting. You will find a lot of pastels, and different elements of nature on her profile, and her feed is literally a quick escape from the chaos of time.
4. MANZALA
Manzala loves painting and other than working on her journals, she will be found painting different surfaces including her own body. Her work captures flowers, stars, galaxies, and a lot of rainbows. Follow her work to please your eyes with colourful paintings.
5. Shilpa
Shilpa is a journal & lettering artist, and also the founder of Work Dear Studio (which offers minimal stationery & journal supplies). Her journaling skills are impressive, and we love how she adds aesthetic photos to add layers to her work.

P.S: Her Taylor Swift-themed journals are a must-check.
6. The Bodhi Journal
The Bodhi Journal is also an e-shop that sells stickers, ephemera, and journaling stationery. If you are a fan of the vintage journal looks, you are going to like what The Bodhi Journal does. Scroll through their Instagram and find new ideas, and buy journaling accessories from them.
7. Mansi Jora
Manasi is indeed spreading positivity through her journal spreads. The sepia and brown tone in her work make her one of our favourite journaling artists. Check her work if you are looking for spreads that are different, bold, and vintage, all at the same time.
8. Mansi Jikadara B
Mansi, aka The Typewriter Daily, is here to make you smile and feel motivated with her journals. Her work is a good mix of everything. Right from the vintage style, to colourful and happy vibe to adding little props and elements like broken disks or band-aids, Mansi adds everything to make her spreads look prettier. Follow her to get motivated and see what can be done to your regular journals.
9. Tooba Mirza
Tooba Mirza, aka The Medico Artist, is sharing positive vibes through her spreads. Her journals will take you to different spots in the city, while her long captions will lift your mood instantly. Follow Tooba, who is one of the must-follow journaling artists for pleasing journal art, and aesthetic photographs.
For more such stories follow Local Samosa on Facebook,  Instagram,  Twitter, and Telegram.