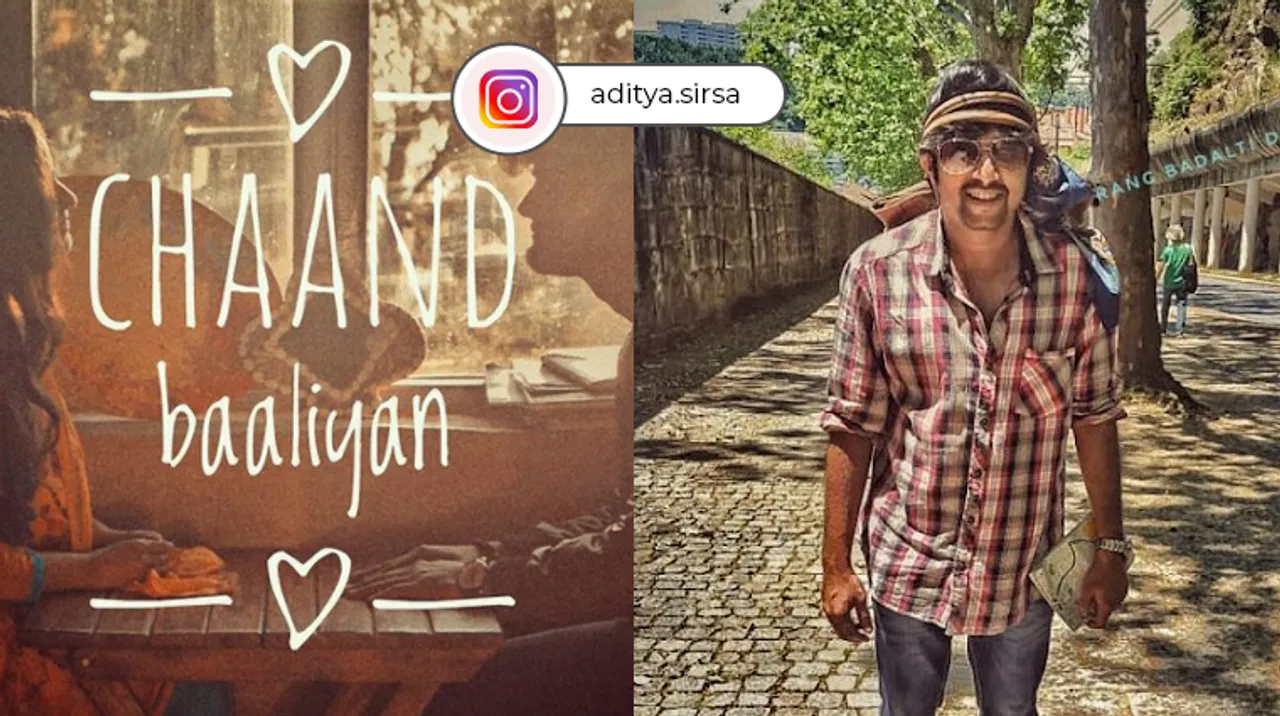 A singer, songwriter, producer, composer, and pathologist, Aditya Agarwal is the voice of the popular songs like 'Chaand Baaliyan, Lajpat Nagar to Meena Bazaar, Road Pe, Adaon Ke Riyaaz', and many more. His work is remarkable, his lyrics and videos are captivating, and if you are up for some good music, you should definately check him out.
"I am a musician at heart and a Pathologist by default (born to doctors). I make music whenever I can and also run a Clinic and Path Lab by the name of Lifetree Healthcare", says Aditya Agarwal, a singer, songwriter, and pathologist based in Chandigarh and someone who's always in a musical state of mind. His hit song Chaand Baaliyan recently crossed 1 Million views on YouTube. It was one random morning when Aditya created a tune on ukelele and composed Chaand Baaliyaan. But, even after that, he didn't do anything with it for the next two years.
"We had made two videos for it. We didn't release the first one as the vibe was a little different, and ended up re-filming it. The second video got a tremendous response, and I never thought it would be this popular. I can't tell for sure what worked, but I think it's a happy, cute, and short song that makes it appealing. ", he says.
Aditya's recent single 'Lajpat Nagar to Meena Bazaar' is another fabulous composition that is fun to watch and brings a smile to your face. "So, it's a song based on a shopping date with my girlfriend, who's now my wife. I had just put together all the things that usually happen when we go out for her shopping. Also, she is from Delhi and has that silver trinket vibe to her. So, I have no dearth of content there", he laughs.
His songs like Chana Jor Garam, Horn Please, Chalu Cheez, The Doggy Song, Lajpat Nagar to Meena Bazaar are pretty fun and feature some really quirky lyrics, while other songs like Chaand Baaliyan, Moccaccino, and College ki Sadak are quite narrative and descriptive. A lot is happening in each song, and we wonder how does Aditya create such lyrics?
"I don't have a fixed songwriting process. Sometimes I give words to a tune, then other times I am putting tunes into words. But I usually take less time to make a good song. A bad song takes more time. I have made songs in a day to a month, depending upon how badly I want to make it or how much it is exciting me", he says.
Though Aditya was always inclined towards music, it wasn't a passion initially. He says he's got the singing genes from his father, and would sometimes sing at parties or functions. It was during his college when he was exposed to various genres of music and started learning classical music and guitar. "I have trained in Indian classical vocals and Western classical piano. I started composing in college and was pretty bad initially. But I took my own sweet time to improve my craft. Went to Mumbai in 2012 and did some commercial music such as shorts and ad jingles. Since 2016 - 17, I have been releasing independent music", he says.
When Aditya started releasing independent music videos, it was a huge deal for him. And, we can see that in his work. Each music videos are not only eye-pleasing but also makes the song feel even prettier. Talking about creating captivating narratives, Aditya says, "My first few songs like Laila, Chalu Cheez were bigger projects. Laila was shot in Pondicherry by Atarkya Creatives, while I directed Chalu Cheez and Chana Jor Garam".
Though after moving out of Mumbai, most of his videos turned into smaller projects. Yet, the efforts were visible, and they don't fail to entertain. "A few of my songs are directed by Shivam Sharma (Shivoryx), and a few by Team18 productions (Prashant Rajput). Shivam is a very talented director with a knack for making videos with great cinematography and editing. Prashant, too, is very cool, patient, and diligent in his approach. Both are very easy to work with. So, I hardly have to put in much effort", he says.
Aditya is currently working on new songs and is even planning to drop an album too. "So, I'm very excited! The next release could have me and wifey in the video", says Aditya Agarwal.
QUICK 5 feat. Aditya Agarwal
1. Dedicate a song to your city: It would be Tum pakad ke gaadi shayad, mere gaaon aoge (Raahgir) for my hometown Sirsa.

2. A location you would like to perform: There are many! The piano man jazz club, Imperfect - Delhi, and also at Hard rock cafe, Mumbai.

3. A city you would like to organize a concert in: Either Delhi or Mumbai.

4. Your favourite spot in your city to enjoy live music: So, it has to be the Summer house cafe in Delhi.

5. Your favourite Indian singers: I like some songs by many singers like Arijit Singh, Kishore Kumar, and Kailash Kher. Also, I really admire Jonita Gandhi, Neeti Mohan, and Neha Bhasin.
Enjoy Aditya's latest release Lajpat Nagar to Meena Mazaar below:
For more such stories follow Local Samosa on Facebook, Instagram, Twitter, and Telegram.