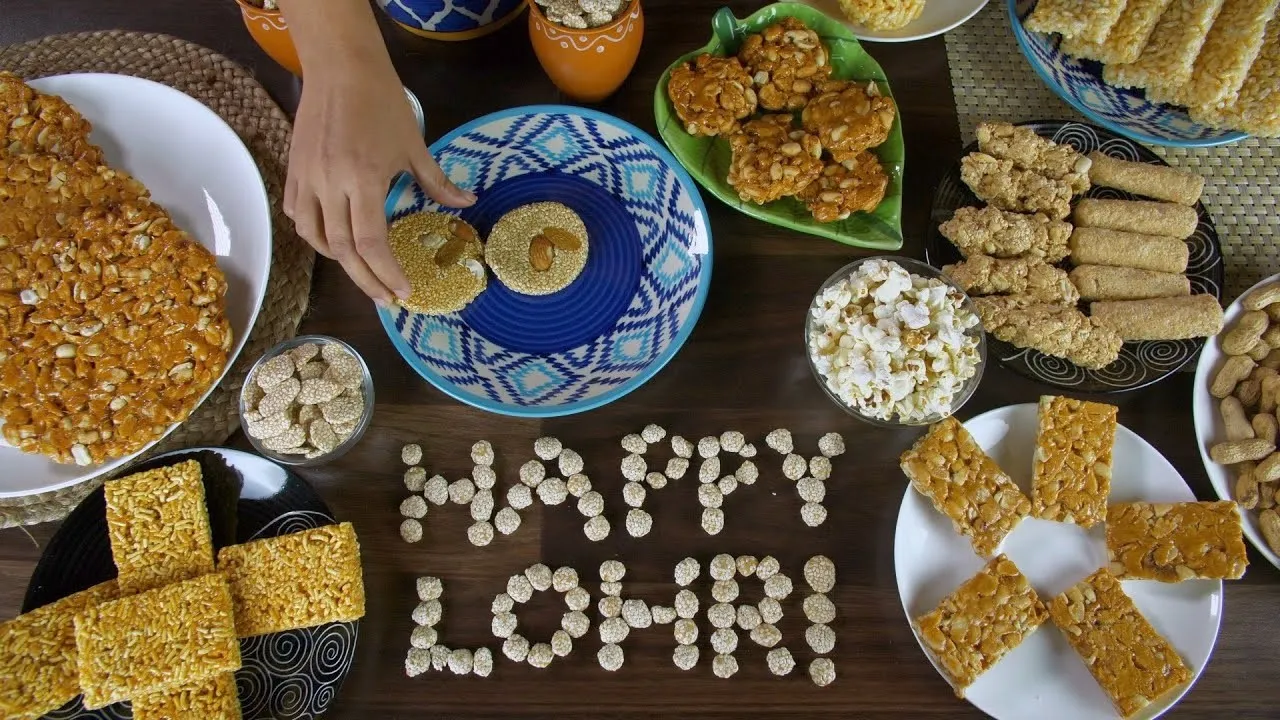 Lohri marks the beginning of the end of the chilly winters and is celebrated in many states of the country. With the beginning of the spring, we all will see longer days and shorter nights. To welcome them, why not make some Lohri special recipes?
Lohri is the winter festival, celebrated on January 13 to mark the day of Uttarayan or the sun's journey towards the north. Every year, this festival is observed a day before Makar Sankranti and is mainly celebrated by Sikhs and Hindus. It is also about worshipping Lord Agni (Hindu God of fire), and the rabi crop harvest. People pay their gratitude to the mother nature by offering foods such as jaggery, gajak, popcorn, puffed rice, and sesame seeds. There are many amazing dishes that are also made with them and that's why we've curated a list of a few Lohri special recipes for you here.
1. Til Ke Laddoo
These sweet bombs are not only delicious but also very good for your health. They are packed with unsaturated fats, can lower your cholesterol levels, and even reduce your risk of heart disease. Replace sugar with jaggery and it can be served to diabetic people too, of course in moderation. Winter and especially Lohri will be incomplete without til ke laddu, and so follow this quick recipe by Desi Food and Travel.
2. Gajak
Made with jaggery, ghee, and dry fruits such as peanuts and sesame seeds, Gud ke Gajak is another must-have during winters and Lohri. Sesame seed and groundnuts give this snack a fantastic crunch and will provide warmth to your body. Try this quick recipe by Ajmer Rasoi and make a fresh batch of gajak for your dear ones.
3. Gur Ki Roti
Add a twist to your regular roti and try this fun recipe of Gur Ki Roti by Manisha Bharani. Jaggery roti is a winter delicacy from the North and is made with the goodness of whole wheat flour, jaggery, ghee, and milk. It is wholesome and can be enjoyed on its own. Make this one at home and see your munhckins falling in love with it.
4. Atta Laddoo
Made with whole wheat flour, sweetener, and ghee, Aata Laddoos are another must-try sweet during Lohri. The wheat flour will keep your body warm, while the smell of ghee will melt your heart. Try your hands on this very easy and 3-ingredient recipe by Veggie Recipe House and bite, bite, and bite!
5. Makke Ki Roti Sarso Ka Saag
Though Lohri is all about sweets, the foodie combo of Makke Ki Roti and Sarso Ka Saag is something you can cook for a happy Lohri meal. This classic Punjabi dish has our heart and can make everyone drool with its taste and smell. Follow this recipe by Cooking Shooking and eat till your heart is full.
6. Til Choli
Til Choli is a traditional Himachali dish made with sesame seeds, rice, groundnut seeds, revadi, and sugar. It's a perfect combination of everything sweet and crunchy. The texture of ghee-smothered rice makes it a pure delight. So, make a piping hot plate of his Himachali dish and celebrate Lohri in a sweet way.
So, which one of these Lohri special recipes are you going to make? Tell us in the comment section below!
For more such stories follow Local Samosa on Facebook,  Instagram,  Twitter , and Telegram.