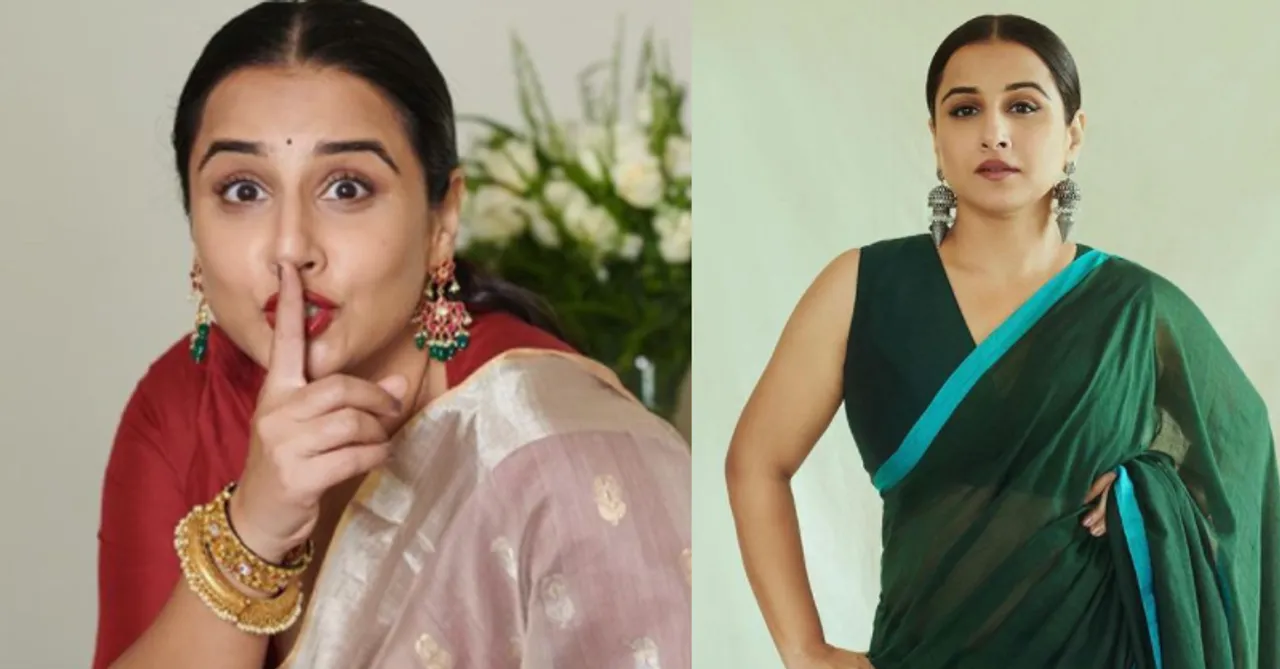 Saree not Sorry! If you also love draping the 6 yards of happiness and feel the happiest in them, then check these Indian saree brands that Vidya Balan has adorned herself in!
Bollywood star and one of the finest actors, Vidya Balan, is known for her ethnic style, especially her saree picks. She thinks it's the sexiest garment, extremely versatile, and suits every body type. And, every time she wears one, we can't help but stare. Her choice is stylish and will give you saree goals. That's why we've made a list of Indian Saree brands that she has worn!
1. Forsarees
For sarees works with artisans to promote traditional Indian crafts, handloom sarees, and handicrafts. Their saree collection is just gorgeous and features cotton & silk sarees in various weaves like Ikat, Ajrakh, Mubarakpur, Bhujodi, and Mul.
2. House of Urmi
With its fine and elegant collection, House of Urmi is bridging the gap between contemporary and traditional and giving an ode to the Indian Weaves. We are in awe of their handwoven Banarasi and cotton sarees and would like you to check them once.
3. Gaurang Official
Gaurang is a brand, presenting a reinvention of traditional handwoven Sarees and Indian outfits. Their collections are made by artisans and feature some breathtaking designs and prints. If you adore handwoven sarees, then you should give their exquisite range a look.
4. Maati Crafts
This brand offers contemporary and classic silhouettes in hand block prints & weaves. They also work with the artisans and source their raw material from all across India. Their kalamkari and silk sarees are worth checking out and offer a magnificent vibe.
5. Archana Jaju
This Hyderabad-based label of contemporary ethnic wear, Archana Jaju, also has a stunning collection of sarees. Their handcrafted collection draws its inspiration from the culture and traditions of the country. The sarees are eye-pleasing and ideal as elegant evening wear.
6. Rajdeep Ranawat
This design label is known for its luxury clothing for Men, women, and kids. We are in love with the variety the label offers, and it's like a never-ending scrolling once you are on their website. The saree collection though is pretty limited but all the pieces are exquisite and elegant. If you are a fan of bold prints, do check them out.
7. Aishr
AISHR is a clothing and illustrated merchandise brand by artist Aishwarya Ravichandran and has amazing apparel options to pick from. Their saree collection is quirky and colourful. The prints are just too fun and if you are looking for a saree adventure, then check them out.
8. House of Three Studio
House Of Three offers clothing for both men and women. Their collection finds inspiration from modern lifestyle, new age music, graphics, modern art & architecture. Their sarees do look like a piece of art and ooze out an elegant vibe.
For more such stories follow Local Samosa on  Facebook,  Instagram,  Twitter, and Telegram.