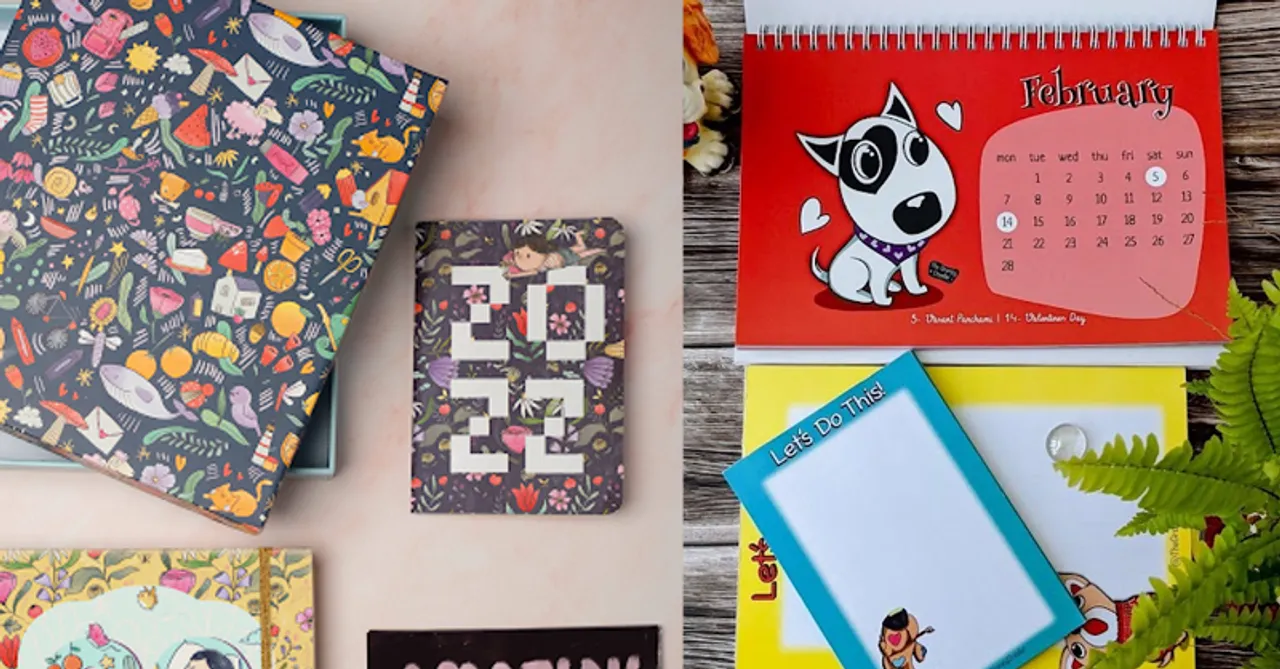 As 2021 takes a leave, and we are about to say goodbye to this year, it's also the right time for us to plan out the goals for 2022. Let's make it a year to remember and start working on it with the help of these calendars and planners!
It's okay if 2021 didn't go as you had planned and surprised you in different ways because what's important is to keep trying and not give up. As we are about to step into 2022, there are many things and opportunities that await us, and so, let's hope for the best. Let's keep our actions consistent and follow a plan that will help us grow in different ways. One of the ways would be relying on these well-thought and well-made calendars and planners. Check them out and pick one that suits your goals.
1. Ru & Chai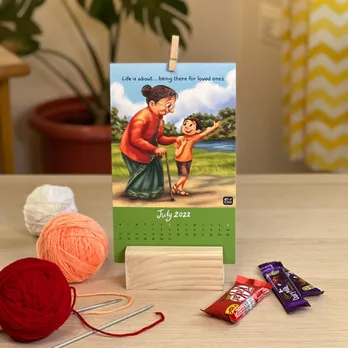 Founded by Rucha & Chaitanya are illustrators, animators, and visual storytellers. Their work will leave a huge smile on your face, as it is all about happy people and warm gestures. Their 2022 calendar is out and features 12 illustrations from his 'Life is About' series. It comes with a wooden stand, back support, a clip and is all about gratitude, warmth, and love.
2. Doodle Monk
Doodle Monk is the perfect blend of fun and simplicity. Their artworks are cute, cheerful, and are definitely one of the sweetest things on Instagram. For 2022, they have come up with daily planners, tabletop calendars, gratitude journals, and a 12-month awesome life planner. Their planners feature sections on to-do-list, self-review, expenses, and much more, and we'll suggest you check them if you are looking for something colourful and well-organized.
3. Pranita Kocharekar
Pranita Kocharekar's shop (as she calls herself a shop owner) has a wide collection of accessories, cards, stationery, gifts, and more. Her planners and calendars are just too cute and feature different themes like destiny undated planner, redefining normal, less doing more being, and work-life balance. Each one of them has important and useful sections like career goals, personal goals, mental health feeling wheel, finance goals, monthly habit tracker, dream board to manifest, 50 fun things to do to bring in rest & play, and more.
4. Nori Art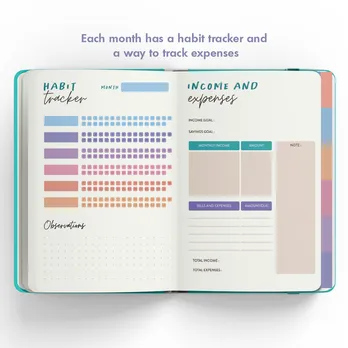 Nori Norbhu is everything about art and blues but in a jolly good way. Her collection oozes a fun yet peaceful vibe. Nori's 2022 planners are inspiring and motivational. They feature yearly, monthly, weekly, daily goal setting and planning. While the Calendar for 2022 is inspired by the wilderness outdoors, along with a quote to remind you of the good things in life.
5. The Ink Bucket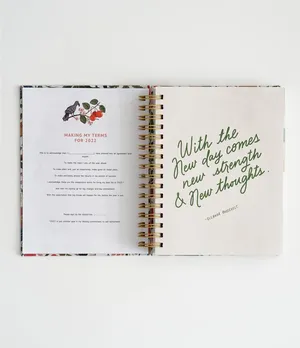 You will love The Ink Bucket if you adore floral doodles and print. The founder Vidhi Khandelwal is an artist and loves to paint nature and its beauty. And that is where her collection gets a leafy and floral vibe from. Just like every year, this year too, The Ink Bucket is offering a range of planners and calendars that comes with freebies and amazing prints.
6. Shafaquath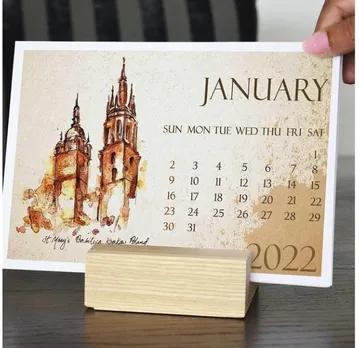 Shafaquath is an architecture student from Chennai and her artworks are nothing but eye-pleasing. She paints people, monuments, architecture, and nature, and it's a delight to scroll through her feed. Her 2022 calendar is something she's been working on for a while. It is a selection of some of her personal favorite architectural sketches and looks aesthetic and refreshing.
7. Drishtii Khanna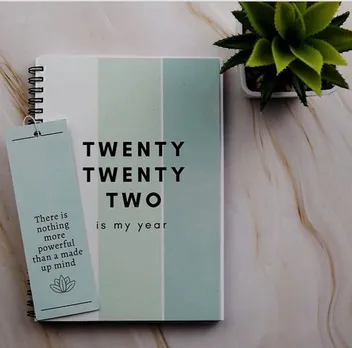 Drishti is a certified expressive art therapist and runs a YouTube channel on art. Her ultimate 2022 planner is a pastel combination with everything that you need. Monthly calendar, everyday writing space, 365-day Habit, and water tracker, reflection page for every month, and much more. We really adore the minimal vibe of the planner and would suggest you check them once.
8. Farah Nour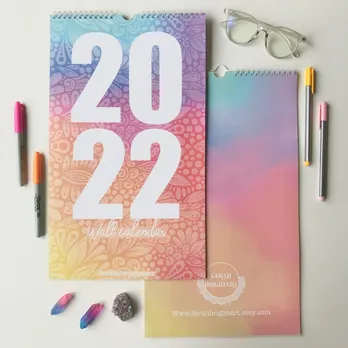 If you are a mandala fan, you are definitely going to love what Farah has in store for you. Her 2022 calendars are bright, artistic, and feature different inspirational zentangle drawings, and colorful and bright mandalas. There are two options, and we love both equally.
9. The Grumpy Doodler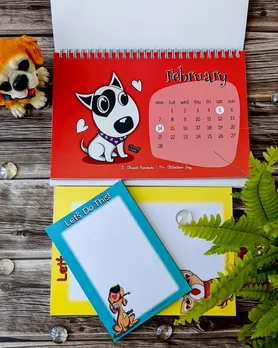 A treat for all animal lovers and especially those who adore dogs a little too much, this wagging tails calendar is just perfect. Made by The Grumpy Doodler, this colourful calendar features 12 cute doodles of dogs for each month. This unique desk calendar for 2022 has a matte finish and is 9 x 6 inches in size. Also, on the same theme, two notepads are created for combo orders that come with doodled 50 tearable sheets glued at the top.
10. Miss Compass Hands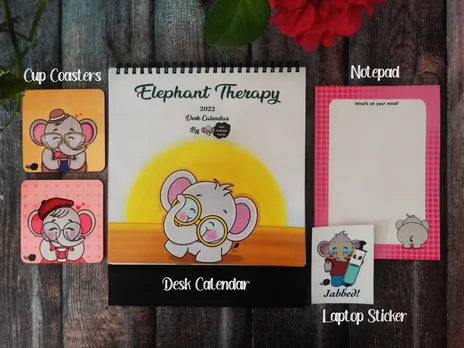 Sangeeta Prayaga, aka Miss Compass Hands, holds a degree in computer science engineering and was working as a Software Developer. But, she left her job due to the daily drudgery of work and commute, and after an accident, she decided to take up illustration as her full-time career. Just like her journey, her new desk calendar, The "Elephant Therapy", is also inspiring. It features beautiful quotations with Ganpat Rao and Gaja Lakshmi illustrations (Two of her popular characters), where each quotation is handpicked after days and weeks of research!
11. Alicia Souza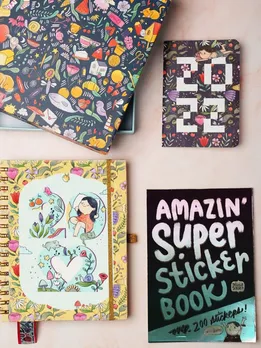 We can't talk about planners, doodles, and calendars without mentioning Alicia Souza! She is one of the best doodle artists in the country and we just love her work. She's got her art on everything- right from the stationery to apparel to footwear, too many more such things. Her ultimate planner for 2022 is another artistic gem and features happy colours, an over-dose of floral elements, glittery text, glossy pattern, and gold embellishments. Along with a fabric cover and thick and textured pages, it's filled with new illustrations that are just adorable!
12. Anuradha Bhaumick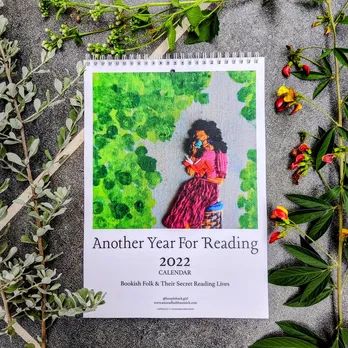 Anuradha Bhaumick, aka Hoopla Back Girl, is an embroidery artist, and she is amazing at her job. She mainly focuses on common people and their lives, and her collection is all about bright colours, and gives 'the person next door' vibe. You should check her 2022 Desk Calendars, as the images are pretty, and each page features a unique embroidery printed on matte paper. It would look just perfect with a cup of coffee on your desk!
For more such stories follow Local Samosa on Facebook,  Instagram,  Twitter, and Telegram.