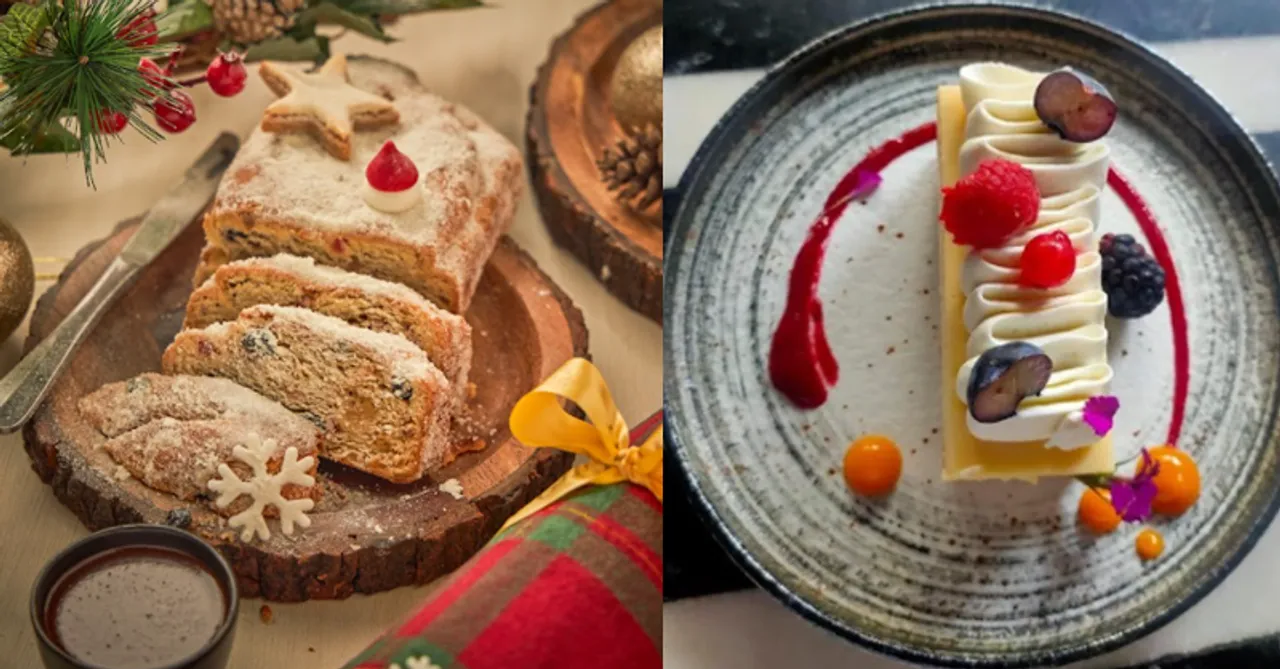 Christmas reminds us of having good food and sipping on our favourite drink. But, for the cooking enthusiasts and those hosting get-togethers, it's more about making and serving the best food. For such lavish, scrumptious, and happy meals, here are some Christmas dessert recipes that will make your guests say yum-yum!
The holiday baking season is our favourite time of the year. Let the over-eating begin and make this Christmas memorable for you and your dear ones. Try these hearty Christmas special dessert recipes and treat your entire clan with sweets. Whether you're planning an intimate dinner or making gift boxes for your dear ones, baking Christmas treats is a fabulous way to enjoy a little more.
1. Philadelphia Cheesecake
Life always tastes better with cheesecake and just because you don't live near a bakery, doesn't mean you have to go without cheesecake. So, be ready to grab a cheesy and creamy bite and try this yummy Philadelphia Cheesecake recipe by Chef Prakash Joshi of Kynd Cafe and Bar Pune!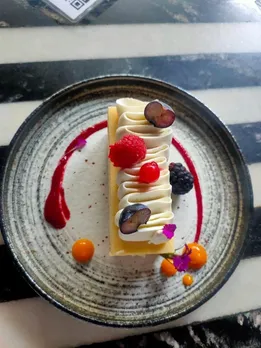 Ingredients
| | |
| --- | --- |
| Cream cheese | 550gms |
| Castor sugar | 1cup |
| Corn flour | 1 tbsp. |
| Butter | 5 tsp  |
| Milk Maid | 1cup |
| Lemon juice freshly squeezed | 4 tbsp. |
| Vanilla essence | 1 ½ tsp. |
| Salt | ¼ tsp.  |
| Cream | 2 cups  |
| Digestive Biscuits | For garnishing |
Method:
Preheat the oven to 170°C. Grease an 8 x 2½ or higher springform tin. Make digestive biscuits crumble, mix it with butter to about ½" thick, and line the bottom of the tin with it. Wrap the outside of the tin with a double layer of heavy-duty foil to prevent seepage.
Now in a large mixing bowl, beat the cream cheese and sugar until very smooth, preferably with a whisk beater. Beat in the cornflour. One at a time, beat after each addition until smooth and scrape down the sides. Add the lemon juice, vanilla, and beat in the cream just until blended. Pour the batter into the prepared tin.
Set the tin in a larger tin and surround it with 1 inch of boiling water. Bake for 45 minutes and ensure it's covered loosely. Turn off the oven without opening it and let the cake cool for 1 hour. Remove and cover with plastic wrap. Refrigerate. To un-mould: place the tin on a heated burner and move it around for 15 seconds or dip it into hot water for a few seconds. Wipe sides of the tin with a hot, damp towel. Run a thin metal spatula around the sides of the cake and release the sides of the spring from the tin.
2. Christmas Marzipan Stollen
This German baked good has been around for almost 700 years and is one of the most beloved Christmas pastries. If made properly, these flaky, moist, and flavourful Christmas Marzipan Stollen can even steal hearts, and so, here's a quick recipe of the same by Chef Avijit Ghosh who is a Consultant Chef at SMOOR.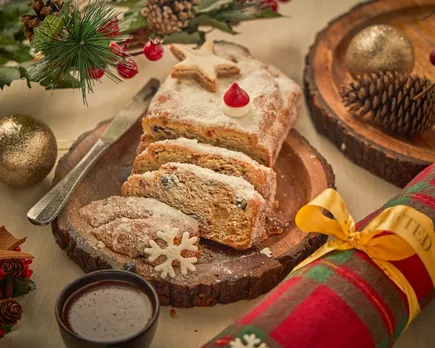 Ingridients
| | |
| --- | --- |
| Flour | 200gm |
| Fresh yeast | 10gm |
| Sugar | 24gm |
| Soft Butter (cut into small dices) | 80gm |
| Milk at 30 Deg C | 70gm |
| Stollen spice | 1gm |
| Salt | 3gm |
| Marzipan | 100g |
| Black Raisin | 75gm |
| Orange peel | 75gm |
| Dark Rum | 30 ml |
Method:
Make a pre-dough with 100gm flour, yeast, 40gm milk, and rest it for 30 to 40 mins. Add all the ingredients to the pre-dough and mix it gently to form a dough. Add fruit mixture and mix in at low speed in a cake mixer. Rest the dough for 10 minutes. Now scale 500 grams of it, flatten it and put the rolled marzipan in the center and give a fold. Proof and bake it at 200 degrees celsius for 45 minutes. Once baked brush with melted butter and dust with castor sugar.
3. Butterscotch Tartlet
A bite of this creamy, rich, and decadent butterscotch tartlet is another perfect post-dinner dessert option. Your guests will not stop appreciating if they love butterscotch, and so try this fun recipe by Chef Sombir Choudhary, culinary partner of Raahi Neo Kitchen and Bar, Bangalore.
Ingridients
For the base
All-purpose Flour

150gms
Butter unsalted
100gms
Castor sugar
75gms
Egg
1
Caramelized nuts (butterscotch)
Sugar

300gms
Assorted nuts
150gms
Caramel sauce
Sugar

200gms
Cream
100gms
Butter
50gms
White chocolate ganache
White chocolate

100gms
Cream
50gms
Whip cream
100gms
Methods
First, prepare the base by mixing butter & sugar together & then cream them until the sugar gets properly dissolved. Now add egg and then flour. Make a dough and line it in your mould, neither too thick nor too thin. Bake it at 180 degrees Celsius for 12 minutes. Meanwhile, prepare the nougat (butterscotch) by caramelizing the sugar in a pan until all the crystals are melted. Switch off the gas and add chopped nuts, put them on a silicon mat, and let it cool down at room temperature.

Now break it with the help of a hammer and keep it aside. After you've prepared the caramel sauce, melt the sugar on the pan and add cream, butter together. Mix carefully & vigorously, let it cool down at room temperature. Now prepare the white chocolate ganache frosting, by heating the cream and bringing it to a boil, pour it over the chopped white chocolate and mix well. Then mix whipped cream in the ganache and it's ready. Time to assemble, fill the tart with caramel sauce & butterscotch nuts layer by layer, topped with white chocolate ganache frosting. Garnish with any berries or red coloured crumbs.
4. Chocolate Peppermint Fudge
This one is a delicious combination of chocolate and peppermint! The flavours are refreshing and it's one of the easiest and loved Christmas dessert recipes. Made with simple ingredients, this recipe by Chef Rachel Goenka, founder of The Sassy Spoon, House of Mandarine, and Baraza is just simply irresistible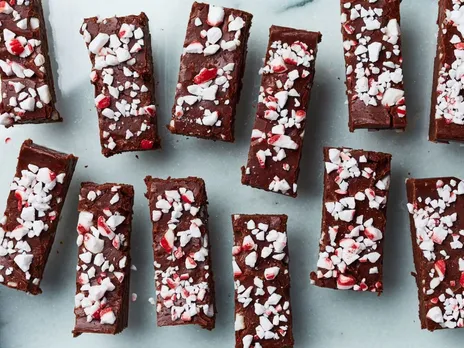 Ingridients
| | |
| --- | --- |
| Semi-sweet chocolate chips | 380gm |
| Sweetened condensed milk | 400gm |
| Peppermint Baking Chips | 115 gm |
| Vanilla extract | ½ tsp |
| Coffee extract | 1 tsp |
| Butter | 1 tbsp |
| Sprinkles | For topping |
Method:
Line an 8x8 baking dish with foil. Spray with cooking spray to lightly coat. Place the chocolate chips, sweetened condensed milk, and butter in a large microwave-safe bowl. Glass is best to use. Stir and then heat in 1-minute increments, stirring between each increment. Repeat this process until the chocolate chips are completely melted. Do not overheat. You will probably only need to heat for a total of 2-3 minutes. The mixture will be thick.
Stir in the vanilla and coffee extracts. Then carefully mix in the peppermint baking chips. Scrape into the prepared baking dish and smooth the top with the backside of a wooden spoon or a plastic spatula. Top it with sprinkles, if desired. Cover and refrigerate for 1-2 hours or until firm. Best served at room temperature but you can store it in a refrigerator for up to 2 weeks.
So, which one of these Christmas dessert recipes are you going to bake?
For more such stories follow Local Samosa on Facebook,  Instagram,  Twitter , and Telegram.