Make the festive occasion even more lively, and decorate your home with these festive lights that are available online!
Diwali is about to knock on our doors and so, we shall keep ourselves as well as our homes ready for it! It's time to dazzle our place to keep it lit, shiny, bright, and full of lights. Check this list to know where to shop for some unique festive lights online so that you can give an ode to the festival of lights in the best way.
1. Curtain lights from Best Home Lighting
Add happy warmth to your room and illuminate your space with these Curtain LED lights, perfect for Diwali decor. The string comes with a small plug at the end and has different flashing modes. Hang them on curtains and change the entire mood of your place.
2. String lights from Pepperfry
We are in love with the light collection of Pepperfry, and especially with this Leaf LED String Light. One string of this light is 5 meters long, and we think it's a good option to add some aesthetics to your room. There are many more unique options such as cube-shaped lights, flower lights, butterfly lights, and circular lights too. So, do check them once.
3. Hanging cluster lights from Urban Ladder
Light up any arrangement in a contemporary style with a pendant light cluster. Made from glass and metal, this lamp features a round canopy, an adjustable hanging method, and can be ideal for the living room and seating area.
4. Tree lamp from Chornos
This bonsai spirit tree with fairy lights can be a great gift this Diwali. It has a touch switch-based design, which means you can turn off the power switch by gently touching it. Other than that, this lamp is waterproof, lights branches are a bit bendable and have a removable base, thus can be carried easily.
5. Mosaic Tea Light Holders from Navika Home Decor
These colourful tea light holders are another pretty option to make your place bright and happy. Get yourself a pair of these cute little lamps from Navika Home Decor, which specializes in handcrafted lamps and tea light holders in different shapes and designs. These glass holders with mosaic work look vibrant, unique, and are available in different shapes. Place them on the side tables with candles inside and let them add a festive vibe to your room.
6. Hanging lamps from IGP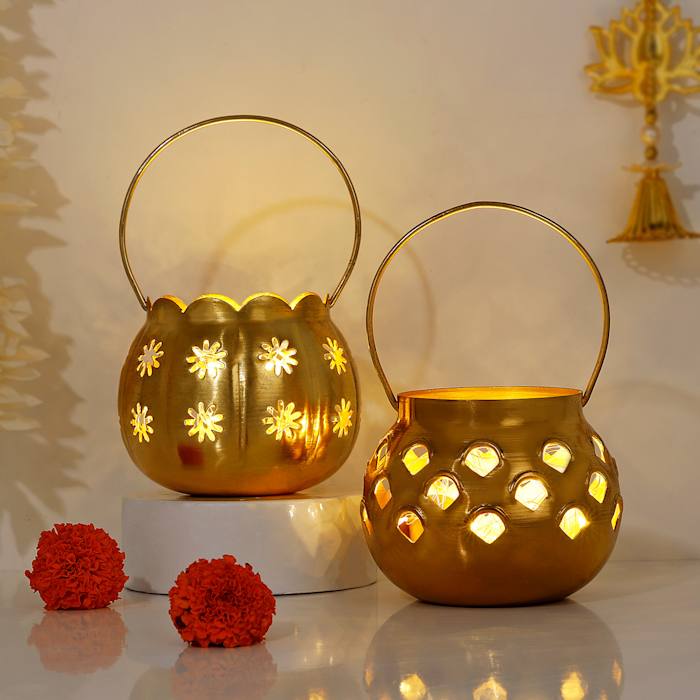 Say hello to the soft glow emanating from these elegant Hanging LED lamps that will add up to the festive decor. You could use them to amp up any dull corner of your space or maybe gift it to someone you adore!
7. Diya lights from PropShop 24
Placing Diyas on the corners and near the door is a must-do in Diwali, but if you adore diyas a little way too much, then check these diya curtain lights from PropShop 24 that are perfect for outdoor decoration too. These cute lights offer 8 flashing modes like waves, sequential run, back running flash, meteor flash, and more. How lit is that?
8. Flower paper lamps with fairy lights from SkyGoodies
Check these beautiful white flowers that glow at night and will light up your place in the most gorgeous way. This luminous string of flowers can be used in the Pooja room, as torans in entryways, to any other room in your space. These lamps come with fairy lights included and can be put together in just 15-30 minutes.
For more such stories follow Local Samosa on Facebook, Instagram, Twitter, and Telegram.
Comments
comments