The most exciting part about any festival is the food and sweets, and just like other festivities, during Diwali too, people spread happiness through traditional mithais. That's why we have curated this list of local sweet shops in Jodhpur that will fill your heart with their signature sweets!
We can't celebrate Diwali without sweet delicacies that come in a variety of colours and flavours. Gorging on these delicious sweet dishes and desserts is a must, and let's all agree that these mithais taste extra mouthwatering during these days off Diwali, haina? So, before you start with your sweet hunt, let us help you a little with this list of local sweet shops in Jodhpur that offer the best from the mithai world!
1. Jodhpur Sweets
Founded in 1991, this sweet shop is a must-try. Add a bit of nuttiness to your cart as they specialize in crafting delicacies with a wide range of dry fruits. If you like mithais with dry fruits, you have to visit them at least once! Another must-try would be their namkeens, jalebi, and snacks.
Where: 9th C Road, Sardarpura, Jodhpur.
2. Gulab Halwa wala
Serving one of the best and warmest halwas in the city, Gulab Halwa Wala is another sweet gem of Jodhpur. They make their sweets in pure Desi Ghee that are something worth drooling for. So, do try their special Gulab Halwa, made from milk, delectable granules, garnished with pistachio, and edible silver foil!
Where: 258, 1st B Rd, Sardarpura, Jodhpur.
3. Janta Sweets Home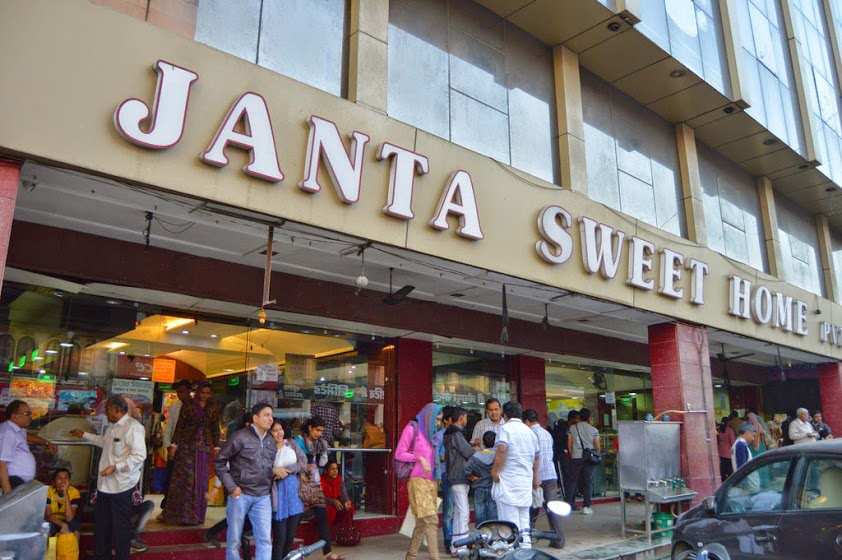 Established in 1980 as a humble entity, this sweet shop has now turned into an enterprise that sells delicious sweets and namkeen. Other than offering fresh mawa ladoos, mawa kachoris, and ghevar, they also have good gifting options. Do not forget to pack something from their Diwali special assorted laddo, Balu shahi, dal badam chakki boxes.
Where: 3, Nai Sarak, opposite Priya Hotel, Chauraha, Jodhpur.
4. Marwar Sweets
They add rose water to add more flavour to their iconic Rabdi Ke Laddoo, which is a hit among people. Prepared with Boondi and Rabadi, and then deep-fried in pure Desi Ghee, these laddoos are sweetened with Chashani and garnished with almonds and rose petals. Other than this luscious sweet, this sweat shop also serves Namkeens and snacks.
Where: Opposite Ganeshji Mandir, Bari Circle, Sojati Gate, Jodhpur.
5. Shree Jodhpur Sweets Mart
This is another good option if you are craving sweets, namkeen, and some garma garam nashta in Jodhpur. Along with their Ghewar, the Mirchi vada they sell is a favourite among the local people. Do not forget to pack some gulab jamun, rasgulla, and laddoos from them.
Where: Bhati chouraya, P3, RJ SH61, Hanwant Nagar, Ratanada, Jodhpur.
6. Shree Kanji Sweets 
They claim that their Chandrakala is made in pure ghee and prepared from the dough of Maida and dry fruits. This sweet shop is nearly a decade old and is famous for serving a variety of sweets, snacks, and Chaats at affordable prices.
Where: Mandore Road, Paota Circle, Opposite Satellite Hospital, Paota, Jodhpur
7. Motu Jalebi Wala
Fan of Jalebis? Then quickly head to Motu Jalebi Waala who is loved for the huge jalebis he makes. The jalebis, aka the Jalebas, are crispy, tasty, and just perfectly sweet, leaving you wanting for more. Do check this place if you love food in huge quantities!
Where: Tripolia Bazar, Rawaton Ka Bass, Jodhpur.
8. Pokar Sweets
Head to Pokar sweets for milk sweets, jalebis, feni, Rasmalais, and Rasgullas. This place also serves some lip-smacking snack items like samosa, kachoris, and authentic Rajasthani dishes like gulab jamun ki sabzi and Puri Aaaloo Sabji. Head here to enjoy some delicious Rajasthani food and then your favourite sweets.
Where: High Ct Rd, Suraj Market, Ajit Colony, Jodhpur.
9. Chaturbhuj
This is one of the oldest sweet shops in Jodhpur and is known for its Gulab jamuns. This renowned shop also serves milk-based sweets, sugarless Mawa, and other delicious mithias.
Where: Pungal Pada Road, Inside Jslori Gate, Pungal Pada, Vyapariyon Ka Mohalla, Jodhpur.
10. Mohan ji Mitahiwala
The Laddoos here are a must-try! You will find a variety including our favorite besan Ke Laddoo and gond ke laddoo. Other than these epic laddoos, do not forget to pack some Ghevar, makkhan bada, malpua, Tava puri sweets, and balushahi, as they are also worth trying.
Where: Ada Bazaar Road, Bhistiyon Ka Bas, Jodhpur.
11. Ras sagar
This sweet shop is always crowded during the festivals and is popular for the range it offers. Some of the must-try would be their Gulab jamun, Ras malai, malai ghewar, boondi laddoos,Ras madhuri and kalakand.
Where: 10th C Rd, Sardarpura, Jodhpur.
For more such stories follow Local Samosa on Facebook, Instagram, Twitter, and Telegram
Comments
comments