Make the festive occasion even more lively, and add the Diwali vibe to your space with these beautiful diyas available online!
The festival of lights is about to knock on our doors and so, we shall keep ourselves as well as our homes ready for it! It's time to dazzle our place to keep it lit, shiny, bright, and full of lights. Check this list to know where to shop for diyas online so that you can give an ode to the festival of lights in the best way.
1. Metal Diya from P-Tal
Brass and Copper are known to be auspicious for festivals and occasions. The brand claims that these hammered rose gold diyas can burn overnight without refilling oil, which makes them a sustainable pick. It is also said that brass & copper doesn't lose their shine and can last for a longer time. It is available in different sizes, and a set of small diyas is available at Rs.445.
2. Zardosi Embellished Clay and Wax Diya from Home Centre
This set of diyas will brighten your pooja room with its zardozi embellishments and will add a festive vibe to the room. Made with clay and wax, this set comes with 4 diyas and can also be a good gifting option. You can buy this for Rs.199.
3. Shadow Diya from Homesake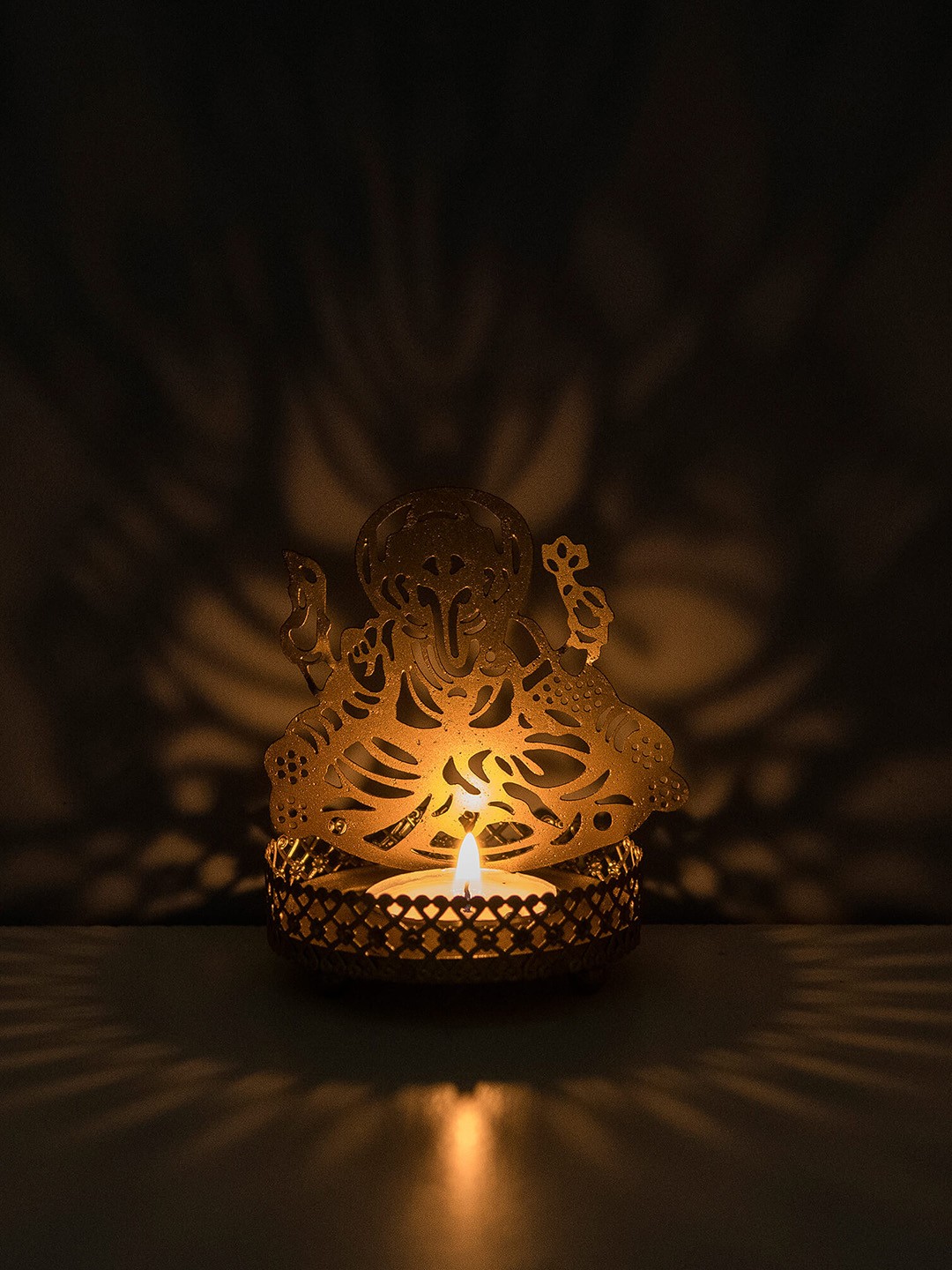 This one is pretty unique! This diya holder is made with a metal sheet and comes with a wax diya. Once you light it up, it will throw a graceful shadow of Lord Ganesha. Place the product near a wall, dim the lightening around and see the enlarged shadow of Lord Ganesha. This will definitely create a warm and festive ambiance around. You can order a set of two online at Rs.230
4. Hand-painted diya from The Feel Good Studio
There is something very pretty about handpainted things and that's why we are in love with these colourful diyas that are handpainted. Adorn your rangoli, home entrance, balcony, and garden with these beautiful colourful diyas from The Feel Good Studio. This one comes with 6 cute diyas and will cost you Rs.620.
5. Cow dung Diya from Pratha Naturals
The brand claims that these diyas are made with Panchagvya tattva i.e Cow Dung, Cow Mutra, cow milk Curd, and cow ghee. One diya can be burnt for an hour and comes with cotton flower baati with pure cow ghee. Be sustainable this Diwali and buy a set of these cow dung diyas from Pratha Natural at Rs. 500 that comes with 12 diyas.
6. Stone diya from The Purple Turtle
This natural Soap Stone Diya with Nandi in the center will definitely make your pooja section look great. With a great finish and its natural white colour, this one is one of our favourites. Get this for Rs.2,490 and illuminate your space.
7. Coconut shell diya from Puryaant
Another fun way to be eco-friendly this Diwali would be to buy these shell diyas made with coconuts, which have a pleasing scent of coconut. It has eco-friendly packaging of cardboard, paper, and paper tape. Buy this and light up your place in a different way this time.
8. Hanging Diya from Sweet Magnoliaa
Sweet Magnoliaa has an amazing collection of brass diyas in unique styles like diya with bird handles, peacock-shaped hanging diya, dancing Ganesha, and much more. We personally adore their hanging diya collection especially the peacock lamp with a hanging diya. Grace your place with them or maybe gift it to someone. You can buy the peacock one for Rs. 2,150.
9. Brass Pancham diya from Shoobwun
This golden hand-crafted Pancham Diya is perfect for your home mandir. Made with brass, this one has a rustic look and will definitely make your place festive-ready. It has a length of 16.2 in and a width of 3.5in, and you can get this at Rs.2,499.
So, what are you waiting for? Buy these pretty diyas online and add the much-needed festive vibe to your place.
For more such stories follow Local Samosa on Facebook, Instagram, Twitter, and Telegram.
Comments
comments