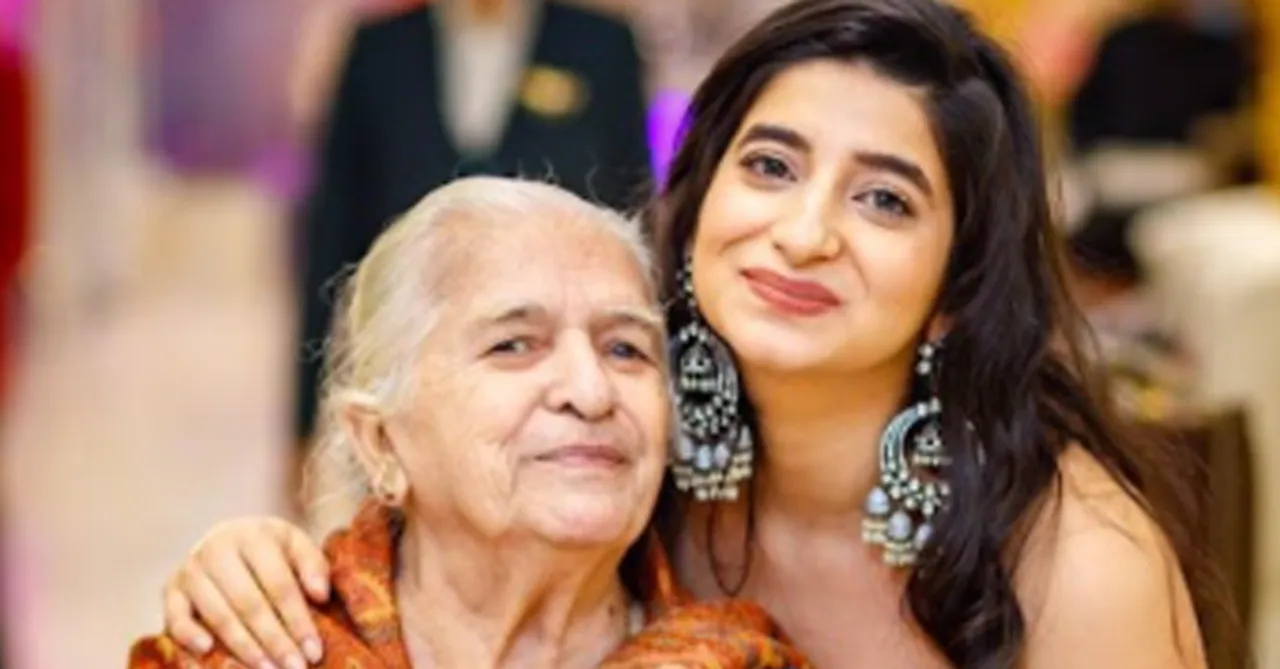 E-meet 78-year-old Delhi resident Sheela Bajaj, who managed to open her digital store, 'Caught Craft Handed' with the help of her granddaughter, and now winning the hearts of people on social media.
Yukti Bajaj often finds herself in wonder after seeing her 78-year-old grandmother, Sheela Bajaj being so passionate about the crochet work that she hardly takes half an hour off in the whole day, that too, for lunch. While her grandmother used to make things out of yarn as a hobby earlier, she now does it for their online store, Caught Craft Handed.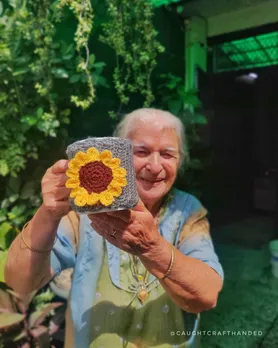 Since the opening of the store in November 2020, Sheela Bajaj has been making headbands, scarves, sweaters, frocks, warmers, and many other things from 9 a.m., which continues till 10 p.m. "I get amazed by her love towards crochet as she is always busy doing it," says Yukti says, who handles the Instagram page of the store on her grandmother's behalf.
The beginnings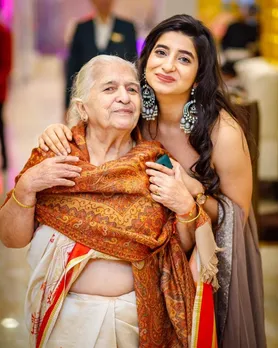 It all started during the lockdown when the language expert, Yukti, started working from home in Delhi. "As I was home all day, I could see how my grandmother used to watch TV to pass her time and yet get bored. She also used to feel strain in her eyes due to the same. I realized how she would often take yarn from my old sweaters to make products out of the scrap and how only crochet could make her happy. So, we decided to open a small online store. It is surprising that, now, even when she works the whole day, she doesn't feel strain in her eyes," the 26-year-old says.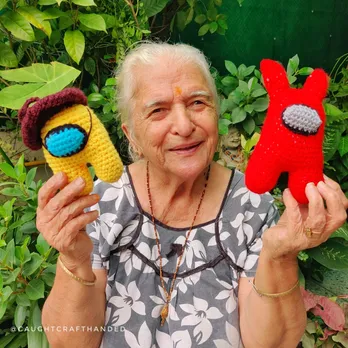 Initially, Yukti posted a few pictures on Instagram of the stuff already made by her grandmother from their home, like cushion covers and toys. However, the responses were not good. Even in August 2021, they received 5 to 6 orders, but it increased to 20-25 in September. Yukti gives credit to the customization of the products by the brand. "We never create products in bulk. We make them according to the demands of the customers related to designs, colours and other things," Yukti says.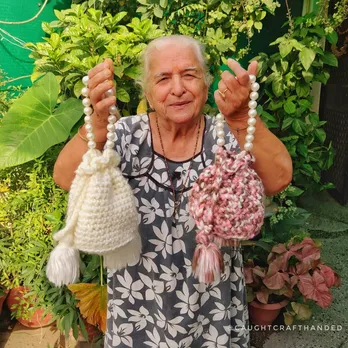 Caught Craft Handed is now a home to crochet earrings, bags, scrunchies, toys, warmers, and home decor items starting from Rs 100 to Rs 2,000 that can suit the people belonging to all generations. "Once a customer from Mumbai had written back to me after receiving the products in a detailed manner, explaining how much she liked them. It was very special for us," Yukti says.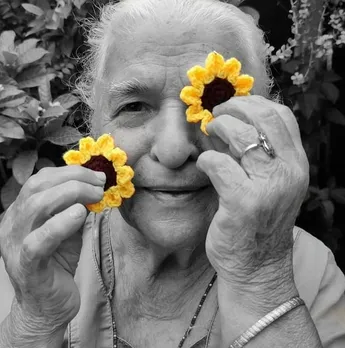 Since her grandmother is not very versed with smartphones, Yukti shows her everything related to their Instagram brand, including pictures and orders of people just like her grandmother, who used to narrate stories to Yukti when she was a kid. Losing her father at a very young age and her mother to an accident a few years ago, Yukti considers her grandmother to be everything for her.
One can easily see them cooking, making reels, and enjoying themselves together. But, the only thing Yukti can not do like her grandmother is crocheting. "I try to learn this skill from her, but I still need to practice to be able to do so. Actually, a lot of practice to be like her!"
For more such stories follow Local Samosa on  Facebook,  Instagram,  Twitter, and Telegram.