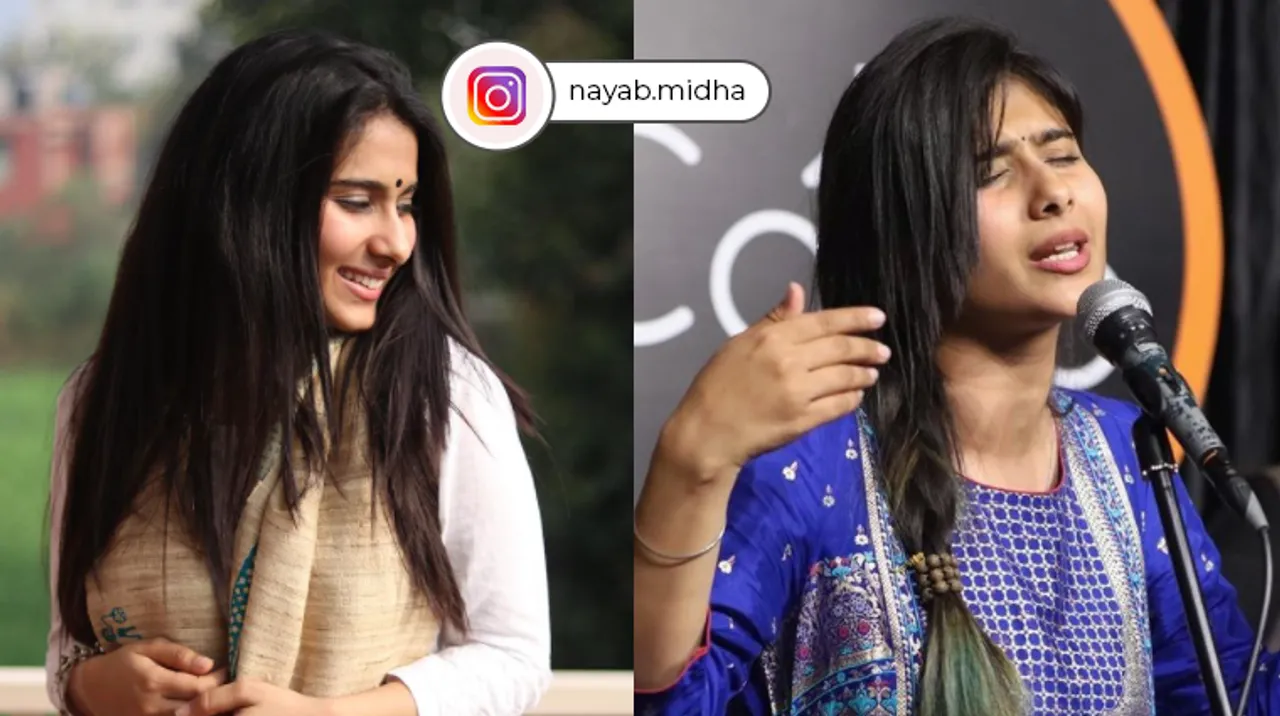 Nayab Midha is a spoken word artist and finds passion in connecting people with words and poetry. She has been performing for more than 3 years now. Some of her must-listen pieces are ' Kya Ek mulaqaat kaafi hai, Tum Khoobsurat Ho, and Ishq Behisab Ho'. 
One of the most talented contemporary Hindi poets, Nayab Midha, will leave you spellbound with her spoken word poetry. The rhymes she makes, the stories and scenarios she paints through her words are remarkable. But, it's not only her words that are impeccable but also the way she performs them. Her expressions help build up the mood, while her body language adds another layer to her pieces. For Nayab, poetry is her life jacket! "We all have things we need to be saved from, I would say poetry is my savior. I like to call myself an Artist. I believe that refugees of life find solace in art", she says.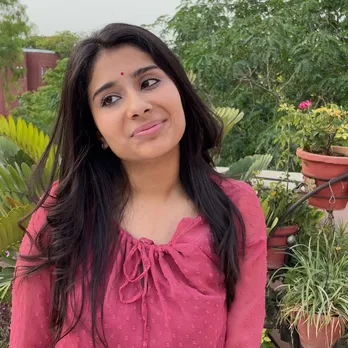 Her journey in spoken poetry began 5 years ago when she was looking for a platform to stand out. Nayab has always been someone who had a different perspective towards things than others. "I would never fit into where I was born or brought up. I was always looking for an escape, and reading & dancing were my best escapes. But, then I decided to write a poem in a creative writing competition at school to stand apart. The magic of rhyming words never left me since then, and I enjoyed writing and rhyming a lot.", she says.
After Nayab moved to Delhi, she participated in a poetry competition, and there she learned to perform her gems. Since then, she has been writing and making videos. Her work has been loved by poetry enthusiasts and has millions of views. Be it Lakeerein, Nani Ki Kahaani, Tum Khoobsurat Ho, or any other piece, there is something very raw and thought-provoking about each of her poetry. " Nani ki Kahaani is about how can men and women stay together if we are telling very different stories about life to them? While Tum Khoobsurat Ho is my story of when I was body shamed, and I am reminding myself that I am beautiful. Although Lakeerein talks about no matter how much we divide our lands, hearts, castes, we will always fail, so why divide them at all?", she explains.
All these stories used to live inside Nayab until she found paper and pen to set them free. But, before she spilled her thoughts on paper, Nayab was fighting with her surroundings too. " I come from a very small town where having a strong opinion and going against society was always tough. Though my parents were always supportive of my poetry, I had to convince them about leaving my job at Infosys to test the waters at my passion. I became vocal about my thoughts and convinced my parents.", says Nayab.
Nayab's new poetry Justuju revolves around the honest feeling of longing for someone. Along with Nayab, the video also features Kunal Thakur, and we must say the duo has done an amazing job. Justuju is a rhetorical conversation between a couple who has memories together but cannot find a way back to each other. It's beautifully shot, and the performance adds a charm to the entire poetry. "Kunal Thakur is an extremely talented actor and also a gem of a human being. He was so comfortable with the team at the shoot, and even pushed me to perform better.", says Nayab.
Though we love how Justuju was shot, we can't deny there's something very unique and special about Nayab performing her poetry in front of a crowd, with slow music and a mic in her hand. Her voice and expressions make them a treat to watch. Performing something live requires confidence and practice, but there are a few things that Nayab Midha wants people to know about it.
"It's essential to know that your story is important. Hear and recite it multiple times, and know why your piece needs to be told. It will set your tone right. There's nothing else you need when it comes to performance. Whereas for a video, a lot of technical things need to be taken care of the look, the set, and lighting. I think one will learn these during the course of their journey. But, above all, be honest.", she explains.
Nayab's work has received tremendous love from people. 'Tum Khoobsurat Ho' crossed 14M views over Facebook, while 'Ishq Behisaab Ho' has crossed 5M views on Facebook and went viral over Instagram posts and reels. Nayab has been touching lives with her poetic gems, and people can relate to what she says.
"Once I received a message from a person who said his father was getting her sister married to a stranger forcefully. There had been huge chaos about the same, and his father stood firm at his decision. That guy came across my poetry Ishq Behisaab Ho at midnight, and shared it with his father. He says he doesn't know what happened overnight that his father changed his decision. I think this change is more empowering than anything else, and no matter how daunting it has been or will be, I cannot stop writing.", Nayab says.
QUICK 5 feat. Nayab Midha
A couplet you'd like to dedicate to your city: I left home 9 years ago & have lived in 6 cities by now. I don't know which one to call mine. But, since I have danced a lot in the rains of my birth city Sriganganagar, Rajasthan, I would like to dedicate these lines by Jagjit Singh Ji.
Ye daulat bhi le lo, ye shohrat bhi le lo, bhale cheen lo mujhse meri jawaani
Magar mujhko lauta do bachchpan ka saawan, wo kaagaz ki kasthi wo baarish ka paani
Your favourite spot in the city where you'd like to go and write: The only place you have to go to write is "In you". Words mostly come to me when I am travelling.
Contemporary Hindi writers/poets you admire: Irshaad Kamil Sir!
Tell us your favourite local spots in your city:

Tell us your favourite local spots in your city: 
I would rather tell you my favorite spot of all time, and it is by a beach. To name one, the experience I had at Anumdai Beach was nothing less than magic. I wish to go back and be there for more time.
Your favourite poem: Has to be Kaynaat by Gulzar Sahab!
बस चाँद करोड़ो साल में, सूरज की आग बुजेगी जब
और राख उड़ेगी सूरज से, जब कोई चाँद न डूबेगा
और कोई जमी न उभरेगी, तब ठंडा बुझा एक कोयला – सा
टुकड़ा ये जमी का घूमेगा, भटका – भटका
मध्यम खकिसत्री रौशनी में मै सोचता हु उस वक्त अगर
कागज पर लिखी एक नज्म कही उड़ते – उड़ते सूरज से गिरे
सूरज में गिरे तो सूरज फिर से जलने लगे
Pouring her heart out by following a quote 'Mad Heart, Be brave', Nayab Midha is working on many new pieces. One of her unreleased poems Avsaad, which she wrote in 2018, took her a month to write. " It asked a lot out of me, and I think that is the best a poem has brought of me as of now.", she says.
For more such stories follow Local Samosa on Facebook,  Instagram,  Twitter, and Telegram.