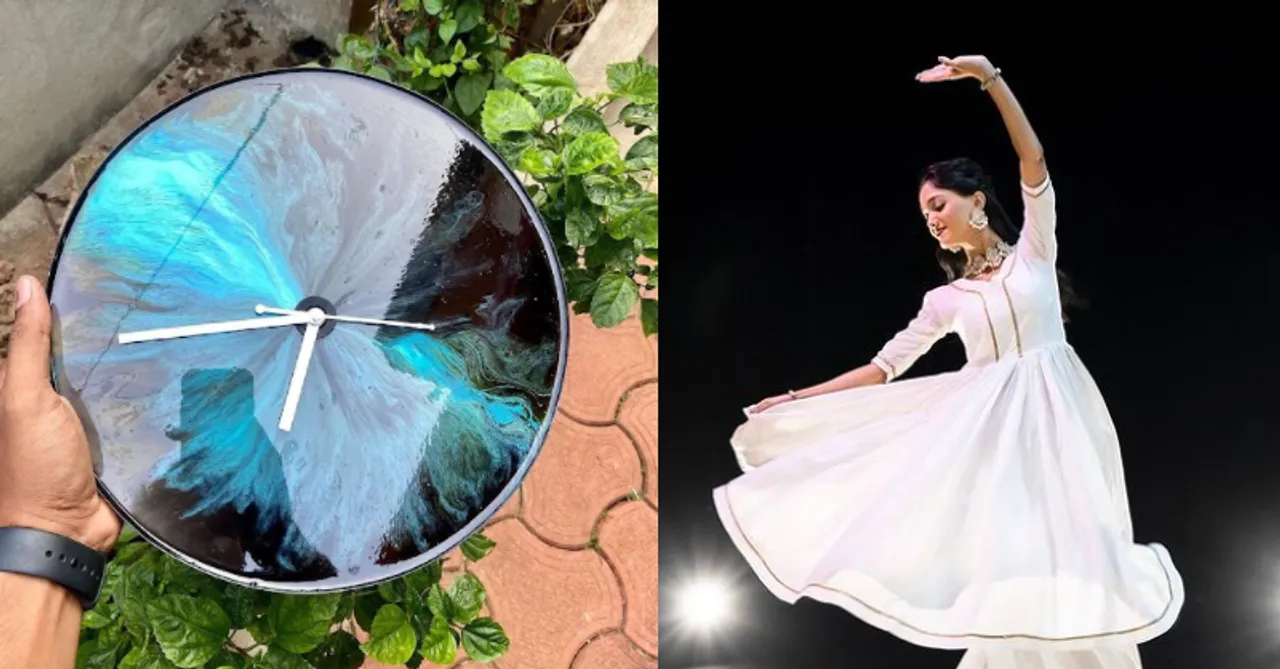 Local Samosa is back with the weekly list of workshops to help you utilize your time in the best way. Sign up for any of these online workshops this week and upgrade your skills.
Explore these interesting online workshops and pick the one that suits you the best. Learn Ayurveda Haircare & skincare, or add bling by learning new makeup skills, learn Kathak, or maybe, try your hands on Warli art. Keep reading, as there's a lot that you can do this week with these online workshops.
1. Basics of Ayurveda workshop by Purple Bee
Do not let your WFH lifestyle make you weak and unhealthy. Boost your energy with Ayurveda and enroll in this one-day online workshop. Learn about seasonal practices, nutrition, body type, skincare, haircare, and a lot more about building a healthy lifestyle.
When: 28th September
DM for details.
2. Self makeup workshop with Sheena Kaur
Sheena is a celebrity makeup artist and has dolled up Sonam Chabhra, Ashnoor Kaur, and many such celebrities in the past. In this 3 day workshop, she will teach you the basics of makeup, contour, client handling, and everything about makeup. Do check this even if you are a beginner.
When: 1st-3rd October
Get in touch at 9460006127
3. Meditative Line Art workshop by Art Rickshaw
Heal your soul with this fun meditative workshop, which is all about sketching & painting floral artworks using line art and watercolor techniques. Learn to paint from Jigisha, who is a Mandala and watercolor artist.
When: 30th September to 3rd October
Get in touch at 8335855530
4. String Art workshop by The Little Craft
String art is weaving colored string, wool, wire, or yarn between hammered nails. Artists use lines of thread to create patterns that can form various shapes, and once you learn it, you can decorate your walls with the same, or maybe gift it to someone you adore. Enroll in this fun workshop, where you will learn to make this brilliant art.
When:  27th September
Tap here for details.
5. Bollywod Dance workshop with Prachi Joshi
Prachi Joshi is a Kathak dancer, and she has worked with Bollywood stars like Madhuri Dixit, Alia Bhatt, and Varun Dhawan. She is also the founder of Kathak Paathshala and has over 67K subscribers on her YouTube channel. Prachi is conducting an online workshop on semi-classical Bollywood dance this weekend, and you have to register if you love to dance!
When: 2nd - 3rd October
DM for more details.
6. Haircare workshop by Derma Science Learning
Take your hair care to another level and make your own natural hair care products. Derma Science is conducting this online workshop where you will learn about making shampoo, scalp scrub, Sea Salt Spray, hair oil, and much more. Enroll if you love your hair more than anything.
When: 26th to 29th September
DM for details.
7. Warli workshop by Chitrakala and Craft
Warli painting is a form of tribal art mostly created by the tribal people from the North Sahyadri Range in Maharashtra. In this workshop, you will learn about the beautiful art of Warli, and then you can paint it on your walls, clothes, bags, or anywhere.
When: 1st October to 3rd October
DM for details.
8. Resin Art workshop by Chitra Art Classes
Resin products can be used as home decor, and they are a great gifting option. In this workshop, you will learn about making a resin clock, as well as a light holder. Make the most out of your time, and learn this pretty art.
When: 3rd October
Get in touch at 9922599214
9. Hoop Art workshop by Activity Ninja
A handmade gift is always extra special, and so if you are planning to make someone's day special, then check this workshop. Grap your sewing kit, and learn to create these beautiful pieces online.
When: 2nd and 3rd October
Get in touch at 9931726680 or 8130545282
10. Candle and Soap making workshop by Shri Balaji Production
Try your hands on candle & soaps making this week in this 3-day online workshop. You will learn about wax, wicks, colors, moulds, fragrances, and different types of candles and soaps.
When: 28th - 29th September
Get in touch at 9910563652
So, which one of these online workshops this week you are signing up for?
For more such stories follow Local Samosa on Facebook,  Instagram,  Twitter, and Telegram.