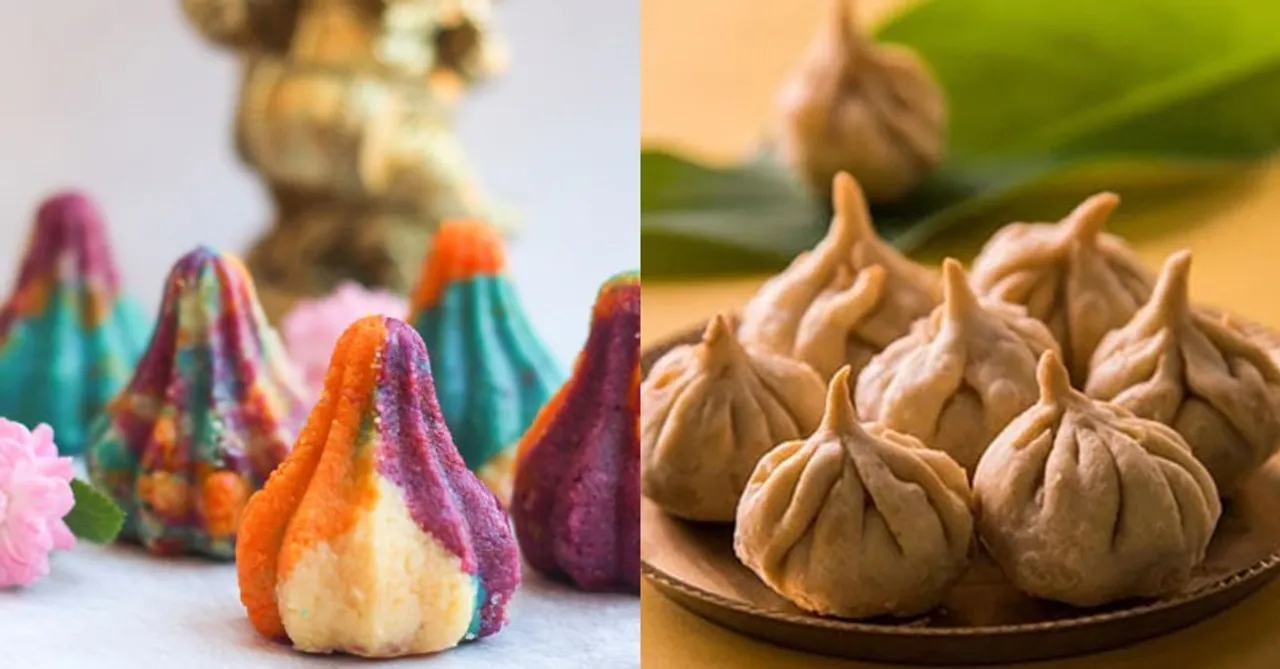 Modak is also known as modakam, kudumu, kudubu, or kozhakkattai in other Indian regional languages, and it's a staple sweet of the 10-days-long Ganesh Chathurthi festival! Make it even more special with these quick modak recipes!
Modak is said to be Ganesha's favorite sweet, and as much as he loves it, we too love eating this bite-size delight. These sweet and soft dumplings are offered to Bappa as prasad during the Puja. Ganesh Chathurthi is celebrated for 10 days, and so we bring you 11 modak recipes that you can make each day.
1. Shrikhand Modak
Eating chilled shrikhand can soothe souls, and it has all the quality of satiating your sweet cravings. But, what if we tell you there is something called Shrikhand Modak, and if you are a fan of both the sweets, you are going to love this recipe!
2. Baked Modak
Like fried momos, fried modak is also very delicious. The crunch and the warm sweet filling are pure bliss. But, if you are a health-conscious person, you do not have to miss this crispy treat. Follow this recipe that does not require any mould. The coconut jaggery filling makes it healthier, and the baked version will help you manage your diet!
3. Modak Ice-cream
Ice-cream fans, where are you? If you are bored with the regular modak flavors, then check this simple recipe, and make a combination of both the amazing desserts together. Serve it with some chocolate syrup or cream, and see the bowl getting finished in seconds!
4. Chocolate Mint Modak
Chocolate fans unite! Try this chocolate mint modak recipe to refresh your tastebuds. It is made with polo ( yes, you read it correctly), and mint powder, and the final look is just too eye-pleasing. An Instagrammazing recipe, we say!
5. Paan Modak
It's fun to chew on paan after a scrumptious dinner with friends and family, and if you also love eating paan after your dinner, try this paan modak recipe, and replace your regular meetha paan with some meethe modak!
6. Anjeer dry fruit modak
You must have heard of Anjeer halwa, and if you happen to have tried it, you know it tastes amazing. But, this anjeer and dry fruit modak gives your anjeer ka halwa a strong takkar. Follow this quick recipe and feed your family with the goodness of dry fruits!
7. Butter Scotch Modak
If you like licking butter-scotch ice cream, then you will love biting these butter-scotch modaks too. Feel free to eat these modaks with butterscotch ice cream or maybe coat it with grated coconut! Do try this one of the delicious modak recipes!
8. Strawberry Modak
This is another fun recipe to try at home if you have kids, as they like eating colorful dishes. You can also add a few chunks of strawberry in the mixture, and enjoy this pink treat!
9. Red Velvet Modak
After red velvet cake and ice cream, we now have red velvet modak too. This recipe is simple and has a delicious cream cheese filling. Try this at home, and serve it with milk made as a dip ( trust us, you will not regret it!)
10. Cheese Modak
Who said cheese can't go well with sweets? Well, make these cheese burst modaks, which have a filling of kishmish, coconut, and other dry fruits. Serve it hot with some chocolate sauce!
11. Rainbow Modak
Make your little munchkins happy with this cool and colorful recipe. This one is super easy to make and will hardly take 30-40 minutes. Feel free to add dry fruits or experiment with the filling and make these gorgeous modaks!
For more such stories follow Local Samosa on Facebook,  Instagram,  Twitter , and Telegram.