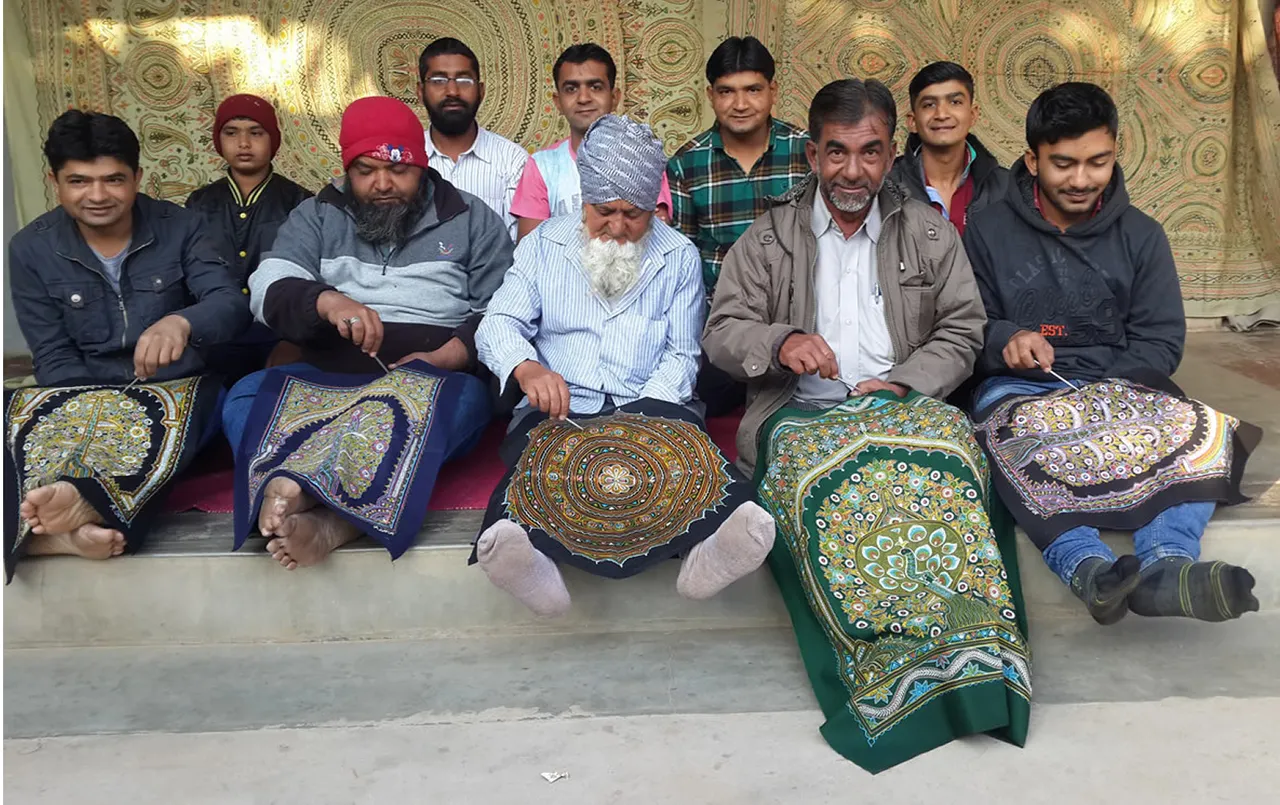 Rogan is 400 year-old tradition that once was very popular in Gujarat's Kutch region. With time, the families who knew this art left it, and only a few people remained who continued making it. After a while when printed textile industry grew and became popular, these few families also stopped making Rogan art. But, the one who did not, was the Khatri family of Nirona village who has not only kept the traditional Rogan art alive but has even taken it to national and international platforms.
A family of 10 in Gujarat's Nirona village has been trying to save and create masterpieces through Rogan art for the last 8 generations. The Khatri family is the only one all over the world who has been practicing and selling Rogan art and has even presented it to Barack Obama, Indian politicians, and many celebrities. Abdul Gafur Khatri, along with his sons, brothers, and other family members, still make and practice Rogan Art. He has even received a Padmashree for his contribution to Rogan art, which has a 400-year-old legacy, and the Khatri family is giving their best to keep it alive.
Rogan, a thick brown paste, comes from Persia and means 'oil based'. The motifs used in this art are usually peacocks, trees of life, and geometric flowers that define nature's beauty.
But, making this paste, aka Rogan, is not as easy as it may look. The Rogan can even catch fire. " It's a dangerous process and so, we do not suggest anyone try it. We are a family of 10, and even among us, only 3-4 know about the paste-making process. It's my father, uncle, and one of the members. The rest of us are still learning it.", says Jabbar Khatri, nephew of Padma Shri awardee Abdul Gafoor Khatri.
His family has been working on this art for so long that they have become experts in the field. Nobody measures anything, everything is done manually and with nothing but their prediction. " We don't follow any particular measurements. However, there is a technique through which we have to control the fire as it has happened multiple times.", adds Jabbar.
Rogan paintings require a lot of creativity as well as patience. The artist uses thin needles, and the entire painting is finished just with it. To make the paint or the Rogan, the castor seed oil is heated for 12-15 hours. Later the pigments are added and mixed well to the basic brown Rogan. The artist then takes an amount of Rogan from the needle to the base of the palm. They mix it until they achieve a thread-like consistency. There are no drawings or sketches. It's just the artist and his creativity to design the painting.
The process starts by pinning the two ends of the cloth to the table frame. The needle and the creamy coloured Rogan move like thread on the cloth. After this, symmetrical designs are made by folding the cloth in half. During this step, the impressions are also simultaneously made. For every outline, there is an immense intricate detailing, and the whole process looks pleasing to the eyes.
"You have to do it without marking and drawing. So, directly working on the borders, and making them perfectly is challenging. Then folding is another task and needs to be done precisely. It can't be tilted. After this, you need people to dry it in the sunlight. If it's windy, at least 2-3 people are required or it will get ruined. Also, since we only have 5 base colours, you'll see a limited colour palette in all our collections.", explains Jabbar.
"If it's a normal painting of tree of life of around 13 x 17 inches, then it takes at least 4-5 days. The process has 2 steps. The first part involves basic outlining and designing. This portion takes at least 2 hours, and then we let it dry. After this, we do all the intricate work. In this step, two people can work together.", says Jabbar.
The sourcing of the colors is also not an easy task, and they get it from the factories in Ahmedabad and other places from Gujarat. "The colors used to be available locally, but now we have to go and search a lot. The art requires colors with no chemicals, so it has to have our color pigments. These colors are mostly organic, but they do have a small percentile of some chemicals. But once, we mix it with the natural Rogan base, the dye becomes natural.", he explains.
Most of their products are made of cotton fabric which they source from Bhuj in Gujarat. While for Khadi, they order the fabric from Baroda and Ahmedabad. "We get the silk from different cities in the south.", says Jabbar.
Rogan Art offers a variety of products, and all of them are equally gorgeous. They have antique quilt covers, wall pieces, skarts, Odhani, Jackets, Bags, sarees, kurtas, dress materials, stoles, chaniya, Jackets, Wall Piece, purses, file Folder, Mask, Table Cloths, and they even work on customizing designs. This family has worked with different designers and fashion students for their projects and aims to present their art to Lakme Fashion week.
Their art has even travelled globally too. PM Modi on his visit to the United States, gifted Barack Obama a 'tree of life' Rogan art painting. The painting now poses on the walls of the White House. They have conducted many exhibitions in different countries, and even their client base is from various parts of the world. "The production done under Tree of Life has now become a brand. However, we have been adding little elements like flowers and leaves in them.", says Jabbar.
Other than the white house, their paintings have been bought and gifted to many celebrities like Zareen Khan, Wahida Rehman, Neha Bhasin, and even politicians like Mukhtar Abbas Naqvi, Ramnath Kovind, Smiriti Irani, and more. " Whenever a delegate visits Gujarat, Mr.Narendra Modi gifts our paintings to them. It has been a word of mouth publicity.", says Jabbar.
Since 2010, the Khatri family has also been providing livelihood opportunities to local women. They came up with a training school where many women and young girls would come and work for them. "We help them with the basic design and then they work on the intricate work under our guidance. This is providing them livelihood opportunities. I have been to NIFT and other various fashion colleges for workshops, and have covered almost all the fashion institutes in all major metro cities.", says Jabbar.
Shedding light on his family's connection with Rogan Art and their journey of making it this big, Jabbar says, "There were 2-3 families a long ago in Kutch who were doing Rogan art. They used to make it in a folk style, and the products were also not very neat. Later, when the printed textile industry emerged in the market, all the other families stopped it. But, our family continued with it. Ghafoor Bhai was in Mumbai for a job, and his father asked him to come back, and then in 1985, he started with the Rogan Art, intending to make it something huge. We have made a few changes, and there have been 8 different upgrades as of now.", he says.
According to Jabbar, initially, Rogan graced mainly Ghaghra-cholis, bridal trousseaus, bed sheets, and tablecloths. But, it was his family who expanded it and later came up with contemporary items. "We have done many collections for designers and fashion students. In such projects, we work on the motifs and borders traditionally. But, to combine it with fashion, we modernize it a little bit. We ensure that the design is visible even from a distance. They design the garments by keeping Rogan art as its theme.", he adds.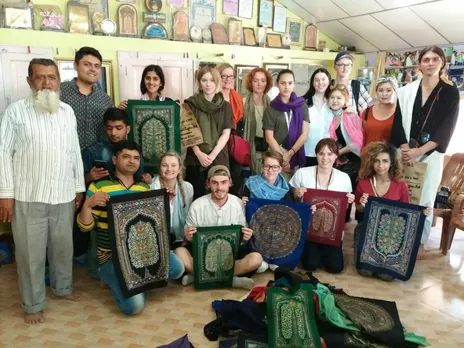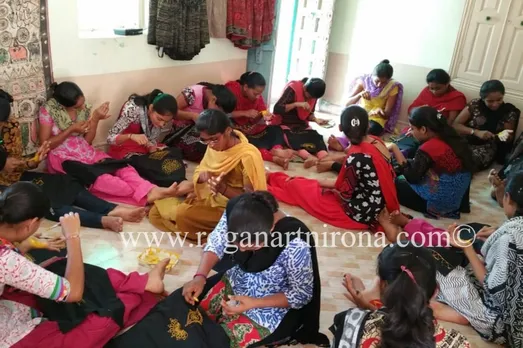 Jabbar, who has travelled all across India for different projects, finds his inspiration in the heritage buildings, old forts, and intricate work. "All the pieces that I have worked on are close to my heart. The forts in Hyderabad and Aurangabad have inspired my latest painting too .", he says.
We wish Khatri family great luck and would like to applaud them for reviving the traditional art of Rogan! Support their hard work and shop here.
For more such stories follow Local Samosa on Facebook,  Instagram,  Twitter, and Telegram.