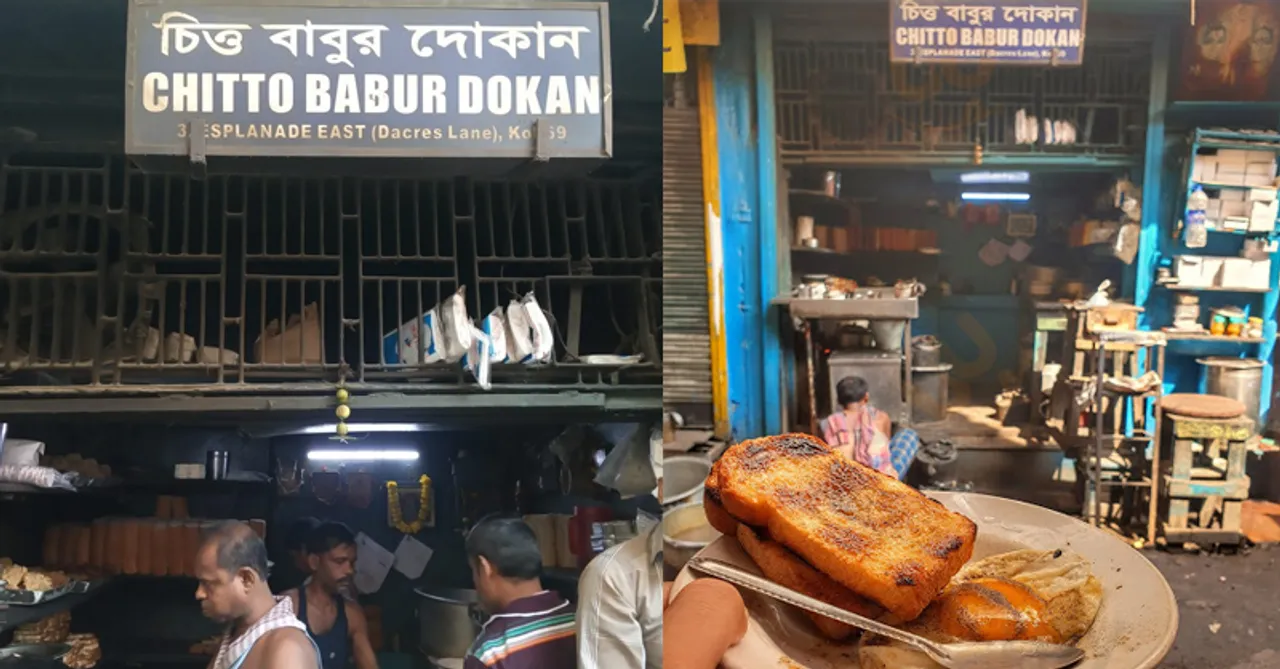 This decades-old food joint is known for its melt-in-mouth Chicken Stew, freshly-baked Toast, Fish snacks, and other such dishes. Chitto Babur Dokan has been a favourite spot for many people including celebraties like Mithun Chakraboty, Raima & Riya Sen, and Vidya Balan has even shot for her movie Kahani in fornt of this eatery.
Tucked away in the Dacres Lane in Kolkata, Chitto Babur Dokan is a very small eatery and is more like a 'Chota packet, bada dhamaka'! You will find people standing, biting on their food, and also sitting on the wooden benches placed on the corner. This place is a go-to eatery for many people, even celebrities, and was started in 1947 by Shrish Ranjan Roy.
It was just an eatery where you would get boiled eggs
Though initially, it was opened as an eatery that used to serve boiled eggs, it was 2 years later, that it started selling its iconic and melt-in-mouth dishes. An old-school teal door guards Chitto Babur Dokan, which is more like a hole-in-the-wall. You will see waiters taking orders and serving them with piping hot food. "It is named after my grandfather's eldest son and my Bade Papa, Chitto Ranjan Roy. At first, it was just an eatery where you would get boiled eggs, but with time, it grew.", says Sandeep Roy, grandson of Shrish Ranjan Roy.
Chitto Babur Dokan is known for its quality menu and very prompt service. A plate of piping hot Chicken Stew, crispy fish fry, chicken Pakora and more are ordered religiously by the people. "There are people who have been visiting us for decades, and now their grandchildren are doing the same. So, even our customer base is also very nostalgic. I think it's an achievement for us.", says Sandeep.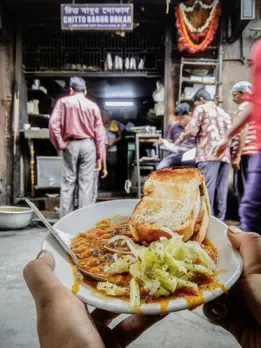 Vidya Balan's Kahani was shot here!
Other than local people, Chitto Babur Dokan has also seen many celebrities like Mithun Chakraborty, Riya & Raima Sen, and Vidya Balan. " Kahani was shot here right in front of our eatery. There were 2 scenes, and they recorded both the scene at midnight. It was fun.", says Sandeep.
If you are in front of Chitto Babur Dokan, you will see a box in the wall, where Sandeep will be found sitting on a long stool, welcoming the customers with a broad smile. You will also see waiters, who will be busy serving customers their food, while another man will making Chitto's iconic Chaa. (Tea). Other than lip-smacking food, this eatery is also popular for its Tea, aka Chaa. Every day they make more than 500 cups of tea, and people seem to love it too.
"I believe if your customers are convinced and happy, they stick with you. And, even If you are serving them the simplest dish such as dal rice with a smile, they will be happy. Also, if you are providing good quality food, the customers end up talking about you. In our case also, it's all word-of-mouth and people's love.", add Sandeep.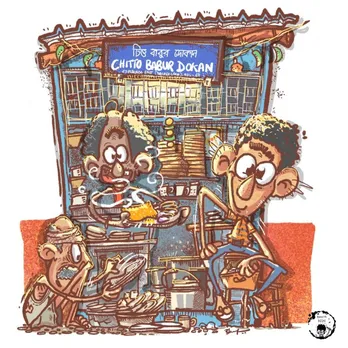 Our customers don't want us to change anything, not even the crockery
Sandeep holds a degree in Hotel Management, and when he was in his first year of college, he joined his elder brothers and became a part of this family business. "We all are together running this eatery. I did get an offer after completing my degree, but then my father told me if I will go away who will look after the shop. So I ended up working here. It was meant to happen, and I feel proud to be a part of this legacy.", he says.
In these last 74 years, nothing has changed at Chitto Babur Dokan. The ambiance is the same, the recipes are the same, and even most of their staff are the same. Their youngest staff has been working with them for more than 25 years, and that is why the taste of their food has never changed. The siblings also never tried changing anything, and the reason behind that is their age-old customers.
" They have so many memories with our eatery that they don't want us to change anything, not even the crockery. So, we get their approval and then only make any changes", says Sandeep.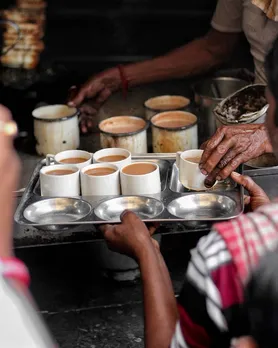 The cooks at Chitto Babur Dokan use all the traditional methods. The taste is heart-warming, and there is a lot of effort that goes behind it. "We still grind the spices on Silnora ( Stone Mortar). We use tandoor for certain dishes and have different metal utensils for different recipes.", he says.
This eatery has indeed seen many people and has also witnessed many stories. When someone runs a business and serves people, they do not just sell them something, but they also become a part of their lives. Chitto Babur Dokan has also seen many such stories.
"My fath"My father used to tell me that during the 80s, there was a director who was struggling. He had come to Kolkata for work and did not have money in his pocket. So, my Bade Papa told him that he could eat and pay later. The guy later became a very famous director, and even invited my Bade Papa to his film's screening. I also remember, right before the lockdown, there was a group of tourists from South Korea who came to Kolkata. Their tour guide bought them here, and they had chai. They later asked us to give the chai mugs to them so that they can keep them as a memory. Such incidents make me very happy.", says Sandeep.
Chitto Babur Dokan is indeed a heritage eatery, and we can't wait to visit Kolkata and dig into their soul-warming chicken stew, mutton stew, fish fry, and last but not least, their Cha!

Where: 3, Esplanade East ( Dacres Lane), Near Pearless Bhawan, Esplanade, Kolkata.
Price for two: Rs.200 onwards
For more such stories follow Local Samosa on  Facebook,  Instagram,  Twitter, and Telegram.