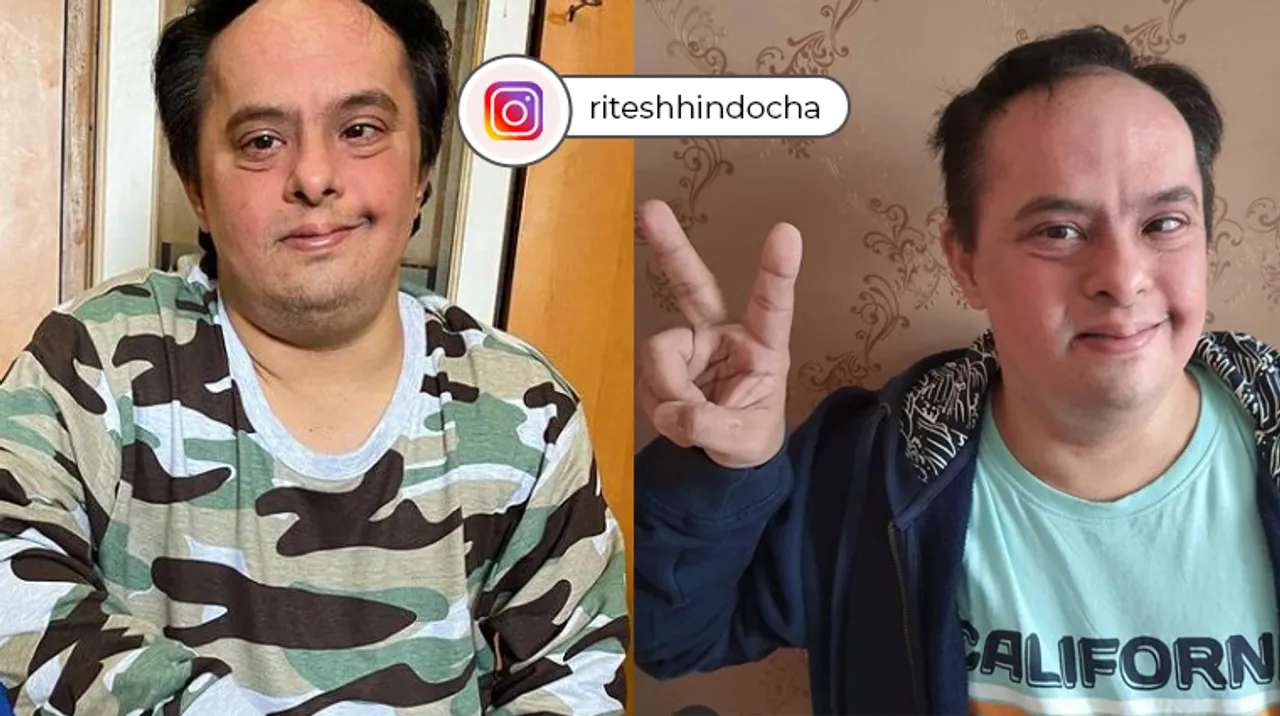 Ritesh Hindocha is spreading joy, warmth, and love on his Instagram. He started his social media journey during the lockdown when he couldn't run his mobile shop and go for swimming sessions. His nephew 'Dhruv' made his Instagram page after he saw him dancing on the 'Aankh Maare' song with enthusiasm and energy.
"I am Ritesh, and I feel very happy when people tell me that they love my videos", says India's first Down Syndrome influencer and video creator, 'Ritesh Hindocha'. You will see him giving reviews, dancing, talking about the pandemic in the most sensible way, and making fun reels on different topics with his nephew Dhruv and other family members. Ritesh Hindocha's Instagram is full of life, warmth, love, and cuteness. You will fall in love with his dance moves, and the way he looks at you will definitely melt your heart. This video creator is acing his content, and we can't help but adore him.
"Lalu Mama likes to be in front of the camera, and shoot videos. He used to take part in dramas too. He had even acted in a movie with Urmila Matondkar 20 years back, where he played a small character for a minute.", says Dhruv, who is the nephew of Ritesh Hindocha and lovingly calls him Lalu Mama.
Dhruv is not only Ritesh's nephew but also his best friend. Dhruv created Ritesh's Instagram account after seeing him dancing cheerfully on the song 'Aankh Maare'." My nana ( Ritesh's father) saw him dancing in front of the TV, and sent me his video. We always knew that he loved dancing. But, after watching him dance that day, I just decided to make his account.", says Dhruv. After that, he kept shooting and uploading Ritesh's videos and photos on his Instagram. "He did not know about his Instagram for a month, and once it became successful, we told him. Initially, he was the one who did not know anything and now he knows his Instagram more than all of us.", Dhruv laughs.
And, since that day, Ritesh has not stopped dancing, and even though he makes different types of content, dancing is his favorite part. "He loves every Neha Kakkar video we have done, and enjoys them the most.", says Dhruv.
Down Syndrome is a disorder that comes with many difficult conditions and problems. These conditions can include vision problems, hearing loss, heart defects, Hypotonia, and many other issues. It's definitely not an easy life, especially for young kids. Ritesh was in his 3rd grade when he was diagnosed with Down Syndrome. "He was in a normal school before that. So, one day the principal called and that's how my grandparents got to know about it. Since then, they have been very supportive, and Lalu Mama was and is still the most beloved among all his siblings.", says Dhruv.
Ritesh Hindocha had a tough childhood dealing with Down Syndrome. But, now he is 38 and is strong and healthy. Yet, there are certain things that he still finds difficult to do. "He finds talking and explaining things a little tough. But then he practices a lot. Making such videos are a lot of hard work for him. But yeah, he loves making the dance videos.", adds Dhruv.
Dhruv was 8 years old when he got to know about his Lalu Mama's diagnosis, and since then, their bond has only gotten better. "Lalu Mama did have issues while growing up, but now he is doing great. People have been very supportive and welcoming online. But, people who do not know about his condition and meet him in person, ask weird questions. These questions are very annoying", explains Dhruv.
A life with Down Syndrome can be difficult at times, and we never know what the person is going through. On tough days, it becomes even more problematic and troubling for the person. However, on such days, Ritesh finds his solace and peace in god. "He is very religious. During the tough days, he doesn't share anything with anybody. He always keeps it between him and the god. However, it usually takes 30 seconds for him to get okay. Not more than that! He can't stay angry for a longer time.", says Dhruv while smiling.
We totally adore this duo's friendship and bond. They don't live together but are in touch with regular video calls. Ritesh resides in Andheri with his parents, while Dhruv stays in Kandivali. Due to the pandemic, they couldn't meet regularly, so they ended up calling each other on video calls. "Lalu Mam shares everything with me and has to have a video call every single day.", he adds.
You will find nothing but love when you'll hear Dhruv talking about his Lalu Mama. It's beautiful. Their bond is so strong that they never fought, but then what's a relationship without some nok-jhonk? Sharing one of their recent fun fights, Dhruv says, " I was insisting him to take the vaccine, but he wasn't ready. After a lot of struggle, we finally took him to the center. Everything was fine, and he did not even get any side effects. But, after taking the vaccine, Lalu Mama didn't talk to me for 2 days because he did not want to take the vaccine. It was our first fight, and it was so cute".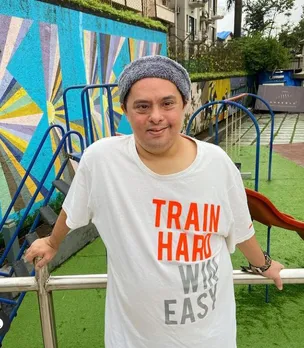 There are multiple videos where you will see Ritesh dancing. His moves are adorable, and he tries to follow each and every step with all his heart. He looks forward to posting the video, and you will always find him excited about it. "Lalu Mama loves wearing new clothes and getting ready. He enjoys that people are going to watch his video, and he reads every comment.", says Dhruv. Even though Ritesh doesn't completely understand everything, he still tries reading all the comments on his posts. Ritesh is even working on his vocabulary by learning a new English word every day.
Though it's not surprising to see hate comments on social media these days, it does break our heart to see content creators like Ritesh receiving unnecessary hate for their work. Dhruv says that the ratio is 20:80, and there are very few negative comments. But, it is still sickening to see someone as innocent as Ritesh getting such comments. And for the same reason, Dhruv has taken complete control of his account.
"He doesn't know about the negative comments. We handle his account because if he will know, he will keep thinking about it. I remember, he once read a negative comment and asked me why people were writing such things. So, since then, we deal with the comments.", he adds.
But, on the other hand, Ritesh's comment section is flooded with positive and cheerful comments too. Among his followers are many celebrities like Prajakta Koli aka Mostly Sane, Bhavin Bhanushali, Natasha Bharadwaj, Ayush Mehra, and Abhishek Golecha. Talking about how does he feels when people call him the first Down Syndrome influencer of India, Ritesh says he loves it. " Mast! Bohot mast lagta hai", says Ritesh Hindocha while smiling.
"When people recognize him he feels the happiest. When he goes down, everyone tells him that they watch his videos, and how amazing is he, to which he ends up blushing. We recently went for the vaccination and even the doctors recognized him. He even took a selfie and appreciated his content.", says Dhruv.
Before Ritesh started his social media journey, he was running a mobile shop on his own. During the pandemic, the shop had to be shut, and then he had nothing else to do. Ritesh was in a depression, but thanks to Dhruv, who made his social media account. It has helped him get out of that depressing phase. Social media has been a big help when it comes to Ritesh's mental health. It has made him more confident and more tech-savvy. "Before social media, he would not talk to anyone apart from the family. But, now he communicates, and is making people fall in love with him, and of course his dance moves.", says Dhruv.
We wish Ritesh and Dhruv great luck. Follow Ritesh Hindocha here to see him dancing, and doing fun things in the most adorable way.
For more such stories follow Local Samosa on Facebook,  Instagram,  Twitter, and Telegram.