Winner, Winner, a spicy chicken wingy dinner! If you call yourself 'Lord Of The Wings', then head to these 5 restaurants in Pune, Lucknow, Goa, and Mumbai, that are serving some extremely hot, and spicy chicken wings.
If the messier and the hotter your chicken wings get, the more delicious you find them, then we have something drooling for you. These 5 restaurants are serving the spiciest chicken wings in India, and the fiery red hot color is already making us cry. If you are a fan of spicy food and are in love with chicken wings, then give these plates a try!
1. Fiery hot chicken wings at Wings & Co, Pune
They claim to be the only restaurant in town serving chicken wings in 11 types made with worldwide sauces, in 4 preparation styles. According to the local people, this place serves the crunchiest and the juiciest chicken wings and adds various ideas to it to make it a unique concept. Their menu features Bhutchilli wings that come with a challenge. If you are able to finish it then you will not have to pay for it, and we think that's spicy!
Where: Wings & Co. at Viman Nagar, Pune
2. MONTY'S Chicken Wings in Goa
Chef Monty Bagchi used to run an outlet called "MONTY'S Chicken Wings, which specialized in serving the only oven-baked wings in various flavors. Now, he is delivering the same menu to your doorstep in Goa. Their MONTY chicken wings come with different spice levels, and the Full Monty Wings are probably the spiciest wings. He is currently accepting orders in advance, so if you are planning to bite on these wings, order a day or 2 earlier.
Place your orders on 9717492003
3. Death Wings, at Socials Mumbai
Social is Mumbai's go-to spot to eat with friends and fam. But, Mumbaikars, now you can have a Chili'n experience at Colaba's Social with their epic Death wings. True to its name, these death wings are slathered in a hot sauce and look hot. You will even get a free lemonade if you survive the whole plate!
Where: Social, Colaba, Mumbai

4. Bhut jolokia wings at BurgerFry Lucknow
As the name suggests, these smokey chicken wings have the spicy flavor of the world's hottest chilli sauce and look fiery enough to make you sweat. On a scale of 10, the restaurant says that it is 10, and if you like spice and everything nice, bite on these super hot wings!
Where: Plot no D, Ground, Ground floor, 02, Vivek Khand 2, Gomti Nagar, Lucknow
4. Ghost pepper wings at Fire Wings, Mumbai
Fire Wings in Mumbai offers 30 different types of wings like Jamaican Jerk, Irish Brown Sauce, and more. They have plenty of spicy fire wings such as Peri Peri, Dragon style, Fire wing special, and the spiciest Ghost pepper Chilli wings tossed in a spicy sauce of Bhut Jolokia. Other than the wings, they also serve in-house burgers, signature salads, loaded fries, pasta.
Where: Have multiple outlets in Mumbai.
6. Ghost chilli Chicken wings at Cafe Rendezvous, Pune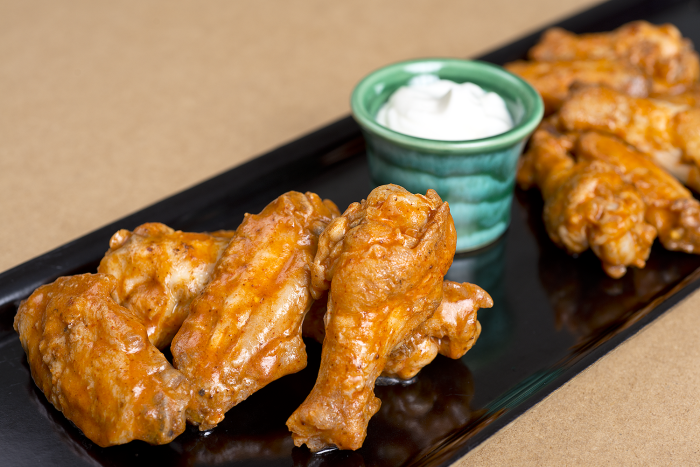 A plate of these spicy hot chicken wings comes with 6 pieces, and up until now, very few people have been able to finish it. This one is also made with Bhut Jolokia and is made extra spicier by tossing them in the chilli sauce. Bite on one of the spiciest chicken wings in India if you are in Pune next time!
Where: Jadhav Sadan ground floor Paud Phata, Lane Number 2, near Kirti hardware.
For more such stories follow Local Samosa on Facebook, Instagram, Twitter, and Telegram.
Comments
comments