If you love chocolate or know someone who is a chocoholic, then it's time to buy some gifts that will make any chocolate fans the happiest!
Chocolate is definitely a cure for a bad day, and if you are someone who believes that a balanced diet is about having chocolate in both hands, then check this list of gifts that are perfect for chocolate lovers! Bite on them, or use them on your skin, as these chocolicious products will make every chocolate fan grin!
1. A Chocolate face Mask from Wow Skin Science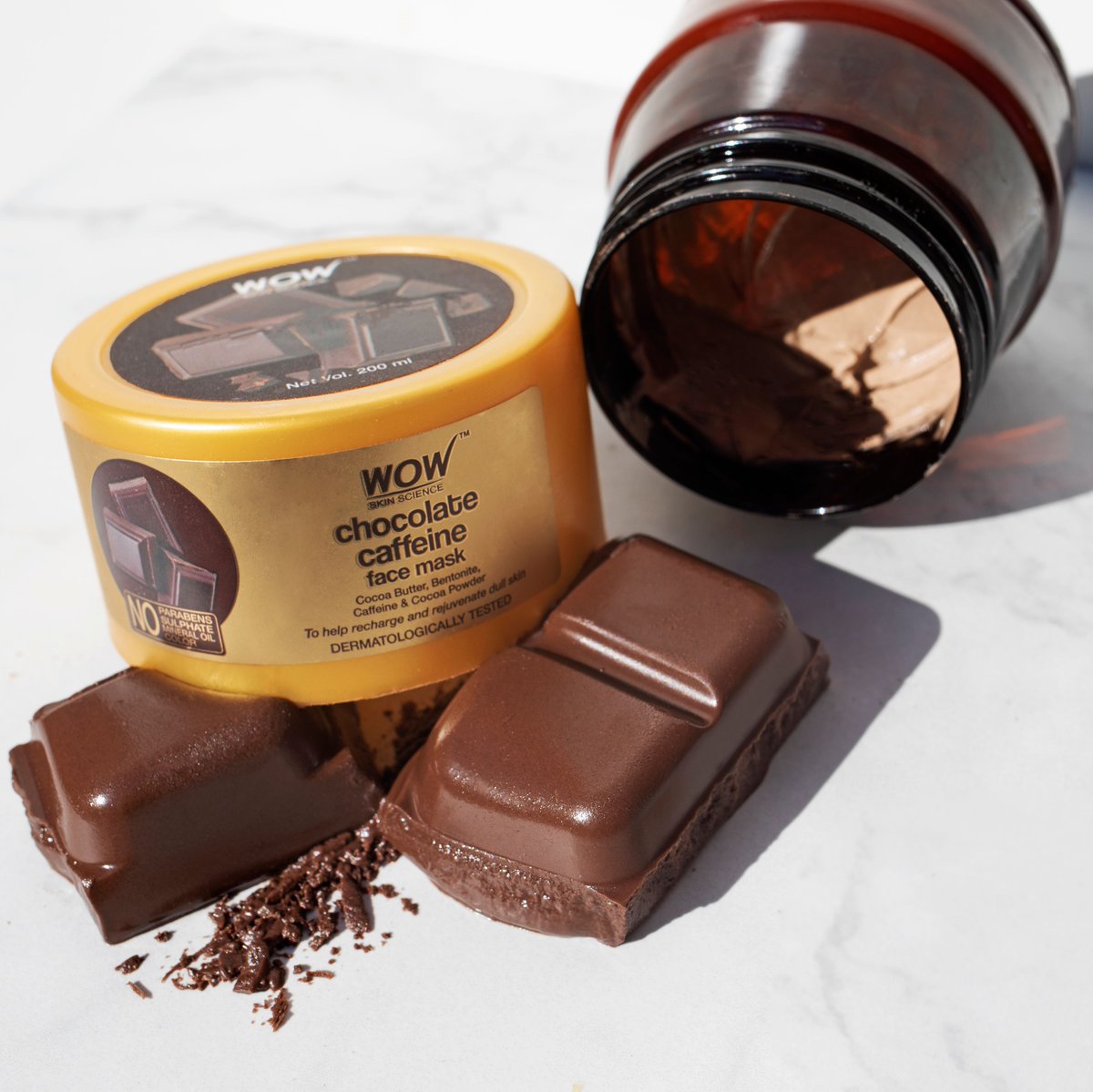 Recharge and Rejuvenate the dull skin with this chocolaty Face Mask. Chocolate is said to boost skin moisture, protect you from sun damage and diminish wrinkles. Restore the moisture of your skin, as this mask comes with vitamin E, cocoa butter, and extra virgin olive oil. Apply it twice a week and enhance your skin's health.
Shop here.
2. Chocolate Soap Bar from Deyga
Now chocolate fans can literally bathe in chocolate with this chocolate bar made with cocoa powder. Soothe your body with the anti-inflammatory properties of chocolate and get that chocolaty glow! This soap also has olive oil, shea butter, and sunflower oil to leave softness on the skin after bathing.
Shop here.
3. Chocolate Flavour Oil from The Art Connect
Perfect for all chocolate fanatics, this chocolate fragrant oil is definitely a perfect gift. One can use these fragrance oils in potpourri, diffusers, candles, and more. You can also add a few drops to your lip balm and lip care products to get that chocolaty aroma.

Shop here.
4. Chocolate Scrub from Body Cupid
This is another product which is useful for everybody. Scrubbing your face with the goodness of chocolate will make your skin smoother and gentler. We think someone who loves chocolate will be happy to receive it.
Shop here.
5. A chocolate fondue set from Nestesia
Let that chocolate bar melt nicely, and once it is warm enough to dip, dive into this chocolaty heaven. Pick your favorite snacks or fruits and enjoy a treat at home! This is one of the unique gifts for chocolate lovers that will surely bring an ear-to-ear smile to their faces.
Shop here.
6. Chocolate Candles from Jaypore
Take a warm bath, wear your pajamas, play your favorite song, dim the lights, and lit these chocolate-flavored candles. Sound perfect, right? Give yourself a break from all the chaos, and sit in your room and inhale this chocoholic Mint Scented Candle this weekend!
Shop here.
7. Edible Chocolate spoons from Brown Living
You read that right, these spoons are edible and will go well with any milk and coffee-based beverage. Be an eco-warrior and say no to plastic spoons and replace them with something delicious. These edible spoons are packed with the goodness of multi-grains like oats, ragi, millets, chickpea. They are 100% biodegradable and comes with 25 Pcs in each pack. It would definitely be a hit among kids and even adults. So check them now.
Shop here.
8. Chocolate Shampoo from Areev
Cocoa butter is one key ingredient that works well to hold moisture, which is why it is one of the best options for keeping your skin and even scalp hydrated and nourished. The fat in cocoa butter forms a protective barrier over the skin to hold in moisture, and so using this shampoo will seal in moisture, and will leave your hair frizz-free no matter what the weather is. Give it a wash na!
Shop here.
9. Spicy dark Drinking Chocolate from Cococart
Sweet, spice, and everything nice! This spiced chocolate drink is a must-try. Sip on something different this time as this chocolaty drink is a blend of cinnamon, chilli, vanilla flavor, and a lot of cocoa powder. Indulge in this spicy delight and drink something new in chocolate this time!
Shop here.
10. Chocolate Notepad by Sugar Box
We could not end this list without mentioning a cool chocolate accessory. If your first love is chocolate, and you always end up buying a huge chocolate bar, then here is a notebook that looks exactly like that. This chocolate mini-book is adorable and can be a perfect gift for all the chocoholics.
Shop here.
So, which one of these amazing gifts that are perfect for chocolate lovers are you going to get? Tell us in the comment section below.
For more such stories follow Local Samosa on Facebook, Instagram, Twitter , and Telegram.
Comments
comments