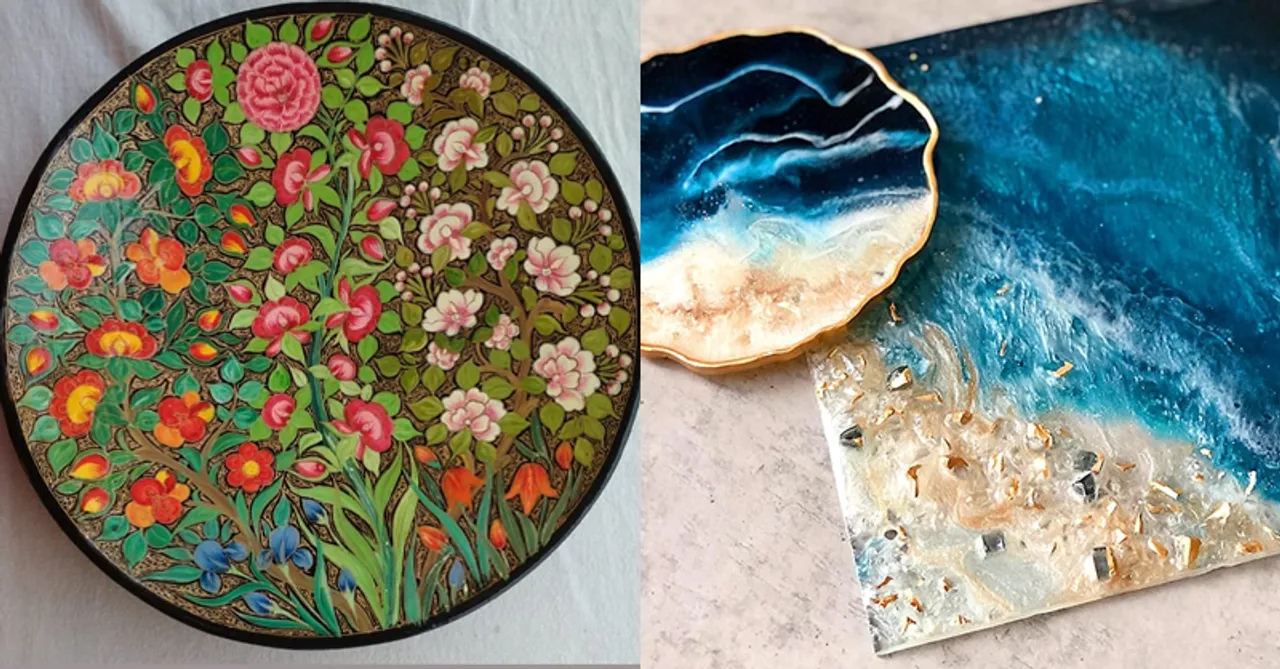 We are back with the weekly list of workshops to help you utilize your time in the best way. Sign up for any of these online workshops this week and add a dash of creativity to your day!
Bored with the daily routine? Then why not learn a new skill this week? Explore these interesting online workshops and pick the one you like the most. Make home décor items with a wood, try your hands on baking, or draw your favourite animated character, here's a lot to learn and these workshops will help you do that! Keep Reading.
1. Art of Distressing Wood with Rimjhim Garg
Wood distressing is a technique where one converts raw wood into a vintage object. These distressed woods can add a dash of rustic aesthetic to your room. In this workshop, you will learn 2 techniques with important tips and tricks. The session will be conducted by artist Rimjhim Garg who is the founder of ArtDelight Group.

When: 4th July
Tap here for details.
2. Paint anime with Khushboo Raghuwanshi 
If Ghibli studio is your favorite and you prefer anime over everything else, then this online workshop is definitely for you. Try your hands on this epic cartoon art that originates from Japan, and draw your favorite anime characters!
When: 29th June
Tap here for details.
3. Learn the art of storytelling with Thousand Thoughts
Who doesn't love listening to stories? It's fun, right? But have you ever thought, why do we find someone narrating a story so beautiful? Well, it completely depends on how the person is narrating, and storytelling requires a certain skill set. Learn the essentials of crafting a story in this online workshop with Thousand Thoughts and weave new stories!
When: 3rd July
Tap here for details.
4. Learn doodling with artist Shriti Mohanto
Shriti Mohanto is a painter, doodler, and wall muralist. She has been featured by TOI, Reebok India, The Talented India for her amazing work. In this workshop, she will be teaching the learners the basics of doodling online. Sign up for this and make your doodling game strong.
When: 4th July
Tap here for details.
5. Make Kashmiri Mache with Me Meraki
Paper Mache is a material that is made with a mixture of paper water, glue, and other substances and hardens as it dries. In this online workshop, you will be making a beautiful paper mache decorative plate. All the materials will be provided to you before the workshop. Learn this pretty art with the expert Riyaz who is a chinar paper mache artist from Kashmir.
When: 4th July
Tap here for details. 
6. Learn makeup with Riza Khan
Riza Khan is the 𝗖𝗼-𝗙𝗼𝘂𝗻𝗱𝗲𝗿 of Make Up School and is definitely a make-up expert. She has done makeup for celebs like Ridhi Dogra and Sara Khan. Riza is also a recipient of 94.3 My FM's Entrepreneur Excellence Award 2021. Khan knows everything about make-up and she is here to teach you the same in this pro master online workshop.
When: 5th to 10th July
Get in touch on +91 7000448245 
7. Public speaking workshop for kids with Expert Nandita
Nandita has been teaching for 21 years. She is also a coordinator for Model United Nations conferences and has been coaching and guiding young students in public speaking for a long time. Nandita is a communication expert. It's a great opportunity for all the kids of age group 10 - 16 yrs to work on their public speaking skills with this online workshop where Nandita will groom them. We suggest you do not miss out on this.

When: 4th July
For details tap here.
8. Bake Doughnuts and Papparoti with The Bakesters Club

The Bakesters Club provides solutions to run a successful business with its different short-term online baking courses. Other than that, they also conduct quick online workshops, and this week they are here to teach you 3 types of Doughnuts and Papparoti. So, what is it you are thinking? Bake your weekend Foodilicius with this virtual workshop!
When: 3rd July
Get in touch on 9161129044
9. Resin workshop with ArtsCre
Exploring the world of creativity  ArtsCre covers coachings, events, artistic brand development, venture stories, and more. They keep conducting workshops on art and crafts, and this week they are hosting a resin workshop online. Learn this gorgeous art at home. They will deliver the required materials to your place, and no prior experience is needed. Hurry up!

When: 4th July
Get in touch on 9004870122.
Enroll in these online workshops this week and be a little more productive this week.
For more such stories follow Local Samosa on Facebook, Instagram, Twitter, and Telegram.