The ambulance services for women have been started by the Ninebee foundation where only women drivers will take the patients to the hospitals.
The cases of sexual assault on women by cab drivers are not very uncommon. Even in the awful times of Coronavirus, such cases do not seem to stop, making women fight the double battle, one with the disease and the other with such assaulters. Keeping this in mind, the Ninebee foundation started ambulance services for women in Pune.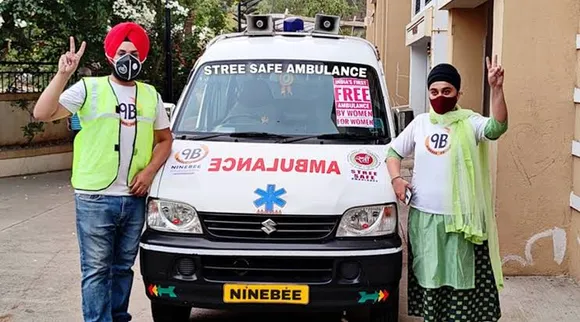 Stree Safe, the name of the initiative, was started to provide free ambulance services to those detected with coronavirus and is driven by women. Started three weeks ago, the initiative is aimed at providing safety to women.
Ninenee foundation was active in providing food, oxygen cylinders, and oxygen concentrators to the patients during the second wave of Coronavirus. They launched the 'Stree Safe' initiative after coming across the case of a woman who was abused in the ambulance while she was taking her husband to the hospital.
"How many times we see rape news and feel bad for it? Is dharna and candle march the only fate? Or blaming the government and administration any solution? Can we do something to avoid such instances? Can't we fix it when people are already in so much trauma of mental and financial pressure?" Amarpreet Singh, the founder, and director of Ninebee Foundation said about the agenda of the first meeting.
Ambulance services for women along with drivers trained in self-defence
At present, two women drivers are working for the initiative. However, five others are taking training in martial arts and self-defense in Kondhwa.
The foundation took the help of social media to create awareness for the initiative. Soon after, they started receiving calls from women. They have also started a fundraiser to buy three ventilators equipped ambulances. The ambulance will also be equipped with a few other machines for COVID-19 patients.
The NGO is planning to start similar services in Delhi soon.
Contact: +918007776088
Donate here
For more such stories follow Local Samosa on Facebook, Instagram, Twitter, and Telegram.