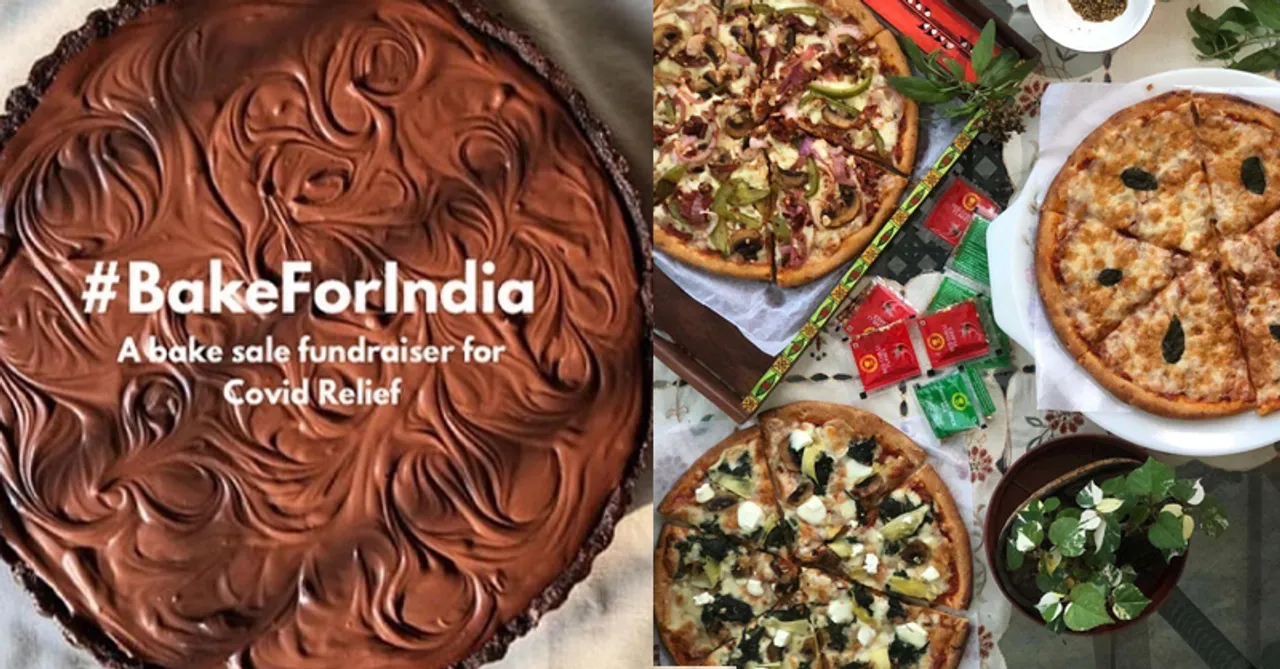 Grab a cheesy Pizza, order a proper meal, or enjoy your favourite dessert while helping people affected with Covid-19, as these eateries, bakeries, and cloud kitchens are donating their sales to Covid Relief!
The second wave of Pandemic has left everybody in shock and dismay. It is more severe, dangerous, and deadlier than the first wave of COVID-19. In times like this, when we are facing a shortage of resources, there are organizations and NGOs that are helping them get what patients need, and saving lives. Having said that, there are people, NGOs, and organizations running fundraisers, and if you also would like to help them, then order from these eateries that are donating a percentage of their sales to the COVID-19 Relief!
1. LA GALLETAS, Lucknow
This Lucknow-based homemade bakery has an extensive menu featuring 20+ sweet and salted cookies. They are donating 100% of their proceeds to @shewingsorganization for Covid Relief Fund from 5th May-30th May. DM them on Instagram for a cookie bite!
2. 99 Pizzeria Vadodara
They are donating 10% of their month's sales proceeding until 31st May'21 Hemkunt Foundation. Order some Napoli-Style, Hand-Tossed, and Stone Baked Pizzas from them and help them help those in need!
3. Tilpasse Bake House, Mumbai
Mumbaikars, it's time to satiate your sweet tooth cravings with some delicious cakes, fresh breads, and other desserts. Tilpasse Bake House will donate 100% of their proceeds to Hemkunt Foundation through their bake sale happening between 10th May to 20th May!
4. Renaye's bakesale, Mumbai
This Mumbai-based bakery is run by a sister duo, and they are all set to help people. Order a box of dessert and they will donate all proceeds directly to Ritambhara Life Care Centre, which is setting up hospital beds and oxygen for COVID patients at Juhu. DM them on Instagram and get your boxes!
5. Good Slice
The popular #BakeForIndia is an ongoing bake sale to raise money towards urgent Covid relief work started by Good Slice. The chefs and bakers donate at least 10 units of a particular product on their menu to customers, friends, and family and 100% of proceeds go to a verified charity working towards Covid relief. Good Slice has been organizing them all into a google document, and if you are looking for a complied list, check their Instagram Highlights and Bio.
6. Vegan-O-Logy, Mumbai
This Mumbai-based Vegan kitchen is here to sort your meal problem with their Baos, Appetizers, Main courses, and Desserts. Order something nice and help them donate 100% of their profits to charities supporting Covid warriors and the underprivileged.
7. Wicked Breads, Mumbai
Under the #BakeForIndia sale, Wicked Breads is another great option to bless your taste buds with fresh Rolls, Flower breads, and help people in need at the same time. They are also donating 100% of the sales in feeding migrant workers/ daily wage workers & families in need. Indeed a great pick to help and eat!
8. The Ambrosia Patisserie, Mumbai
Started by the sister duo Shagun and Simran Shahani, The Ambrosia Patisserie aims to donate a significant chunk of its profits to the welfare of the stray animals around Mumbai. They were honoured with the Covid Game Changers Award by SCC Mumbai last year for helping 100 stray animals. This year too, they have organized a bake sale until the 9th of May, where all the proceeds for their boxes of fudgy brownies will go towards the Hemkunt Foundation.
9. Sage & Olio , Mumbai
Order the signature Avocado Hummus from Sage & Olio as they will contribute their 100% proceeds to Hemkunt Foundation. Call 9967333903 to place your orders and do pay in advance as these funds have to be immediately settled towards the donation.
10. Crumbs, Mumbai
Crumbs is doing a bake sale in Mumbai to raise funds for all little furry friends who are helpless and affected by the second wave of Covid-19. They have joined hands with @worldforallanimaladoptions and will be donating 100% of all the proceeds till 15th May. DM / Whatsapp them on +919833548695 to place your orders.
11. Jo's Sweet Treats, Pune
Jo's is delivering PAN India and is doing a virtual bake sale under #BakeForIndia. Order their special edition treat box - "Cocoa Treat Box", which comes with a total of 24 cookies, and they will donate their 100% proceeds to Hemkunt Foundation.
12. Yoshilicious, Delhi
This mithai boutique in Delhi is all about amazing desserts, and sweets. Order your favourite meetha, and they will donate the entire profit margin of their sales to Hemkunt Foundation over the next 10 days!
We applaud how these eateries are donating to Covid Relief! Did we miss anyone? Tell us in the comment box below.
For more such stories follow Local Samosa on Facebook, Instagram, Twitter, and Telegram.