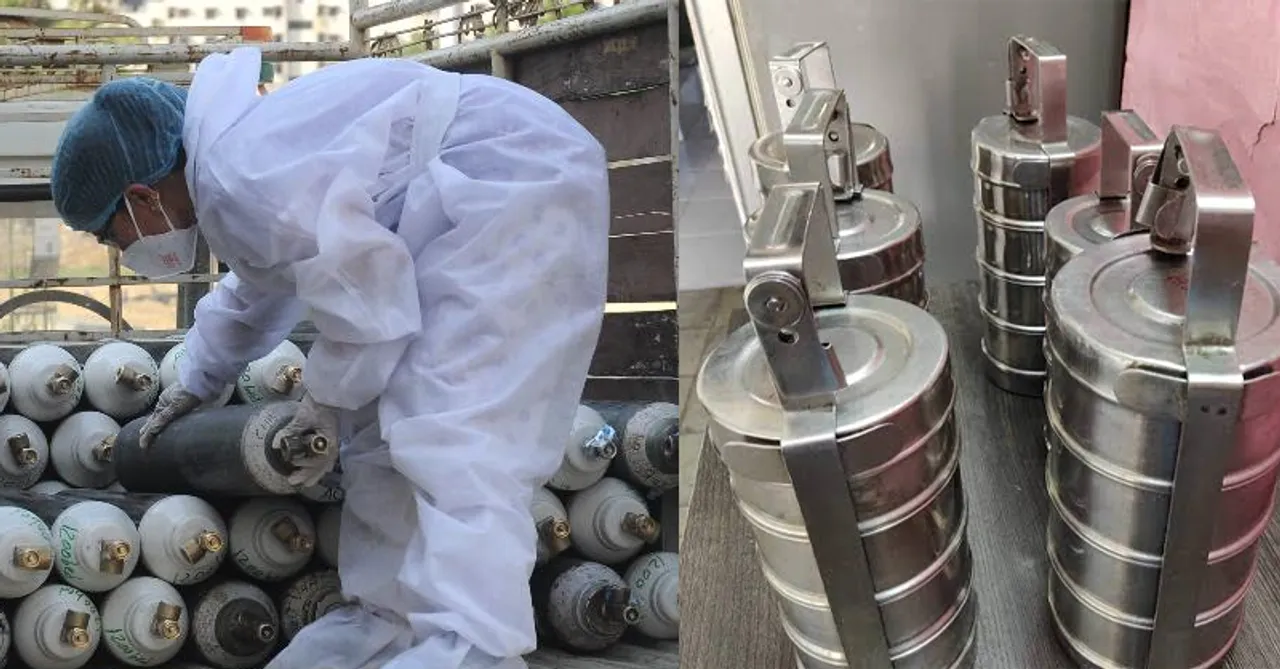 India is dealing with the worst health challenge where it observed 3.14 lakh new cases on April 21, 2021. During such a harsh time, it is these positive things in India that are keeping people motivated. Check them out here.
The whole country seems to have gone back to the time when the pandemic had started in 2020. From people asking for help on social media to the unavailability of COVID resources, the time is enough stressful to affect the mental health of individuals. However, there are people in cities across India who are showing everyone how odds can be fought with sheer determination and kindness. Let's check out these positive things in India everyone must be aware of at this time.
1. Youngsters curating COVID resources to help those in need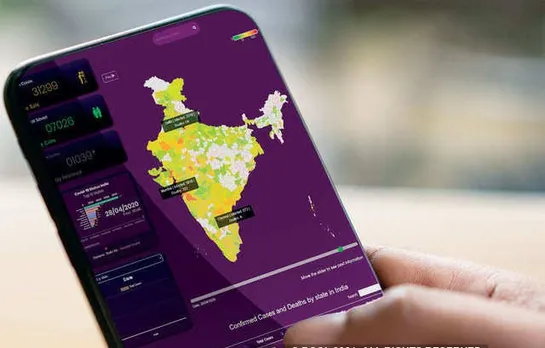 Using the internet as a medium, netizens all over India are managing and curating COVID-19 relief resources to help patients. From spreading the word on Twitter to Instagram, people are helping each other with the information on oxygen cylinders, COVID medicines, hospital beds, tiffin services, and more.
2. Residents offering tiffin services for COVID patients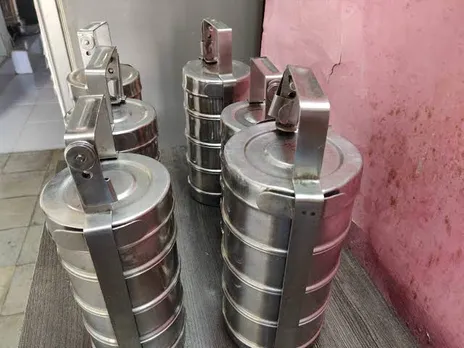 To help meet the meal needs of COVID-19 positive patients in hospitals and home quarantine, residents, all over India, have started offering the tiffin services. Many groups have even started meals with a "14-day-package" as 14 days of quarantine is compulsory.
3. Conversation around mental health doing rounds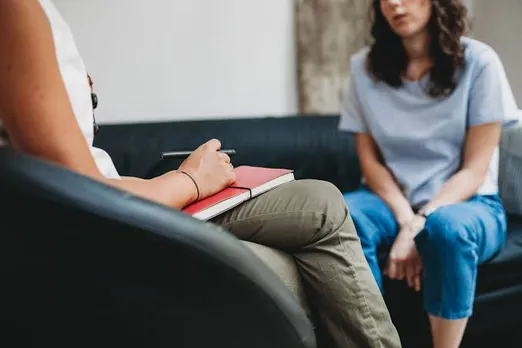 The way Indians are focusing on giving mental health a priority has to be one of the best positive things in India right now. People are curating lists of doctors and therapists under COVID resources for those who are suffering anxiety and other mental health conditions due to the ongoing situation.
4. Delhi Police arranges 20 oxygen cylinders for a hospital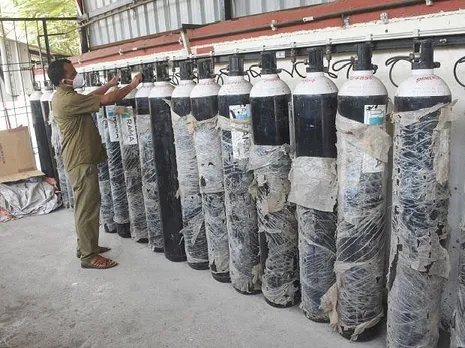 After Nihal Vihar police station received a call at 1:30 pm about the possible unavailability of oxygen at Mansa Ram Hospital, the Additional DCP directed two teams to arrange oxygen cylinders. Hence, before the oxygen for 35 COVID-19 patients in the hospital could deplete, the police came up with 20 oxygen cylinders on time.
5. Mumbai man sells 22 lakh SUV to help patients with oxygen cylinders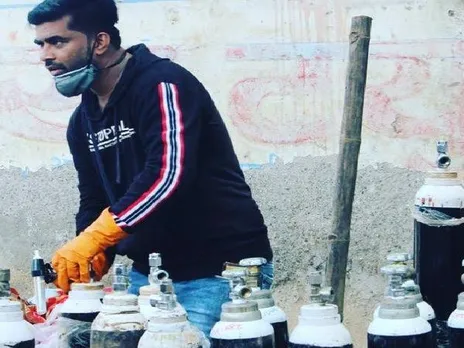 Shahnawaz Sheikh, a resident of Malad in Mumbai sold his Ford Endeavor and bought 160 oxygen cylinders to help patients. Presently, he is delivering oxygen cylinders to patients through phone calls. His team has also set up a 'control room' to help people on time.
6. Goa receives help from Kerala with 20,000 litres of oxygen supply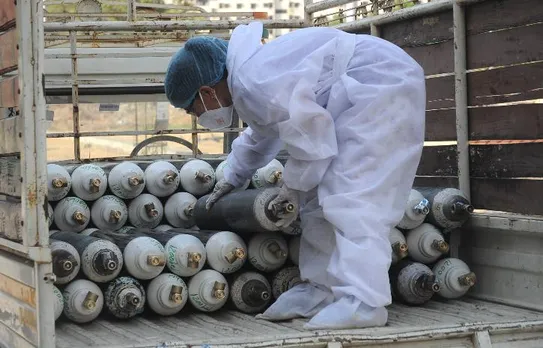 Not only people but states are also helping each other at this time of need. Recently, Kerala has extended support to Goa with 20,000 liters of oxygen supply. However, Kerala is also providing oxygen supply to Tamil Nadu, Karnataka, and Lakshadweep. Kerala, itself, is dealing with a rise in Coronavirus cases.
7. Vegetable seller's son offers salary to arrange fund for resources for patients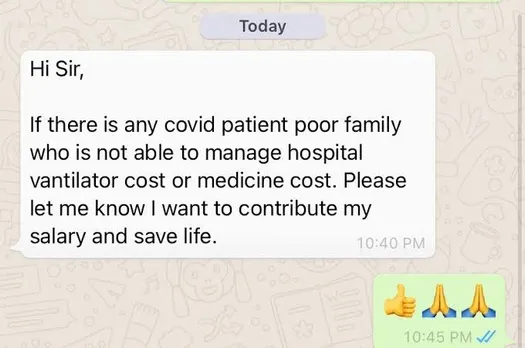 A vegetable seller's son texted a doctor based in Mumbai where he said that he would help patients from a poor family who are not able to manage their expenses. He also said he would bear the ventilation and medicine costs of such patients with his salary.
8. Religious places helping COVID patients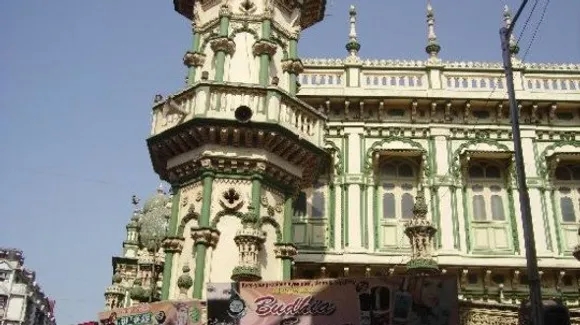 At a time where Mumbai is facing an acute shortage of oxygen cylinders, mosques in the city and suburbs are helping patients and hospitals by providing free oxygen cylinders. Apart from this, many Delhi and Noida Gurudwaras are providing food for COVID patients. Two Jain temples have also been converted as COVID centres for those in need of beds.
9. Two doctors in Gujarat get back to work hours after cremating their mothers
In one of the bravest attempt, Dr. Shilpa Patel got back in her PPE suit six hours after her mother passed away due to a virus. Like her, Dr. Rahul Parmar, the nodal officer for COVID management also got back on duty after performing the last rites of his mother.
10. Vadodara doctors danced in front of COVID patients to reduce fear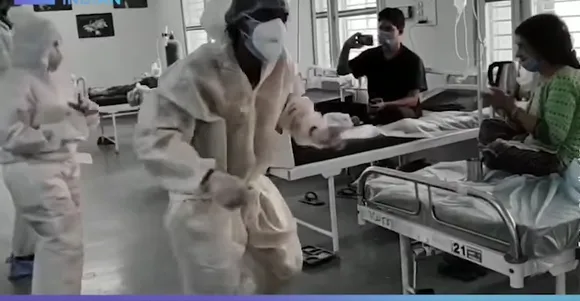 When most of the people are living under fear due to Coronavirus, one cannot think of those who have contracted the disease. But doctors from Parul Sewashram hospital could understand it which is why they danced in front of patients to keep them encouraged. They danced on the popular Bollywood song, "Sochna kya, jo bhi hoga Dekha jayega"!
Much-needed spirit!
For more such stories follow Local Samosa on Facebook, Instagram, Twitter, and Telegram.