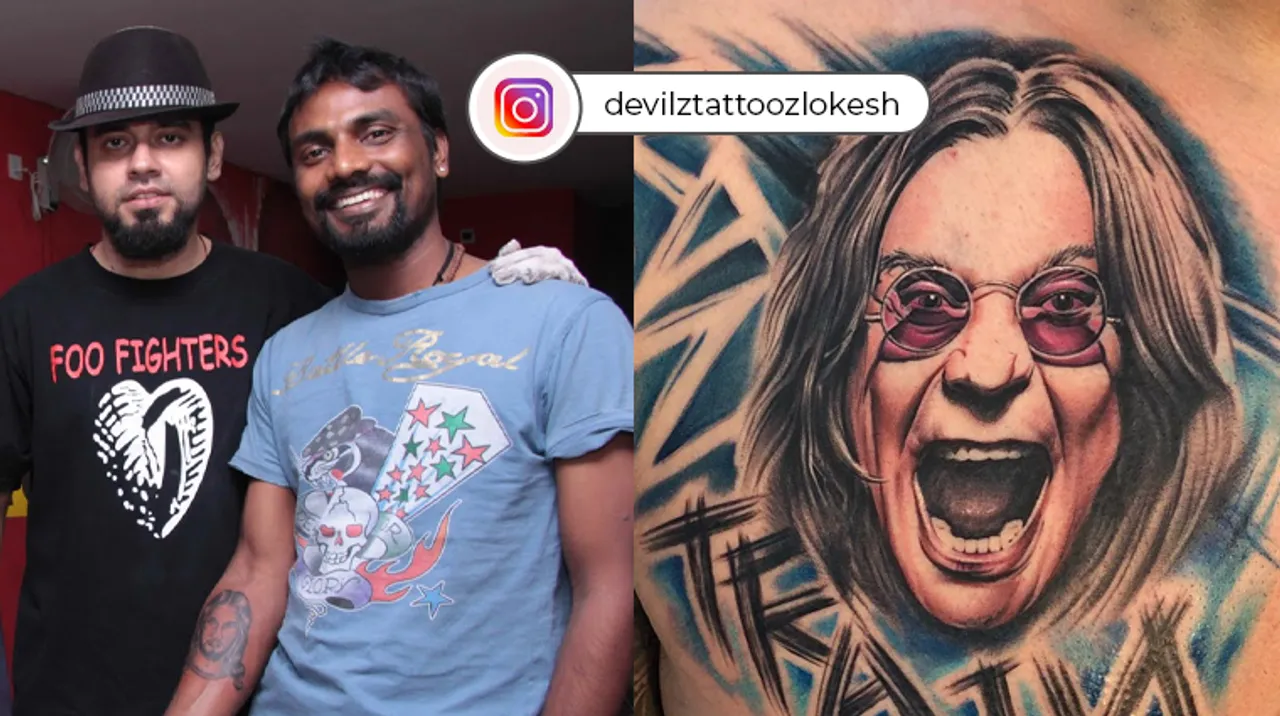 Founder of Devil'z Tattoo, Lokesh Verma has inked stars like Shikhar Dhawan, Ishant Sharma, Umesh Yadav, Tapsee Pannu, Swara Bhaskar, and Remo D'Souza. Lokesh was the first one to introduce audio tattoos, and Permanent Tattoo Removal (Pico Laser) service in India, and has worked in 17 countries!
He is the founder of India's only international tattoo festival, holds a Guinness World record for inking the maximum number of flags on a human body, and is the first Asian to teach tattooing at an Italian University. We were in conversation with Lokesh Verma to know more about his journey of becoming a successful Tattoo artist!!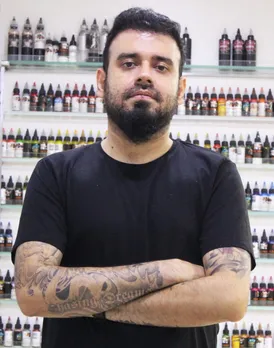 Right after giving his 12th board exams, Lokesh started working to support his family. He was pursuing his MBA degree while flipping burgers at McDonald's by day and working as a DJ by night. " I would save all my pocket money back in school and would give it to my Mom. I had limited money so I had two options. The first was to get a tattoo done from that money and the second was to buy the machine itself and get unlimited tattoos myself! So one day I thought deeply about it. I brought a tattoo kit with my saved up money and started practicing by inking myself. Later, my friends requested me to do it for them. This curiosity then turned into a passion, and people started giving me money for my art. That's how my artistic journey as a tattoo artist began.", he said.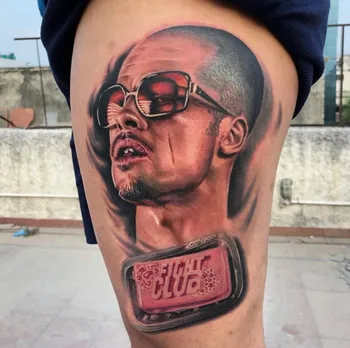 In 2005, his passion for Tattoos turned into a full-time profession. Lokesh opened a small studio inside a salon in Vasant Vihar. Then, in 2008, He opened Devil'z Tattooz and in 2013, he started another studio 'GK1' in Gurgaon. " I taught many aspiring artists the art of tattooing and more importantly to look after the hygiene aspect. I have worked in 17 countries and I have always enforced European and American standards across my studios", he added.
Lokesh was always fascinated by tattoos & art and wanted to try his hands on them. " I did my first tattoo on my father. I drew a few lines and got the idea. After that, I made a big demon on his arm. I did the tattoo with a single needle. At that time, I did not even know that you need more needles for it. But, the result was good.", he said.
Talking about his much-loved studio, Lokesh said, " I started Devilz Tattooz with a few things in mind. I wanted to have the same European or American tattooing standard in India. My priority has always been to provide quality work so that everybody in and around the globe knows what Indian Tattoo artists are capable of."
Devil'z Tattooz doesn't only use the regular techniques to ink you but offers some unique ones too. One of their most popular ones is the audio aka the Soundwave tattoos. This tattoo technique can help you get sound waves of anything you want in a form of a tattoo. " Here's how it works: Record an audio clip between 5 to 30 seconds of your loved ones and send it to us via WhatsApp or email. We will create a soundwave of that audio clip and ink it on your skin permanently which you can playback by scanning it with your mobile phone whenever you want to hear their precious voice.", he explained.
Other than introducing epic tattoo techniques, he is into many other ventures too. He is the Co-founder of Heartwork Tattoo Festival which is India's biggest tattoo festival. Sharing his journey about the same he said, "I always wanted to see India on the world map as there was no International Convention in the country. I wanted the talent of our country to be known around the world and to let people know about the high quality of tattoos India can provide. So, we came up with an idea of making India's biggest tattoo convention where tattoo artist from all over India, as well as the world, could showcase their talent and make people more aware of tattoos, and their art. This event is my way to answer all the queries of those who are skeptical about getting a tattoo".
It is true, that a lot of people have myths about tattoos, and Lokesh Verma is happy to clear them. Talking about how people misunderstand tattooing, he explained, "A lot of people have misconceptions about the ink. Will the ink harm them in any way or is it natural ink? So, to answer that, No, the ink wouldn't harm you. We use vegan, organic, and quantum tattoo inks that are approved by FDA. A lot of people also ask about donating blood after getting a tattoo. Yes, you definitely can donate. Also, I want people to know that everything professional tattoo artists use, is mostly single-use, and sterilized. "
Lokesh has won the first prize in Inter Asia level painting in Japan, and he is even a recipient of the Guinness World record for inking a maximum number of flags on the human body. He believes that his love for sketching and painting has helped him become a fabulous tattoo artist. "I think sketching and painting are important for every tattoo artist. Once you have your base for sketching, you can become a good tattoo artist. I still sketch if I am not tattooing, and If I have to do a different style, I always go for sketching first ", he added.
Talking about how does he work on his tattoo techniques, Lokesh Verma explained, " I usually consider the complexion of the client. I always choose the best picture of the subject I am tattooing and prepare my stencil and make edits in the picture to put in the tone of color which will give it a more natural look."
When Lokesh started tattooing, it wasn't very prevalent in India and thus he had to support his passion by working part-time. He was tattooing people for free back then and did not even have a proper setup. " In fact, at that time, not every piece of equipment was available in the market. You either pay a lot of money to get it from overseas or use the make-shift work setup. Being from a middle-class family I couldn't afford it. After working a lot I finally managed to buy a proper setup. It took a long time and 1000 hours spent tattooing with minimum pay.", he added.
Now when he sees how the tattoo industry has grown in the last 5 years and how tattoo artists are being recognized, Lokesh feels motivated. " It always motivates me to give my best. Whenever I finish a piece and the client is ecstatic to get a tattoo, I feel extremely motivated, and blessed", he mentioned.
A lot of celebrities like Tapsee Pannu, Swara Bhaskar, and Remo D'Souza have been guests of Devilz Tattoo. For him, celebrity projects are just like any other project. " They come up with an idea. I design the idea and once I get the green light, I fix an appointment for their tattoo. I try to give my best for every piece irrespective of who it is for. But, I won't lie, the people in the studio are always excited whenever I do a tattoo on a celebrity.", he said.
If you will check his work, you will definitely be in awe. He is talented, hardworking, and it shows. We loved almost every tattoo that he has made, but which one is his favourite? Reminiscing about his best project Lokesh said, " It probably would be the first-ever color tattoo I did. Going from black & grey to color is a big jump. When I picked up the color project, I was both, nervous and excited. It took almost double the time. But, it came out way better than my expectation. It is still my favorite. Since then, Colored Realism has become my favorite style of tattooing and I love doing color portraits."
Now, if you are planning to get inked, Lokesh Verma has something to tell you. " It can take from anywhere between 10 minutes to 8hours. If it is a simple 1-inch tattoo, it usually takes about 10 to 15 mins. But if it is a portrait, it requires 6 to 8 hrs depending upon the size. Also, if you are anxious because you are getting a tattoo for the first time, don't worry. Tattoos were a taboo in the past, especially in India but now, it is getting accepted as an art form. Just go for it!"
While most people love getting tattoos, there are many who want to be on the other side and would love to become tattoo artists. If you are one of them, then Devil'z Tattooz at GK and Gurgaon offers a tattoo training course. Get a real, first-hand experience of a studio, and learn to ink people.
For more such stories follow Local Samosa on Facebook, Instagram, Twitter, and Telegram.