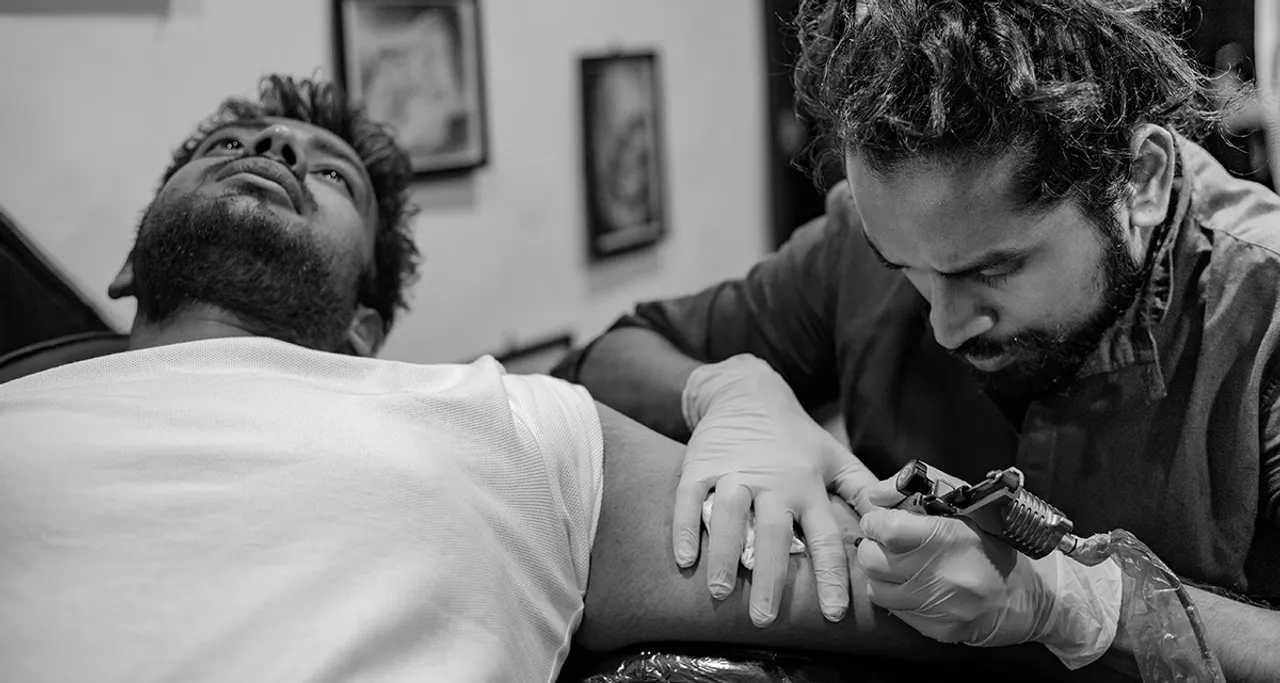 Vikas Malani is a veteran celebrity tattoo artist and the man behind 'BodyCanvas'. The studio was founded 16 years back by Mr. Vikas & Micky Malani in Andheri. Now they have chains in Mumbai- Bandra and Malad, Delhi- Hauz Khas Village, and London- Greenwich. What started as a basic interest in body art eventually turned into owning one of the biggest commercial tattoos & piercing parlors in Mumbai and Delhi, and famous Vikas Malani Tattoo Artist was born.
Vikas Malani tattoo artist is a thorough professional and a perfectionist and has worked on all styles of tattoos, from old school to modern. He loves experimenting with new styles and doesn't restrict himself to any particular style. Having inked thousands of tattoos, he has worked with some popular names from B-town like Aamir Khan for Dhoom 3, Anushka Sharma for Matru ki Bijlee ka Mandola, Priyanka Chopra for Pyaar Impossible. Vikas Malani tattoo artist is also an expert body piercer, he does more than 150 different types of body piercing. He has done piercings on Shibani Dandekar, Rhea Chakraborty, Prince Narula to name a few. He specializes in cosmetic tattoos, portraits, and realism & facial piercings.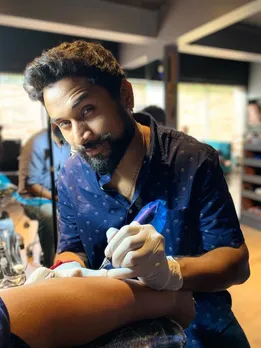 When did it
all start? What inspired you to step into the Tattoo industry?
I started from school with doodling and drawings it was a therapy to keep me cheerful and happy. I continued this to college where the cultural committee saw my passion for art and asked me to participate in Inter College drawing & painting competitions. At that moment somebody recognized my talent and asked me to do body painting for their college fashion show for which I got paid was like icing on the cake. Money is not everything but there is nothing without money and this gave a boost to my career and I realized tattooing & body painting can be a source for my living (earning). I participated in the contest named "Malhar Festival", by St. Xavier's College, and won that competition for best Body Painting  & Tattooing. After which I never looked back, I started to work with event companies doing tattoos and Bodypainting in TV COMMERCIALS AND BOLLY WOOD MOVIES with my brother Micky Malani. This is the turning point where people started getting to know about me and my brother. We started to build a team of artists. Expanding to a new horizon and cultivating every opportunity like tattooing and body painting in birthday parties, marriage events, fashion shows, car launch, sunburn, music events, etc. At these events, people started to ask if we do permanent tattooing, but back then, I told them that I don't do permanent tattooing. I made my mind to learn and give my best, then I started to fetch more information about tattooing, meanwhile, I came through a Spanish Artist Lydia, she gave me knowledge on basic tattooing and then I continued to meet more wonderful people like 'Dr. Kohiyar" who helped me with his knowledge and flash (tattoo designs books) & "Shantaram Mama" who helped me with machine and colors. Dr. Kohiyar actually motivated me, helped me to get an artist out of myself. My younger brother, Micky Malani went to the UK, he learned professional tattooing with proper hygiene standards, nourished his skills & got creative ideas, product (inks and machine), technologies to India. Work started to grow every day which keeps us busy to date. This is how we started growing Tattooing in INDIA and now we are also in the UK.
You have been in the industry for long, Can you share
your journey as a tattoo artist? 
I started tattooing when I was in high school. It was a time where tattooing was a completely new industry and there were hardly 1 or 2 artists in India. We started as a small business, later launched a proper tattoo studio with 5 to 6 artists. In fact, we were the pioneers in launching an individual tattooing studio, because it was a time when tattooing was combined with other business like a boutique and never as an Individual studio. Starting something from scratch is always challenging, at the same time you have a lot of things to learn.
Your first Tattooing memory?
My first experience was tattooing myself. Its something close to my heart till date, because I wanted to gift something unique and special for my mother's birthday so I did a tattoo of a SUN- a representation of energy and life. I wanted to convey that she is the source of my life and energy and I loved to represent it through a tattoo.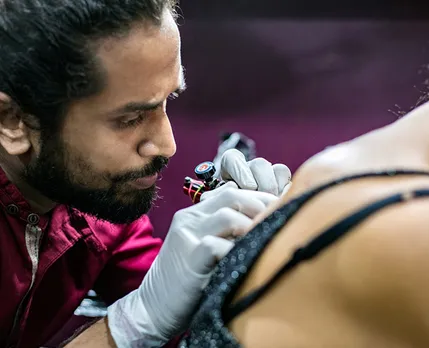 How is it working on Celebrity projects?
Working with celebrity projects is quite challenging because we need to be more cautious and give attention to details. We should also be 100% sure about the things we are doing. Celebrity projects are the ones that come with zero tolerance of mistakes because they are the face of our society and even small details get the spotlight. So, there is no question about risking our reputation. For a celebrity project, we put 5 or 6 times of our normal effort.
Your favorite style of tattoo art?
I love to do traditional Indian style like Paisley art which is a representation of Henna and Rabari style which comes from Gujarat.
Any weird tattoo brief?
So far I haven't had any such experience.
Your favorite project till date?
My favorite project is the one that I am doing in this lockdown. I am working on a whole sleeve design which is related to Power, Love, and Passion.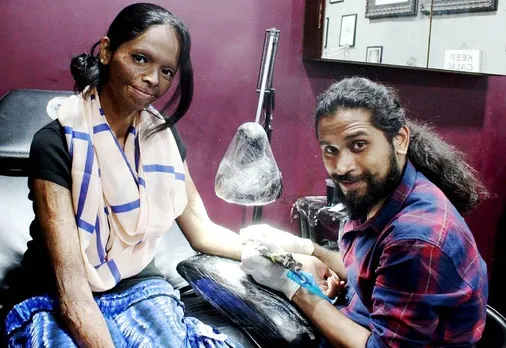 Your thought behind collaborating with Laxmi Aggarwal? How was your experience hosting workshops?
I think on Women's Day 2017, we decided to have a program for Women's which can be called a Social Stigma. We realized that a lot of women are attacked in India by Acid. We decided to run a campaign where we can get some tattoos to cover their burn marks. We realized it is an important aspect which has not been highlighted yet, that's why we decided to do something with them. That's how I met "Laxmi Didi" after which She & I, kind of got a very good comfort zone to talk about life & philosophy. Let me say that she is one woman army, always believing in women empowerment and so do I, as I am the biggest fan of my mother too. She is one Iron Lady in my life. That is how I decided to be with Laxmi Di and help her to come up with her projects & now she is proudly running her own NGO "The Laxmi Foundation." So I am very glad to know her and a little bit about what I can do for her. The best part is that we now share a beautiful brother-sister relationship with the grace of God.
How many tattoos do you have? Your favorite one and it's meaning?
The number is huge, so I stopped counting after 20. My favorite tattoo is the one which I did for my mom "The Sun"– representation of energy and life. I also have one more tattoo which says "Elijo ser Feliz" in Spanish. It means "I choose to be happy" because happiness is a matter of choice.
How much time on an average does it take to ink?
I work on sittings basis for big tattoos and the average sitting time is around 3 to 4 hours. I have also worked on projects that took 58 hours. For an arm piece, it takes 30 hours which requires around 10 sittings, and for a back piece it might take up to 60 hours as well. A small tattoo takes around 2 – 3 hours.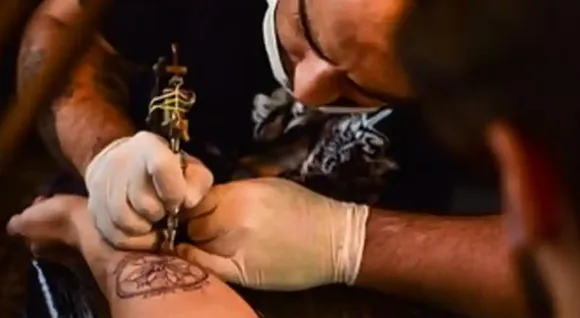 What is one thing that sets the Body Canvas apart?
Every artist
does beautiful designs, but what makes Body Canvas unique is the quality of
service and international standard. We have a studio in Mumbai, Delhi, and in
the UK. In India, we do not have any standards for tattooing, but we follow the
international standard as we do it in our London studio. We use only organic
inks and needles of International quality because we can't take risks with our
client's wellness. In fact, we are the first people in India who started this
revolution of using organic things in our studio.
You are from Mumbai. What about the city you absolutely love?
Mumbai is my first love and the next city I have fallen in love with is Italy.
If anyone has to ever spot you, where would they find you, except for your tattoo studios?
I love spending
my leisure time with my pets at my dog farm. I now have more than 80 dogs on
the farm. The next reason I love to be there is the ambiance since it is
located close to a lake you can enjoy the fresh and cool breeze.
How do you spend your free time? What are some of your favorite local spots to visit?
I love playing Soccer and playing in the pool. I am a person who loves freedom and anything associated with nature makes me feel happy. I always prefer outdoor activities and adventurous sports like Para-gliding, Hiking, Trekking, and Scuba diving.
This is the journey and experience of Vikas Malani tattoo artist.
For more such stories follow Local Samosa on Facebook, Instagram, Twitter, and Telegram.