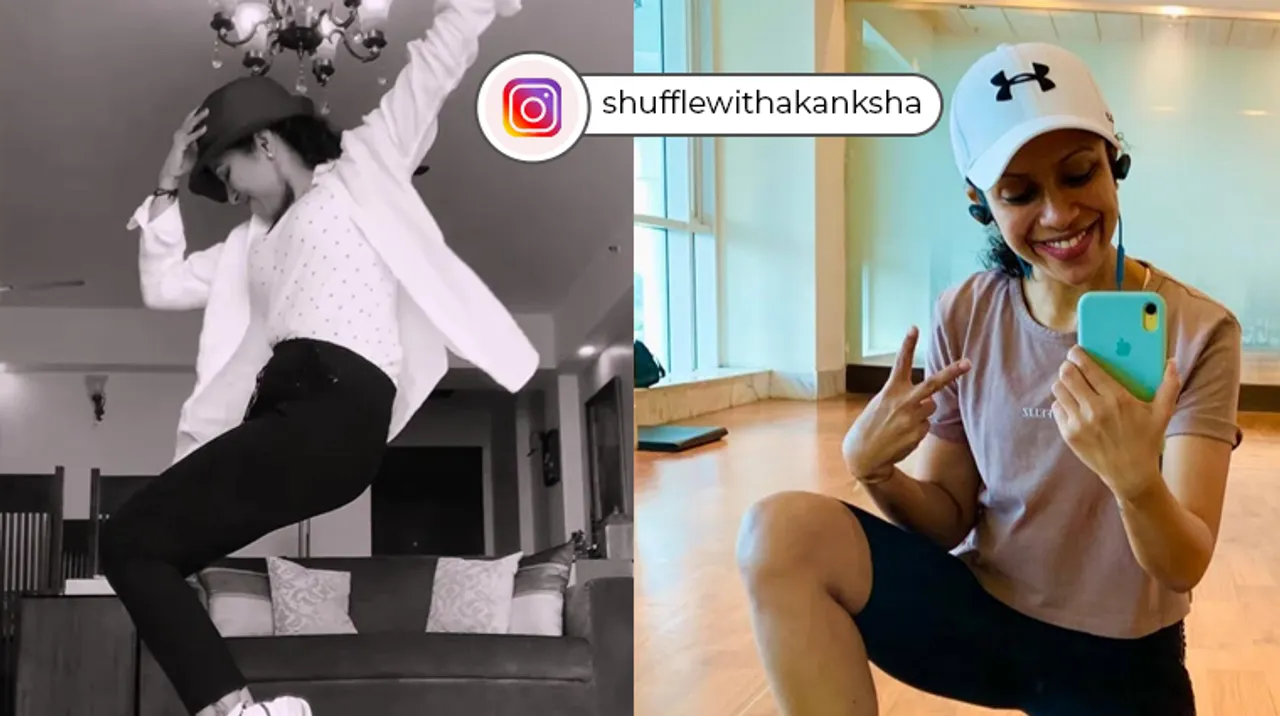 Shuffle Dance is the art of dancing with the fast movement of the legs. The dancer repeatedly "shuffles" the feet inwards and outwards while thrusting their arms in rhythm with the beat. Akanksha Singh tried her feet on it during the lockdown, and now she makes videos on them, and even takes shuffling classes!
If energy had a face, it would definitely be Akanksha Singh. She is a Shuffle Dancer, and her dance videos are all about energy and happy vibes. Her feet don't miss a single beat, and her smooth moves would make you dance with her on it. Akanksha Singh is indeed one of the fabulous Shuffle Dancers we have in the country!
Her journey towards Shuffle Dancing started when we were all busy eating our calorie-packed meals at home, while Akanksha was exploring something new. " I started shuffling in April as I was locked down at my parents' place for 2.5 months. That was the time I started watching TikTok videos and got interested in learning a few steps of shuffling. I got so addicted to them as they were very challenging and strenuous; along with that, they gave me a sense of accomplishment when I would learn or master a step. I have always been a good dancer, but this was another level altogether.", she said.
Akanksha never learned any dance form before, and it was her first time to learn any form seriously. " I started realizing that it was a complete body workout and it was making me happier by every passing day. I was doing it only for myself and I had no motive of taking it to another level. Since my friends always looked for motivation from me, I started sharing my learning journey with them slowly urging them to learn with me.", she added.
Akanksha loves the fact that it's a very challenging form of dance and apart from keeping her fit and toning her body, it makes her really happy." It has improved my mind and body coordination skills and also my balance. My confidence levels have hit another level altogether.", she said.

Last year, one of her most popular videos 'How to Moonwalk', had gone viral, unlike anything! This epic moonwalk tutorial had attracted a whopping 29.4 Million views (It is still counting). Her account engagement had shot off the roof, it was flooded with comments and if you'll watch it you will know exactly why!
Her moves are sleek, and will definitely remind you of the legend, Michael Jackson. She has done another quick video on MJ's iconic 'BAD', and she has rocked it too. Watch her do the fall without falling!
Talking about how Shuffle Dancing requires consistency, Akanksha Singh said, " This dance is very strenuous on the legs so if there are any health issues or physical injuries, I suggest people don't attempt it as it might further do more harm than good. You have to stay physically fit. Start slowly and learn the steps right. Practice on slow-beat songs. Once you are comfortable with the steps, increase the speed gradually."
Akanksha has done a fab shuffle duet with Neeraj Singh on 'Husn hai Suhana", and their energy level makes it an epic one. " Neeraj is a great shuffler. He oozes confidence.", she added. Watch them dance here.
It won't be wrong to say that Akanksha is one boss lady. She is a Jewellery Designer, a fitness enthusiast, and now a professional Shuffle Dancer. She is also a recipient of the Women on Top Award 2021 for her amazing work. "That came as a huge surprise to me. Mr. Ashish Kapur, the entrepreneur, suggested my name for these awards which were for women who turned 2020 around for themselves. I'm still in a trance. ", she said.
That was power-packed, right? If you are also thinking about how she keeps herself energetic and motivated all the time, this is what Akanksha Singh had to say, " I have a lot to do in the day like everyone else. If I laze around, I'll end up nowhere. I don't like piling work. I like to tick off my to-do list."
Before shuffling us a goodbye, Akanksha said, " Discipline is certainly everything. No pain no gain and there's no substitute for hard work. Go easy on yourselves. I've been putting myself through a lot to keep up with the Instagram algorithm but you all don't have to do that. Each one's journey is different. Choose your own pace. Also, most importantly, progress is progress. Big or small, doesn't matter.", she said.
Check out her Akaknsha Singh on Instagram here for not just such cool shuffle dance videos, but also a lot of fun, and tricks!
For more such stories follow Local Samosa on Facebook, Instagram, Twitter, and Telegram.