The heat-packed season is back, and so is the king of all fruits. Beat the heat, enjoy a mangolicious summer with these mango products online, and satiate your tastebuds.
Tis the damn summer season you all, and we are super excited to get our hands on the juiciest, sweetest, and sabke favourite mangoes. We all love it, and can't wait to suck the sweetest part around the ripe mango seed. It's heavenly right? But, hey we have got more for you. If you also love mangoes, here is a list of mango products online you should definitely try this summer. Make this summer a mangolicious one with these delicious mango flavoured products!
1. Mango Conserve from Fab India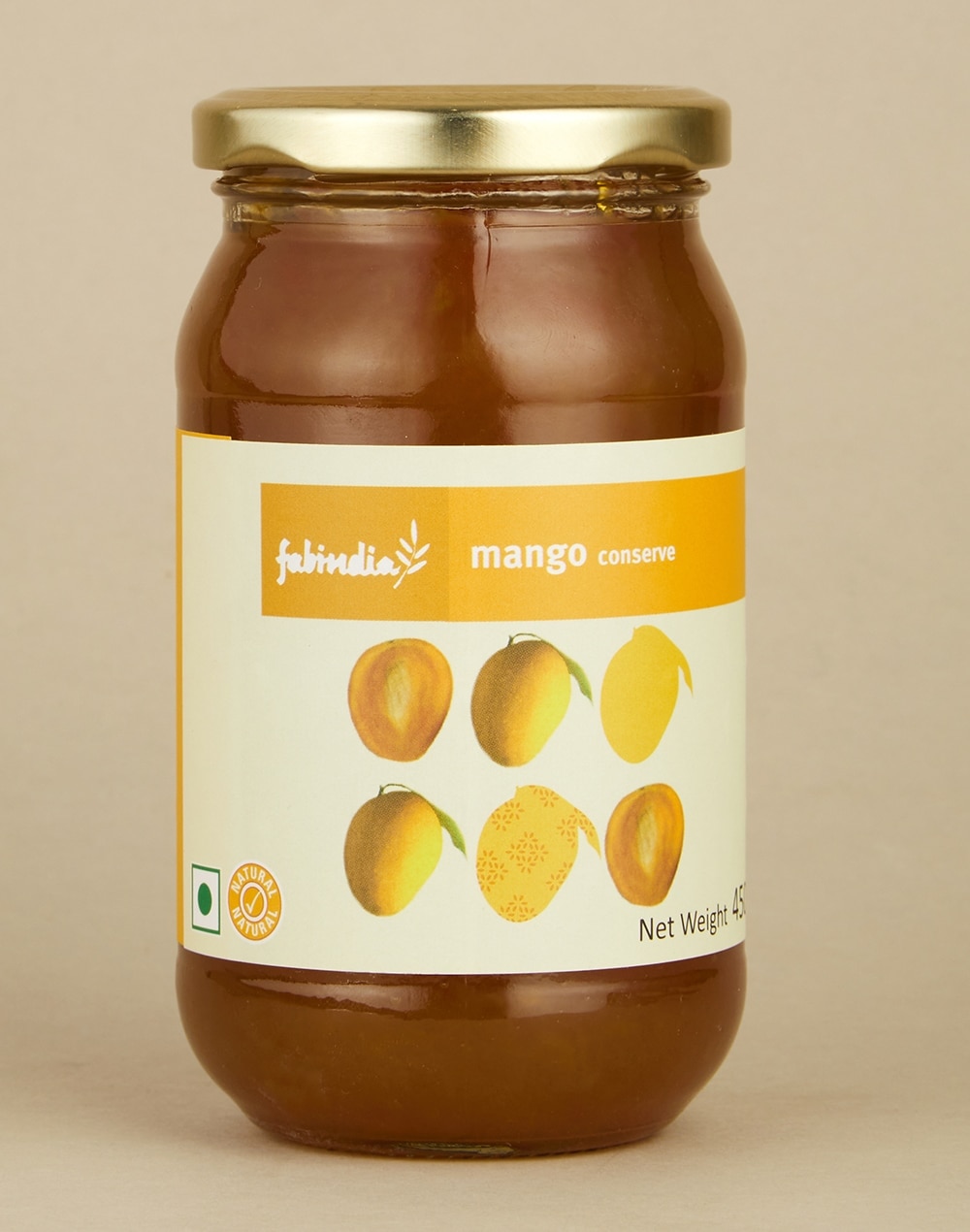 Unlike your regular fruit jams, fruit conserve has a high fruit content. This mango conserve would go very well with hot toast and butter, waffles, pancakes, cake, and tart fillings. It will even make your salad dressings, yogurt, and smoothies more fun, and yumm!

Shop here.
2. Aam Pops from Go Desi
These pops are made of kaccha aam, jaggery, and Indian spices. It will take you back to your childhood days when you'd suck on the sweet, and sour Aam pops during recess. Do you know when you buy from them, you support women entrepreneurs and Self Help Groups in rural Karnataka!

Shop here.
3. Aam Papad from Urban Platter
Enjoy the the sweet-sour flavour of mango pulp, and get lost in the goodness of mangoes with these bite-sized, aam papads. Bring back the nostalgia with this nostalgic fruit snack!

Shop here.
4. Mango Pulp from Kubalwadi
Slurp on some organic thick mango pulp, or enjoy the soft mango chunks. Sipping on any of these post-lunch is going to feel like heaven for sure. Add ice cubes, and beat the heat!

Shop here.
5. Mango chocolate from Goosebumps
Goosebumps has a wide variety of fruit chocolates, and Masala Mango Chocolate is one of them. It is made with 55% of dark chocolate, and spicy masala mango chunks. Sweet, and spicy do very well together, and we're happy that it is available.

Shop here.
6. Aam ka achar from Old Fashion Gourmet
This oil-free achar is pickled in the juice of the fruit itself and is a perfect plethora of aromatic spices. If you are on diet, and looking for some spice in your plate, then get your hands on these as it is a slightly lower calorie version of the traditional Mango pickle.

Shop here.
7. Mango Iced Tea from Tea Trunk
Tea lovers, we are here for you! Sip on this chilled iced mango tea, and quench your summer thirst in a blink. It has a tangy tropical flavour, and goes well with fresh green salad, a light sandwich, or a smoothie bowl!

Shop here.
8. Mango Bite from Parle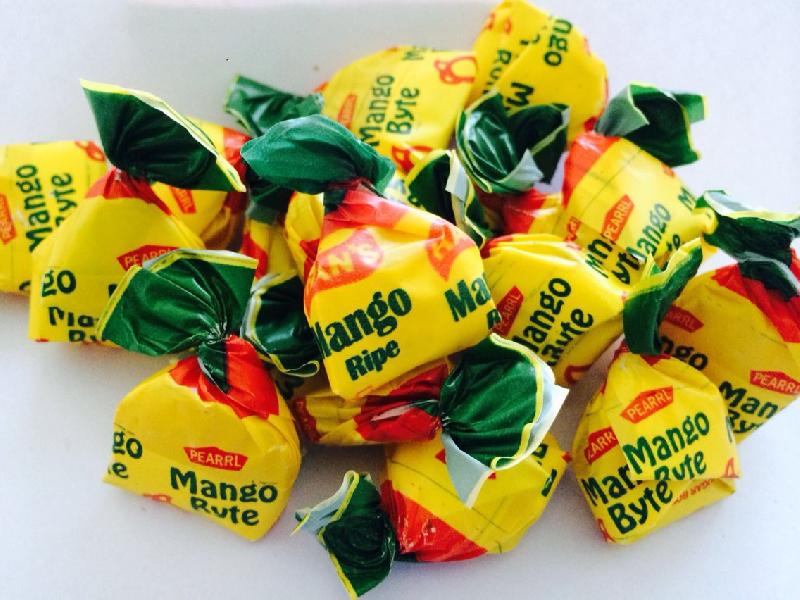 Talking about mangoes, and not mentioning Mango Bites would be a sin. These fruity delights were our go-to candies and were almost everybody's favourite. It's time to bring them back. Order a pack of these sweet, and tangy candies, and bring back all the nostalgia!

Shop here.
9. Shredded Mango Chutney from ITC
Use it as a dip, or lick it from your fingers. It goes very well with paranthas, papad, or even your favourite cracker. This chutney is an absolute must-have for a heavenly summer meal!

Shop here.
10. Mango Slim Shake from Kapiva
Slurp on some healthy mango shakes, and maintain your diet. It can be a great replacement for your meal and a good investment for a healthy lifestyle!

Shop here.
11. Mango Smoothie from Smoodies
A tasty smoothie after an intense workout brings back all the energy. Similarly, sipping on a bottle of mango smoothie would be just perfect to give us an energy kick during summer when it is all hot, and not so comfy! Order a stack, and enjoy!

Shop here.
12. Mango Yogurt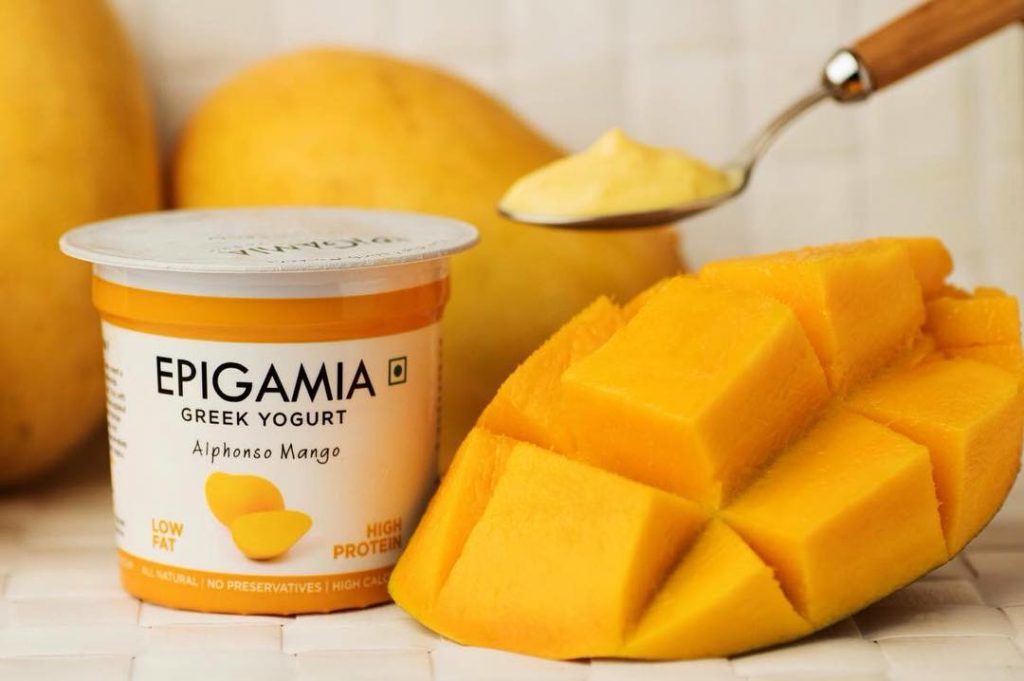 Sweet and chilled yogurt is always a good idea. This summer, soothe your stomach, and your taste buds with Epigamia's mango yogurt. It is high in proteins, low in fat, and will keep you fit during summer!

Shop here.
For more such stories follow Local Samosa on Facebook, Instagram, Twitter and Telegram
Comments
comments