Holi is around the corner, and we can't wait to get drenched in colours. The colourful festival is back, and so are we with some Holi must-haves! Using the regular gulal can damage your skin and hair, and so here is a list of brands, that are selling 100% organic Holi colours!
Bura na maano Holi hai, but your hair, and skin will definitely mind if the colour is going to irritate them. Make sure that they are also happy, and healthy. This festive season, celebrate an organic Holi, with these organic Holi colours!
1. Earth Inspired
These handmade herbal Holi colours are made with edible Grade Maize starch, food colours, flower petals & other edible ingredients. The eco-friendly designer packaging makes a beautiful gift for your loved ones. By buying this, you will give livelihood and rehabilitation opportunities to prisoners, as they are the ones making it.

Shop here.
2. The Staple Kaka
Make your Holi herbal with these organic colours by The Staple Kaka. Their bright Gulals are safe for everyone, and comes with homemade gujiya! Contact them on the following number.

Contact: 9711166076
3. Brown Living
Get your hands on green, yellow, and red organic Gulal this Holi that is completely natural, packed in eco-friendly pouches, and are organic and safe for the skin.

Shop here.
4. Okhai
This brand is already being loved by people for its fab collection of handcrafted apparel and lifestyle products created by rural artisans from across India. Now, you can add colours to your Holi with their herbal and organic collection, that are available in different quantities. Buy one according to your need.

Shop here.
5. Jaypore
Their Gulal collection is made with Corn starch, turmeric, and flower such as rose, marigold, tulsi, essential oil & permitted food colours. Get your hands on these organic ones, that are available in small packs of 50 gm, and go organic!

Shop here.
6. Tata CliQ
Made with natural ingredients such as saffron, raspberry, and green apple, this combo pack by Tata Cliq is eco-Friendly & Bio-Degradable. Available in 3 colours, this one will be enough for one Holi round!

Shop here.
7. Khadi Essentials
Their collection has a set of chemical-free, and light-textured colours. Made with essential oils, each colour has a distinctive fragrance, and will not irritate your skin. It's another great choice for being organic this Holi.

Shop here.
8. Tota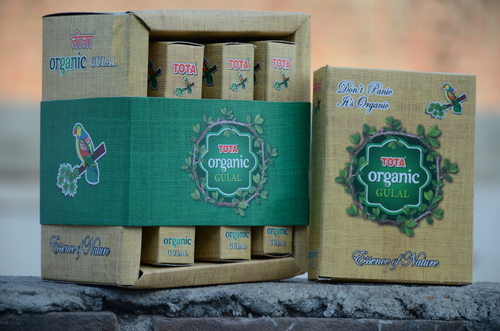 Buying this one box would be enough as it comes with 5 different colours that are non-toxic. The packaging makes it a good thing to gift, and if you are planning to gift something to your boss, or colleagues, it can be a great gift!

Shop here.
9. Fab India
Made with corn starch powder, Pomegranate, Annatto seeds, and Raktachandan powder, their gulals are available in Red, Green, Yellow, and Pink colours. Make your Holi safe, and sound with Fab India's gulal pack!

Shop here.
10. Ohria Ayurveda
Their yellow gulal is a blend of tesu flowers, Haldi, marigold & gram flour, while the pink one has the goodness of dried rose petals blended with beetroot powder and pomegranate peels. This Holi hamper comes with a cleanser too, and will give you a perfect post-Holi glow!

Shop here.
11. Pooja Box
Celebrate a safe Holi with these vibrant Holi colors packed in a sturdy cylindrical box. It looks great and can be a great gifting option for your loved ones.

Shop here.
For more such stories follow Local Samosa on Facebook, Instagram, Twitter, and Telegram.
Comments
comments