Mumbaikars it's time to go eco-friendly! Ditch those plastic cups, replace them with these cool biscuit tea cups, and enjoy chai at this tea stall in Dadar.
Well, if you also love sipping on your chai with biscuits, then you should definitely visit Swadishtam, a tea joint in Dadar, where the vendor is selling chai in edible biscuit teacups. Now you can help save the environment while enjoying a kadak cup of chai!
Sip on chai, chew on flavoured biscuit!
Ashutosh Motilalal Choudhary, who is an Electronic Telecom Engineer started this stall very recently. In one of the videos, he mentioned that usually on tapris the tea is either served in plastic or paper cups. These cups can't be used twice. They add up to pollution and harms the environment. This thought made him come up with these edible cups and he opened the very first tea stall in Mumbai that serves chai in biscuit cups.

These cups can hold the hot tea for approximately 8 to 10 minutes, and will not melt before it. You can sip on your chai, and once you are done, eat the biscuit cup. Each cup is made with wheat, starch, and vegetable oil. It comes in 3 different flavours, and you can even pick from Chocolate, vanilla, and Ilaichi. ( How cool is that!)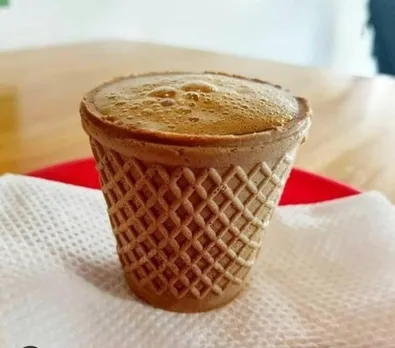 Though the hype is all about edible cups, but the tea is equally loved by the local people. Ashutosh's father makes the tea at home, and then he sells it on his small open tapri. The tapri has been kept simple and has a vertical banner that reads ' Introducing biscuit tea cups first time in Mumbai.'

Though for Mumbaikars it is actually happening for the first time, but the edible teacups are not new in the chai business. A tea joint in Madurai is also selling tea in this eco-friendly way. Another chai cafe in Guwahati named ' Aromica Just Tea' is also pouring chai in edible cups made of chocolate & cardamom.

Where: Shivaji Park, Mumbai
When: 7.45 to 9 pm
Price: Rs.15
Also, follow them on Instagram here.
For more such stories follow Local Samosa on  Facebook,  Instagram,  Twitter, and Telegram.