Eating spicy food releases 'feel good' endorphins, and so, you have to try these places that are serving the best spicy food in Mumbai, and enjoy a relaxed, and chilin day!
If you are one of those people who are always up for teekhi pani puri, mirchi ka achar, spicy noodles, and basically anything teekha? Then check this list of spicy food in Mumbai, because if it's not spicy, is it even tasty!
1. Death wings
Social is Mumbai's go-to spot to eat with friends and fam. But, Mumbaikars, now you can have a Chili'n experience at Colaba's Social with their epic Death wings. True to its name, these death wings are slathered in a hot sauce, and you will get a free lemonade if you survive the whole plate!
Where: Social, Colaba, Mumbai
When: 10am – 1am
Price: Rs.220
2. Spicy Chilli Noodles
Giving a quick takkar to the popular Korean noodles, these stir-fried chilli noodles are spicy enough to make you order a bowl of ice-cream. Cooked in the spicy Thai chilli sauce, this bowl of flat noodles is all about flavoured veggies and spicy goodness!

Where: Busa Go, Mahalakshmi
When: 11:30am – 11:30pm
Price: Rs.345
3. Tandoori prawns, and crab
This small restaurant in Hill road is all about spicy seafood dishes. Their menu is quite elaborate and has great options. Their tandoori fish items, crabs, and prawns are a must-try for every seafood fan who loves a dash of spice!

Where: JaiHind lunch home, Bandra
When: 11:30am – 3:30pm, 7:30pm – 11:30pm
Price: Rs.850 for two
4. Chicken Chettinad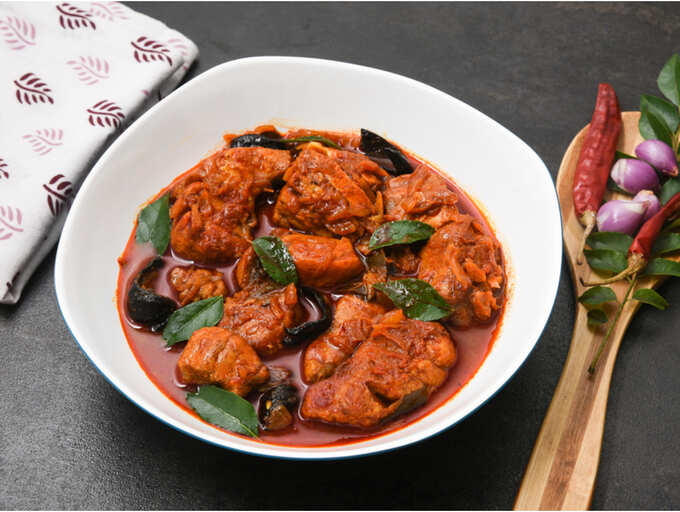 This dish will surely release a lot of endorphins, and you will definitely need something sweet after a few bites. It is India's one of the classic recipes, from the cuisine of Chettinad. It's very popular in Tamil Nadu, but don't worry, you can get a spicy bite of this dish with soft Kerala parotta at Just Kerala, and enjoy a meal full of spicy flavours. They even have a veg variant of the same, so, what are you waiting for? Dig in!

Where: Just Kerala, Chakala
When: All-day
Price: Rs.885
5. Spicy sam tam
Sam tam aka the raw papaya salad is one of the most popular Thai salads and has a fresh, crunchy, and spicy flavour. Seefah at Hill road is known for its lip-smacking Thai food, and they are really good at what they do! The raw mango salad is also pretty spicy, and will definitely give you a spice rush!

Where: Seefah, Hill road
When: 12noon – 3:30pm, 7pm – 11:30pm
Price: Rs.395
6. Spicy cheese Garlic Pav
The cheese will definitely soothe your palate, but the spicy peanut filling is going to burn in your mouth! This spicy version of dabeli is packed with flavours, and cheesy goodness. It's a must-try if you love cheese and masala!

Where: Har Bhole Dabeli, Borivali
When: 12 pm – 11:30 pm
Price: Rs.30
7. Teekha Misal pav
This pocket-friendly place is known for its Kolhapuri Misal, Spicy Misal, and Puneri Misal. These misal gravies have various ingredients measured out meticulously to make the perfect mix, which results in a perfectly spicy plate of misal pav. Don't forget to try their pineapple sheera to calm your taste buds after a spicy dose of misal gravy!
Where: Suruchi Misal House Thane west
When: 6.30 am to 9.30 pm (Closed on Sundays)
Price: Rs.150 for two
For more such stories follow Local Samosa on Facebook, Instagram, Twitter, and Telegram.
Comments
comments