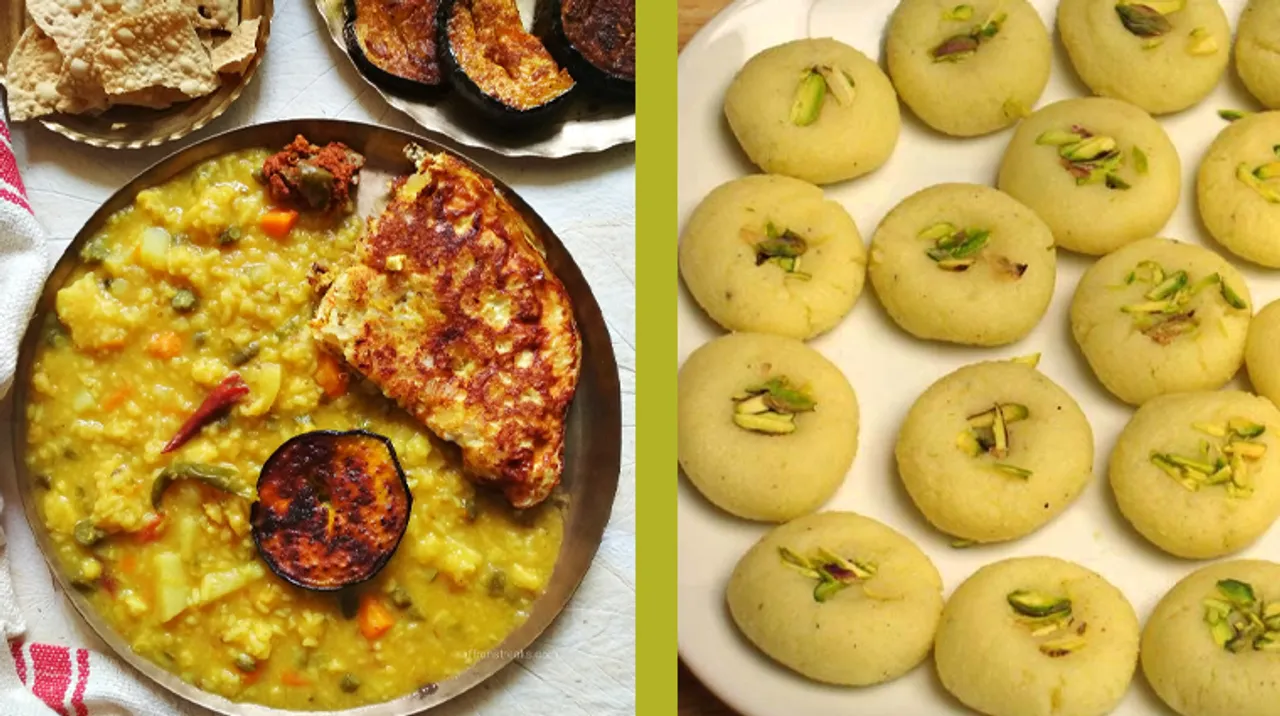 It's time to say goodbye to winter and say hello to the beginning of the spring season. Try these delicious Basant Panchami recipes, and enjoy a bhog at home!
Basant Panchami marks the preparation for the arrival of spring. This festival is about worshipping the goddess Saraswati, and social gatherings, and warm food. Since it is still not safe for us to roam freely around, and gather at one place, we have curated this list of must-try Basant Panchami recipes for you, so that you don't miss out on the delicious bhog!
1. Khatta Meetha halwa
Who says halwa always needs to be all sweet? It can be a mix of tangy, and meetha. This recipe is easy to make and will bless you with rich, and grainy flavours. It has the goodness of desi ghee, Rawa, and oranges. The sweet and tangy flavour is something hatke, and we will recommend you to try this at least once!
2. Milk Peda
Nothing beats the taste of perfectly made milk pedas. This bite-size dessert looks adorable and has a creamy flavour. This recipe is super quick and can be made in just 10 minutes. Satiate your sweet cravings with this typical bhog style coconut milk peda!
3. Meethe chawal
Your bhog thali will be incomplete with meetha chawal. Flavored with saffron, and garnished with nuts, yellow rice is definitely a treat for eyes and your taste buds. If made correctly, it can be your go-to recipe for every festival!
4. Khaman Dhokla
Say yes to a 'majjani life' with everyone's favourite dhokla! This spongy Gujrati snack is made with besan and is loved for being super healthy. Eating them with the green chutney is heavenly. Make this at home, and satiate your tummies!
5. Coconut Barfi
Coconut barfi is another simple recipe that you can make on this Basant Panchami. This dense milk-based sweet is a must-have in your bhog thali, and will make everyone happy with its coconutty flavour! It's simple, quick, and yumm, so go make it na!!
6. Baingan Bhaja
It's very sad that the eggplants are not appreciated for their goodness and all the health benefits. If your munchkins and even adults at home do not like baingan, then it's time for you to try this awesome recipe. The eggplants are shallow-fried in oil, until they become crispy, and absorbs all the flavour of the masala. This traditional recipe is a must-try, and even those who hate eggplant will end up loving it!
7. Radhballabhi Poori
These aromatic pooris are stuffed with urad dal filling, and then deep-fried until they become golden brown. The flavours are spicy, tangy and will definitely satiate your taste buds. Relish it with any sabzi, and receive compliments!
8. Labra sabzi
This Bengali version of mixed veg. is packed with flavours, and is offered to the Goddess as Bhog with Bengali khichuri. This dish is made with different veggies, and you can even add pumpkin for a hint of sweetness. Not making this would be a loss for your taste buds.
9. Mishti Doi
Mishti Doi has a creamy, pudding-like texture, and tastes amazing. This recipe doesn't need a lot of precision and craft to make. Anyone can make this humble sweet, and win hearts. Try this simple 10-minute recipe, and add it to your bhog thali. You can replace sugar with jaggery to get a rustic and aromatic flavour.
10. Khichuri
Khichuri is one of these recipes that bridges the gap between an ordinary, and rich dish. This recipe is served in five-star hotels, and in local dhabas too. This one-pot meal of rice, moong dal and vegetables is perfect for your regular lunch, or any meal, and is served as bhog with some other Bengali delicacies. Try this simple recipe, and make your thali complete with it.
For more such stories follow Local Samosa on Facebook, Instagram, Twitter, and Telegram.