Food is something that binds us all together, and so are these food-related gifts. Bind yourself with your partner this valentine's day with these Valentine's day gifts that are perfect for your foodie partner!
They say, There is no sincere love than the love for food, and we say there are no better gifts for a food lover than these gifts. If your partner talks with food puns and knows all the best restaurants in the town, these gifts are perfect for them. Check this list of Valentine's day gifts that every foodie will love!
1. A box full of liquor chocolates
If you are not getting chocolates for your partner on valentine's, it's not fair. Get them some of Living Food Co.'s handcrafted liquor chocolates that include flavors like Bourbon and whiskey to Jamaican rum and Shiraz wine chocolate and other quirky flavours like Sitaphal, Alphonso Mango, Balkan Rose, and caramelized sesame. They also have an artisanal box of heart-shaped Bon Bons with Praline, gift them these treats that will definitely make your foodie partner happy.

Buy here.
2. Personalized engraved chopping board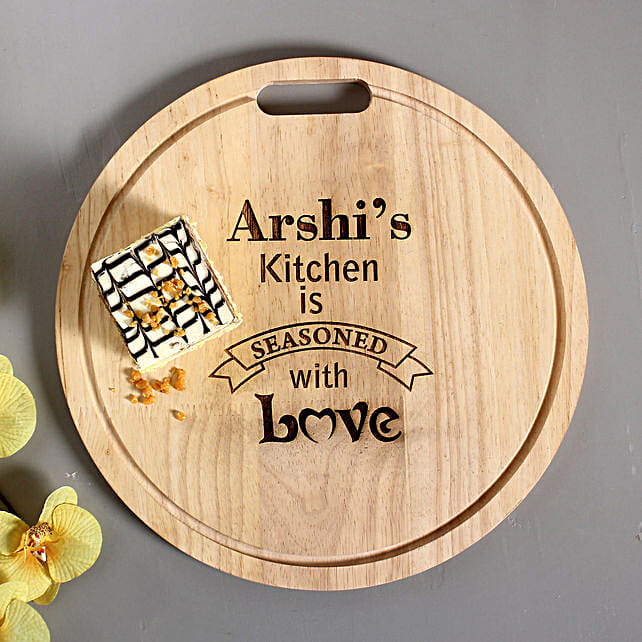 If your partner is into cooking, then this pretty wooden chopping board is a must-have for them. Since it can be personalized, you can use it as a home décor item too.

Buy here.
3. Realistic Food soap
These soaps have a great smell, and they look hundred percent real when it comes to visual presentation. The small details will steal your heart, and we just can't tell you how cute do they look! Pick a red velvet cupcake or a waffle soap, they have a pretty good variety of these realistic food soaps, and it's definitely a must-buy Valentine's day gift for a foodie!

Buy here.
4. Lemon cheesecake body butter
This souffle-textured skin treat will be their favourite skincare product. There are 3 different flavours namely vanilla, rose, and lemon cheesecake. This body butter will leave your lover's skin quenched, plump and smooth, and they are definitely going to thank you!

Buy here.
5. Pizza T-shirt
Let them flaunt their love for pizza with this cute, and cheesy Pizza T-shirt. It is time to grab the slice of their favorite Pizza, and click fancy pictures while wearing this heart-shaped pizza Tee!

Buy here.
6. A ceramic fondue set
How about a bowl of melted cheese, or melted chocolate with their favourite snack? Perfect right? Gift them this fondue set, and see it become their favourite kitchen accessory! Watching your favourite movie with them while enjoying your favorite cheesy snacks is definitely perfect!

Buy here.
7. Quirky Fridge Magnets
How about some mini samosas on their fridge? These cute fridge magnets are adorable, and do you know the best part? They are available in different miniature food designs like dosa sambhar, dhoklas, and even donuts. They are definitely a treat for the eyes!

Buy here.
8. A sandwich notepad
This realistic sandwich memo pad is just adorable. It comes with 100 blank sheets sporting the colours of ketchup, cheese, and lettuce. Open its bread, and bun, and write a juicy memo for your beloved. It's another fantastic Valentine's day gift for a foodie!

Buy here.
9. This engraved wood sign
Is your date a midnight snacker, and loves gorging on food at midnight? If yes, then this wooden wall sign will look best on the walls of your midnight snacker's room. There is a huge collection of other such wall hangings, an official foodie certificate, and even a food medal. Don't forget to check woodgeek's website!

Buy here.
10. A portable mug warmer
If your partner is someone who just never finishes a drink, this one is perfect for them. Keep your coffee mug on it, and then plug it straight into a socket. It will start warming up your coffee in no time, and that too at a perfect temperature! It's indeed one of the best Valentine's day gifts for a foodie!

Buy here.
11. A literal chai box
Well, there is something extra special about a kadak cup of chai, haina? If your partner is in love with tea, then this hamper is going to make them the happiest. Pick either Birdsong, a premium, silver tips white tea, paired with select lavender flowers and cockscomb flowers. When brewed, it transforms into a beautiful, delicate pink tea with subtle floral aromas and a sweet, lingering finish. The other option is Keya, a delightful, floral tea that blends the muscatel notes of white tea with red rose, pink rose, strawberries, and fennel, creating an aromatic tea that celebrates the spirit of the season of love.

Buy here.
12. These paperclips
This cute set of food paper clips are all cute and can be pretty useful to clip together important papers, or as a bookmark for your favourite books.

Buy here.
13. These coffee Hampers
If their love for caffeine is real, gifting them mCaffeine's Valentine series will be perfect. Get your hands on their gifting packs namely Coffee Beans – Gift Kit, featuring three mCaffeine naked & raw Coffee Bathing Bars. The second is the Coffee Mood – Gift Kit which is an assortment of coffee face wash, face scrub, face mask. The last one Coffee De-stress – Gift Kit which comprises of the two products from the naked & raw coffee range- body polishing oil, body scrub, and a wooden massager. It's definitely going to be a coffee treat for your lover!!

Buy here.
For more such stories follow Local Samosa on Facebook, Instagram, Twitter, and Telegram.
Comments
comments