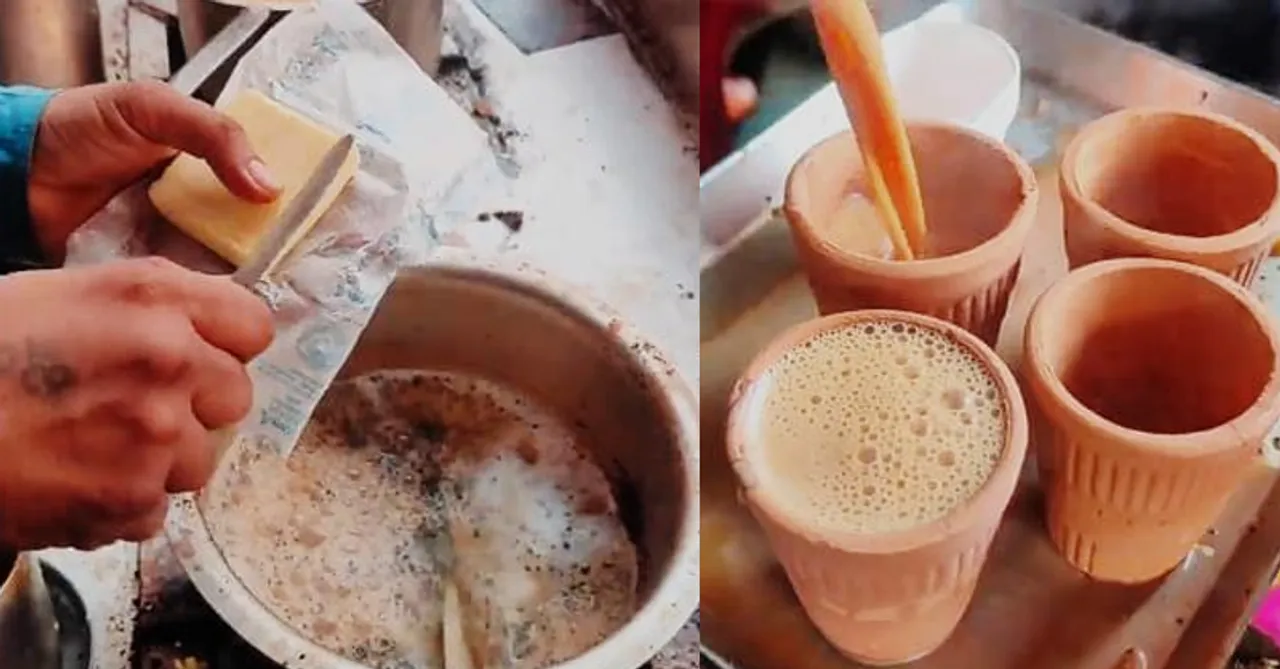 Butter paratha, butter chicken, and butter naan is something we all have tried and loved. But have you ever heard of anything like Butter Chai?
Let's all agree that a dollop of butter can change the game, and it has the power to make any dish more flavourful. It's the buttery flavour that makes us love Pav bhaji, butter chicken, butter kulcha a little more compared to other snacks. But guess what, now we have something called Butter Chai too, and this sweet and salty version of tea looks great. In a video shot by @FOODIEAGRA, a local tea vendor in Agra is making this buttery version of our regular chai.
This epic Butter Chai is being sold at Baba tea stall, and the local people seem to love it. It is made with fresh milk, tea, sugar, crushed cardamom, and a whole bar of butter. The flavour of Ilaichi and melted butter makes it a must-try for every chai fan.

A new addition to their menu, this butter chai is available in Chota and bada kulhad, and is priced at Rs.25 and Rs.40 respectively. This place also serves some freshly brewed coffee, bread butter, toast butter, and mathri.

Though the video has crossed +2 lakhs views on the internet, the concept of butter tea is not new. This variant of our regular tea is known as also known as po cha, or gur gur cha in the Ladakhi language. It is one of the most popular drinks in the Himalayan regions of Nepal, Bhutan, India, and Tibet.

Now that we know about it, I think it's time to give it a try, what do you all think about it? Do tell us in the comment section below.

Where:  Baba tea stall near Rambabu Paranthe Belanjganj, Agra
Price: Rs.25 / Rs.40
When: 6 am - 8 pm
For more such stories follow Local Samosa on  Facebook,  Instagram,  Twitter, and Telegram.