Are you in search of the sorcerer's stone? Did the half-blood prince take it from you? Are you not afraid of the dark forest? And, are you behind the elder wand? If all this is running inside your muggle mind, then you might want to spend a night in this Harry Potter-themed HomeStay, where you can brush up your magic skills while practicing all the spells!
The Forest Edge is a beautiful home-stay in Tirthan valley, and it is known for offering a relaxing stay, but the most talked about thing these days, is their epic harry potter themed room. If you are a Potterhead and you want to satiate the inner wizard in you, then head to this Harry Potter themed HomeStay in Tirthan Valley (Himachal Pradesh) right now.
The décor is nothing but heaven for all Harry Potter fans. The wooden door indicates the way to Platform 9 3/4 and will help you enter the enchanting world of the Spinner's End. Once you are inside, you will see multiple photo frames on the wall. One of them is the iconic 'Marauder's Map', another frame has the clippings of 'The Daily Prophet'.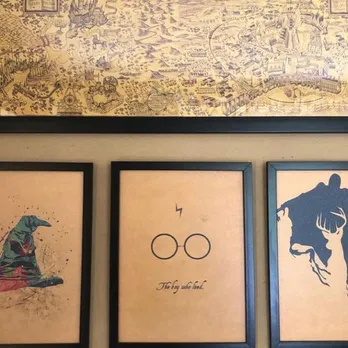 Right below the Marauder's Map, there are 3 more frames, one of which showcases the death eaters, another frame has ' The boy who lived' quote, and a painting of the sorting hat!
Once you take your wands off the walls, the bed awaits you with Harry Potter themed pillows, and look fantastic. You can revise all the spells while sitting on the couch, and watching the lush, tall pine with another set of pillows that are printed with Harry Potter motifs. Don't forget to click a picture with the curtains tied with Hogwarts uniform ties.
Spinner's End indeed is a treat for all muggle Potterheads. Now we have a magical place to go and experience something enchanting!

Other than this cool harry potter room, The forest edge has different comfy rooms and a great staff. Situated in a central location, it is easier to visit more pristine, remote villages like Sarchi, for trekking, and trout fishing from the Forest Edge. You will also keep hearing the sound of the river from your room, and it will bless your ears.
So, what are you waiting for Potterheads? It's your chance to stay in this piece of Hogwarts at The Forest Edge. Book your magic rooms now!

Where: Thirthan Valley, Himachal
Contact: +917011366645
Book here.

For more such stories follow Local Samosa on Facebook,  Instagram,  Twitter, and Telegram.