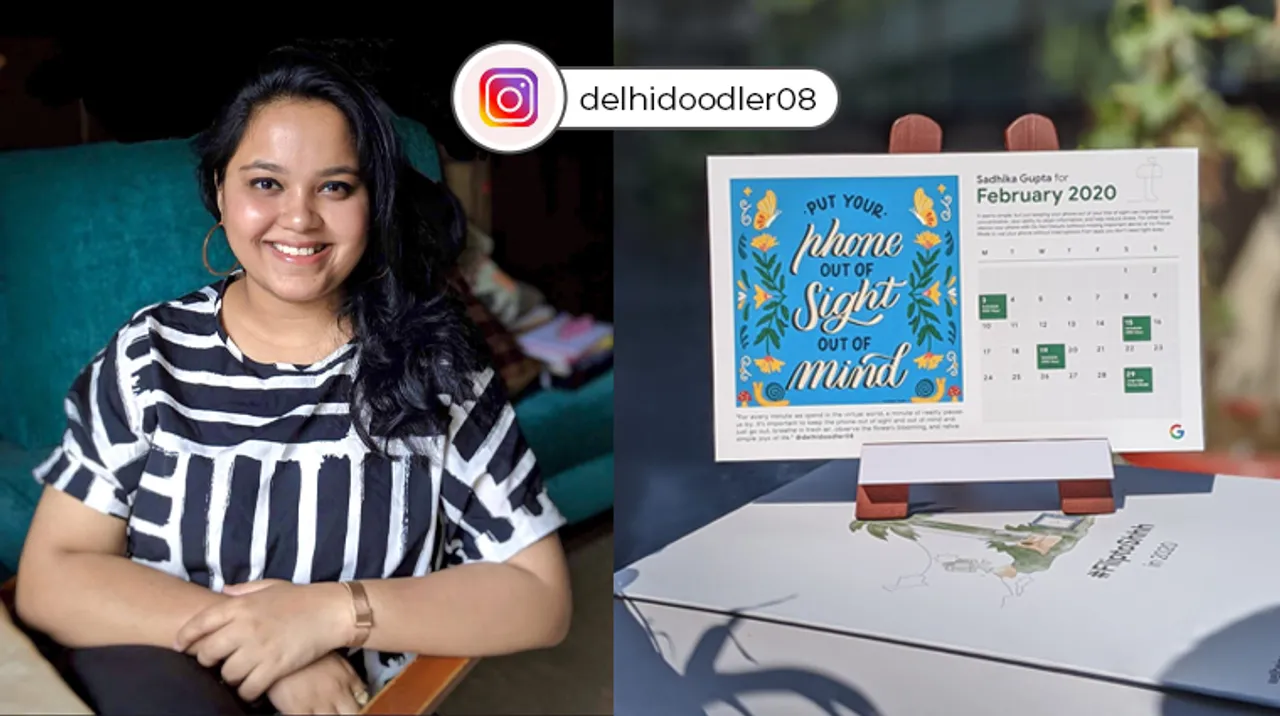 Her Devanagari calligraphy collection will leave you awe-struck, and her curated art supplies will make your inner stationery lover her fan!
Sadhika Gupta has conducted more than 150 calligraphy workshops, has worked on projects for Google India, Gucci, Louis Vuitton, and has hosted many fun Lettering challenges like pun-tasting lettering challenge on her Instagram page.Local Samosa was in a warm conversation with Sadhika Gupta aka Delhi Doodler, about her journey of becoming a successful calligrapher, her love for lettering, and much more!
Can you tell us a little about yourself?
I'm a Calligraphy and Hand lettering artist based out of Delhi. I've been practicing these artforms for a little over 5 years now. Over this time, I've also had the opportunity to work for many world-renowned brands, including Google India, Gucci, Louis Vuitton, Jimmy Choo, Ferragamo, Hyatt, Mont Blanc among others. I've also worked on a ton of personal projects and commissions for some amazing businesses and people, who find value in my work :)
Can you walk us through your journey of becoming a calligrapher?
My journey to becoming a Calligrapher didn't start with me deciding one day out of the blue that I WANT to be one. Instead, it's something that happened by chance. I always say this, I didn't choose Calligraphy, Calligraphy chose me, and I just swayed with it. :) It all started in 2015 when I was preparing for the coveted UPSC exams. Around the same time, Calligraphy was booming on Instagram, especially in the west. 
I followed a few artists, became curious about this artform, and bought a few pens from the stationery fair. It became a hobby, a source of relieving stress that the Civil services exams induced. I kept sharing the artworks I made on my personal Instagram account. However, after I gave my preliminary exam for UPSC, and I realized I wouldn't make it, I devoted myself full time to making art. The idea was always to make it for me, for my joy. With that thought, I opened @delhidoodler08, my current Instagram account, which also gave me an identity. I kept sharing my Calligraphy, My Mandalas, doodles everything there. Soon, I started getting tons of love and appreciation for my work. And thus began my journey to becoming a professional calligrapher :)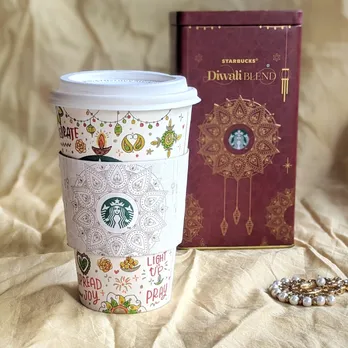 What is your calligraphy and lettering style? Where do you find your inspiration?
The thing about my work is this- I don't limit myself to one style or form. I love experimenting- with different mediums, tools, Calligraphy styles. I've allowed myself to become a vessel for multiple forms of this art- including copperplate Calligraphy, Modern calligraphy, Devanagari Calligraphy, and Hand Lettering. If there is something that ties them together, they all require an understanding of letter-forms, proportions, patience, and practice. Copperplate Calligraphy, for instance, is a really old script that dates back to the 18th century.
I love the elegant swirls and delicate hairlines in that script. At the same time, I love whimsical, playful letter-forms that belong to the 1970s and 80s! I find my inspiration everywhere, I could be hanging out at a cafe and spot beautiful lettering in their menu, or going through a bookstore and see a beautiful ligature on a book cover, I could be listening to a song and the next thing you know I'm lettering its lyrics!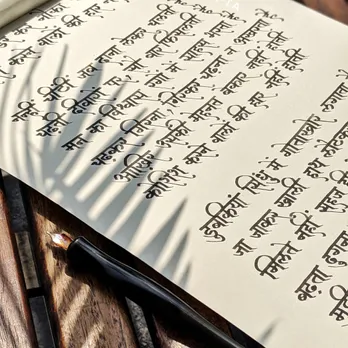 Tell us the thought or a story behind your work that is close to your heart.
There's a story behind all my artworks, however, if I had to choose just one, it would be this Art frame I made 3-4 years back for Mother's Day. I've always loved making cards on every occasion for my mom, but i was tired of writing the same 'You're the best Mom in the world' type of messages. I wanted something different, something with more soul, and then it struck me, why not write 'Maavan Thandiyaan Chaavan' from Gurdaas Maan sahab's timeless song? It's such a beautiful Punjabi phrase, and I've grown up listening to his songs.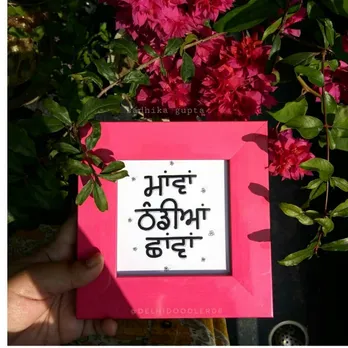 Tell our readers more about your workshops and Merchandising under your label.
I started teaching Brush Calligraphy Workshops in 2017 when it was fairly new in India. And since then, I've taught at least 150 workshops offline and online across India. I also teach workshops for Copperplate Calligraphy, Modern calligraphy, Mandalas, Devanagari Calligraphy, among others. I love sharing my knowledge with others, and when I see them practicing, it brings me joy! :)
Recently I've launched my online shop at sadhikagupta.com. I love making unique products and merchandise that carry my artwork on them. One of the first merchandise I released was my 'Good Vibes Calendar' in 2017, and I've been making it every year since then. Apart from the calendar, my permanent range of merchandise includes artist sketchbooks, handmade watercolours, greeting cards, and stickers!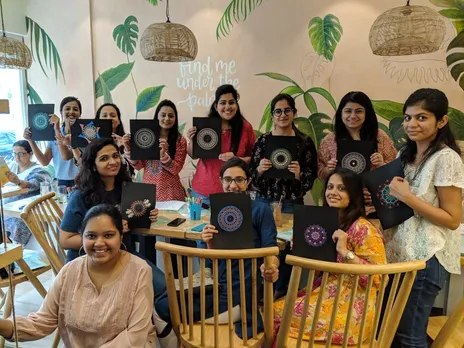 If not calligraphy, what else we would find Sadhika Gupta doing?
I think Sadhika Gupta would be a photographer and a volunteer at an NGO. I've always loved telling stories through photography. I truly believe that a picture is worth a thousand words. One of my first few experiments with typography involved combining my photographs with quotes using different fonts. If not Delhi Doodler, I would probably be Delhi Dallying around with my phone camera, talking to people of the city and compile them into a digital blog. Ultimately, we are all a bunch of stories, and I love storytelling!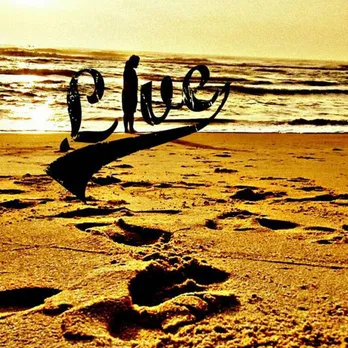 Indian calligraphers or Lettering artists you look up to?
One of my initial inspirations to begin lettering was Angel Bedi (Filmy Owl), I'm still a fan of hers and how her art is an extension of her own personality. I also really enjoy Sign Lettering done by artists on trucks and signboards- I think it's very interesting and very uniquely Indian, the way they use colours and make letters.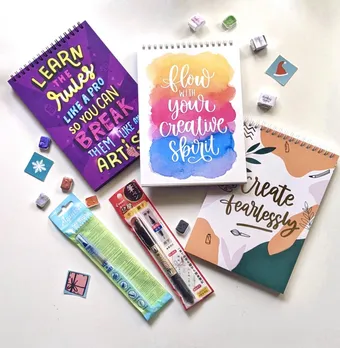 Sadhika Gupta, what is about Delhi you love and adore the most?
Delhi is a juxtaposition of the old and the new- I have a picture I clicked a decade ago of a 14th-century step-well that's located in the heart of Delhi. And the moment you enter, you see the tall modern buildings with glass windows around it. I don't know how but they manage to coexist! This coexistence, this accommodating nature of Delhi- that welcomes anyone from anywhere in the world is what I love about it. The second and most important thing I love about Delhi is its street food! Again, it goes to show what a melting pot Delhi is. We love our momos as much as we love our chhole bhature and as much as we love our chaats!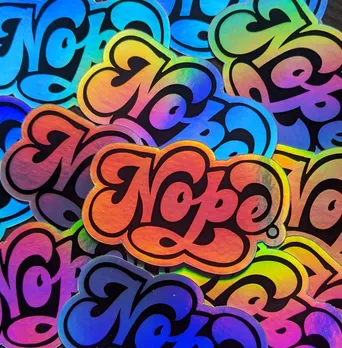 If you have to do calligraphy at a spot in Delhi or about a place in Delhi, which one would    that be?
Old Delhi- Hands down. My heart lives in Purani Dilli. My father used to have a shop there in the cloth Market. So every Diwali I used to go to his shop for Pooja and I remember the courtyard where the shop was had a huge banyan tree. Very close to his shop was Gulab Singh Johri Mal, where I still get the best rose water from. In Summers he would bring home Fruit Cream from the Sardarji that stands opposite Sheesh Ganj Gurdwara every evening, or Bengali Mithai from Annapurna, right opposite to that.
When I entered college, I'd bunk classes in winters to go to Red Fort and follow it by a visit to Ghantewala (I was heartbroken when they closed). I love shopping for my mum from Kinaari Bazaar-the favorite hotspot of every designer in Delhi. Yes, Old Delhi is crowded, it's not very clean, but it's unpretentious. It's honest. And I love that! From the perspective of lettering and art too, Old Delhi is very unique. You'll find these really old signboards with letterforms that you won't see anywhere else. There's a particular shop I love visiting to buy really old nibs for Calligraphy, which are extremely rare and special :)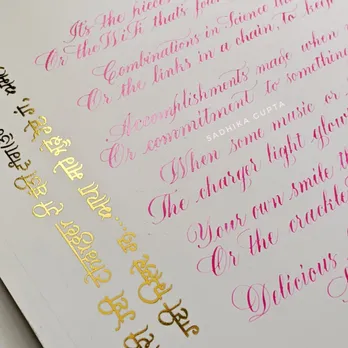 You have been living in Delhi for a while, tell us your favourite local spots!
My favorite spots have to be the ones that bring me slightly closer to nature. The beautiful well kept gardens of Delhi- Lodhi Garden and Sunder Nursery. I studied in the North Campus, so I used to go very often to the Delhi School of Economics to get notes (which was an excuse to get in and sit by their big amaltas trees and sip masala coke). Another lovely spot would be the Hauz Khas fort. I can never get tired of going there.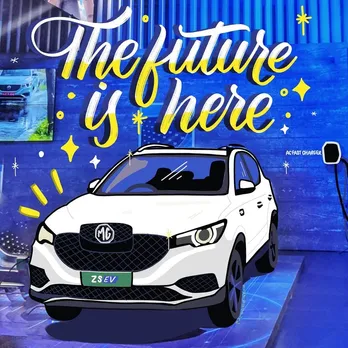 What are your future plans? Any other details you would like to share.
My plans for Delhi Doodler include releasing more unique and special merchandise and art supplies. I also plan to continue teaching more workshops and spread the love for drawing letters as far and wide as I can.
You can check Sadhika Gupta and her work on Instagram here!
For more such stories follow Local Samosa on  Facebook,  Instagram,  Twitter, and Telegram.