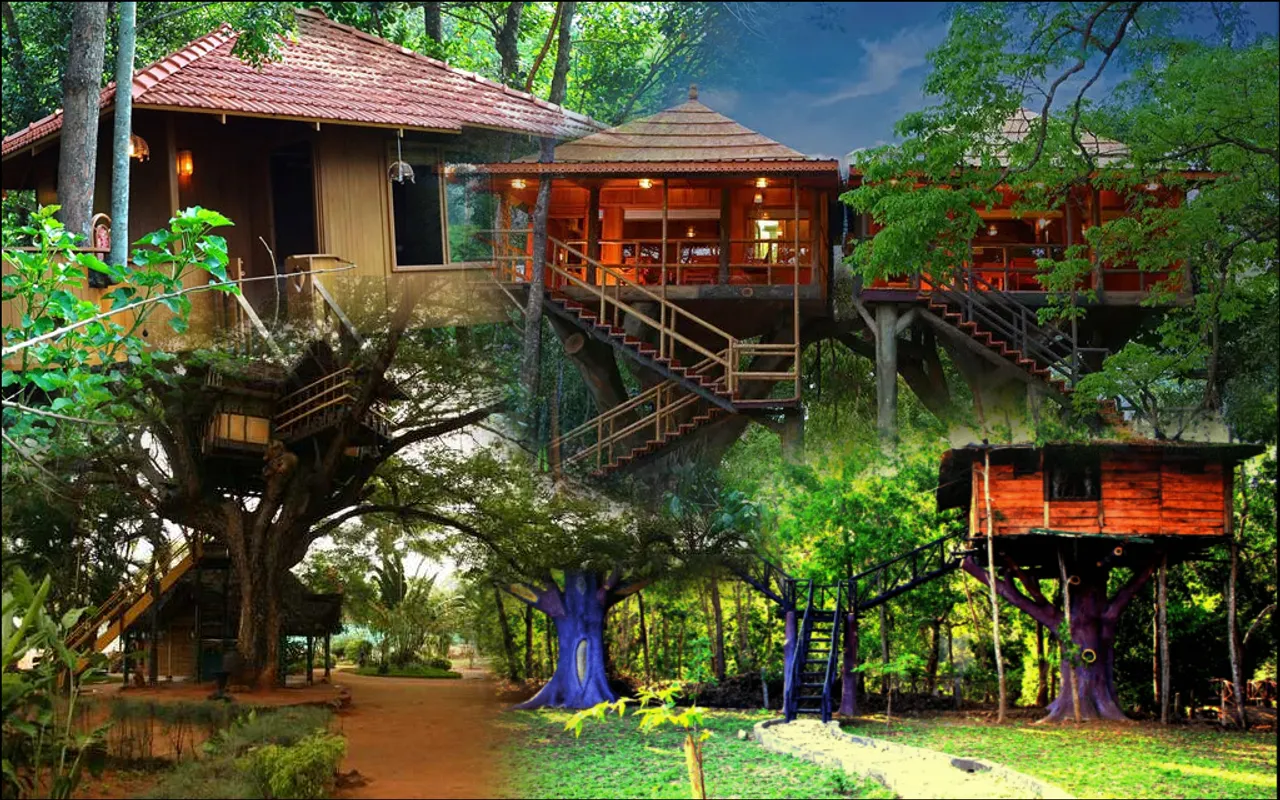 Fall right into the ever-loving arms of nature as you explore into the wilderness. Treehouses are an abode of tranquility and calm and add to the beauty of every corner of India. Get comfortable at these amazing treehouses of India and make your staycation memorable!
On a quest for some tranquility, away from the city madness? You have come to the right place then! A number of places in India have beautiful locations with treehouses, and you should visit them at least once in your lifetime. They are escape routes leading you straight to the laps of nature. Look out for these fascinating treehouses of India and lose yourselves to the beats of nature
1. Vythiri Treehouse, Kerala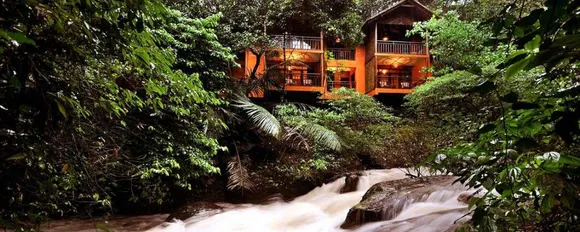 That perfect secret hideout that will give you memories to cherish lifelong! Vythiri treehouse is located in the Wayanad district of Kerala and is one of India's largest treehouse resorts. This treehouse offers a wide range of services, including a spa, health center, an Ayurveda center, a swimming pool, and many more. Live amidst birds, and plants in this beautiful rainforest.

Where: Wayanad
Book Here
2. The Machan, Maharashtra
Machan is a luxury treehouse resort located in Lonavla. It comprises unique treehouses that are standing at the height of 30 - 45 feet above the forest. Machan is a popular weekend getaway for those staying in and around Mumbai and Pune. The property is pretty and offers an on-site Indian buffet restaurant. It is an eco-friendly property, and all accommodations here have balconies with stunning valley views.

Where: Lonavla
Book Here
3. The Treehouse Hideaway, Madhya Pradesh
Spread across 21 acres of land in the dense forests of Bandhavgarh, is The Treehouse Hideaway. This forest is home to many tigers, birds, and reptiles. Treehouse Hideaway is designed traditionally. Wood furnishings, rustic rooms, verandas with forest views, and exposed beam ceilings come as a package. Other amenities include a dining room with a fireplace, a terrace with BBQs, and a library.

Where: Bandhavgarh
Book Here
4. Carmelia Haven, Kerala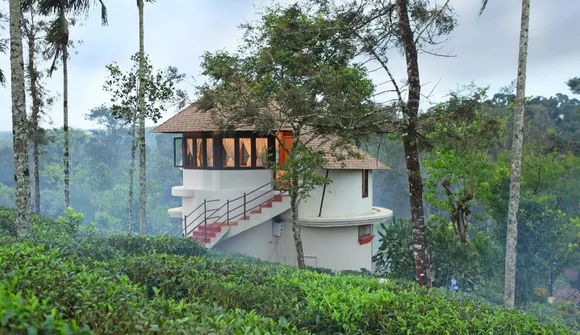 Carmelia Haven is an eco-friendly resort spread across 55 acres, providing over 25 cottages, guestrooms, and treehouses. It is surrounded by cardamom and tea plantations. The guests and tourists have several outdoor activities lined up for them, including elephant riding, canoeing, tours of the tea factory, and cardamom smokehouse.

Where: Thekkady
Book Here
5. Hornbill River Resort, Karnataka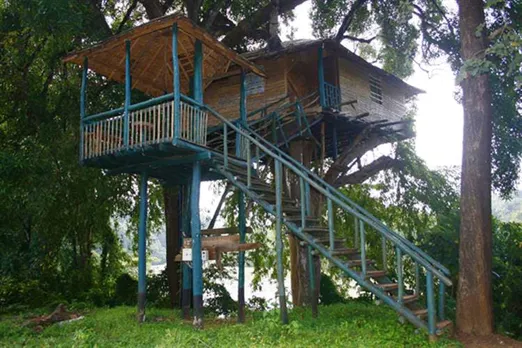 The fragrance from the coffee and pepper plantations surrounding Hornbill Treehouse will make you fall in love with this place. This treehouse has a blend of colonial ambience with a traditional setup. The spacious and airy rooms provide you with a breathtaking view of misty mountains breathtaking valleys. The nights witness fireflies dancing to the tunes of nature and lighting up your mood, thereby presenting a feel-good vibe.

Where: Dandeli
Book Here
6. Vanya Treehouse, Kerala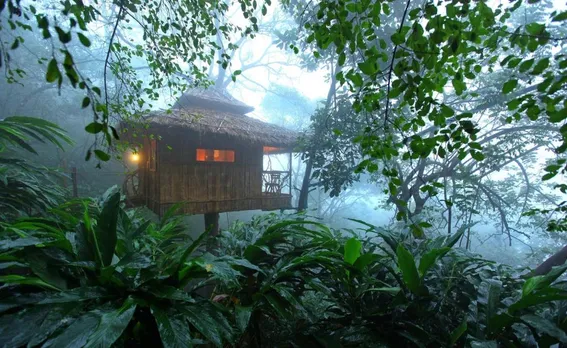 Replicating the indigenous way of living, this treehouse makes you dwell in the realms of nature and mother earth. 'Vanya' means wild and reflects the true spirit of nature. Get a panoramic glimpse of the mountains, ridges, and forests from Vanya.

Where: Attapallam
Book Here
7. Safari Land Resorts, Tamil Nadu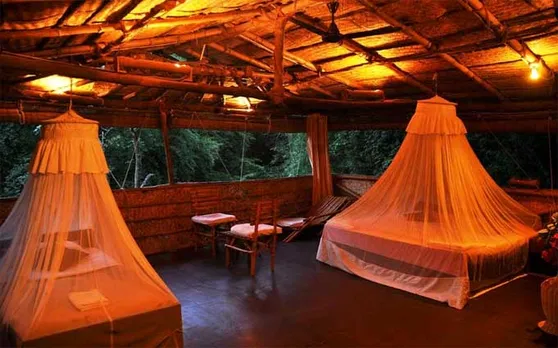 Located in the vicinity of the Mudumalai wildlife sanctuary, Safari land resorts have extremely fascinating treehouses. This beauty is located amidst gorgeous Blue mountains and Nilgiris. The rustic look of the resort is an add-on to the view. The forests there is home to a variety of flora and fauna complementing the looks. Aside from other services, you can also opt for a private bathroom with free toiletries. The continental breakfast buffets are a must-try.

Where: Masinagudi
Book Here
8. Manali Treehouse, Himachal Pradesh
This treehouse cottage is the only one in Himachal Pradesh. Situated on the remote hillside, the Manali treehouse is a modern yet authentic wooden house, with views of the pretty Himalayan mountains. This treehouse cottage is ideal for romantic couples, families with children as well as individuals.

Where: Manali
Book Here
9. Treehouse Resort, Rajasthan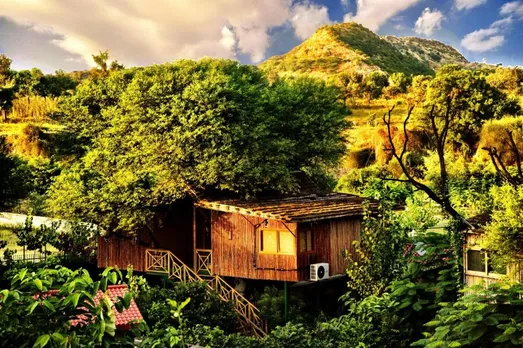 Treehouse resort is surrounded by forts and valleys. This resort takes care not only of your stay but also of any other travel arrangements or sightseeing services. Air-conditioned rooms, private bathrooms, coffee machines, and a fridge are a few added amenities included in this package. It also hosts space for an outdoor pool, tennis room, and a billiard room. Pack your bags while you make some noise for the treehouse resort.

Where: Chandwaji
Book Here
10. Wildwood Pench Lodge, Madhya Pradesh
Wildwood Pench Lodge is a luxurious Jungle located near a National Park in Madhya Pradesh. They provide six cottages and six treehouses and take a lot of safety measures. They also offer booking services like boat rides, culinary workshops, and jeep safaris. A perfect example of 'modern jungle living', Pench Lodge offers a wide range of modern facilities amidst the wilderness.
Visit SaffronStays to know more.

Where: Avarghani
Book Here
For more such stories follow Local Samosa on Facebook, Instagram, Twitter, and Telegram.