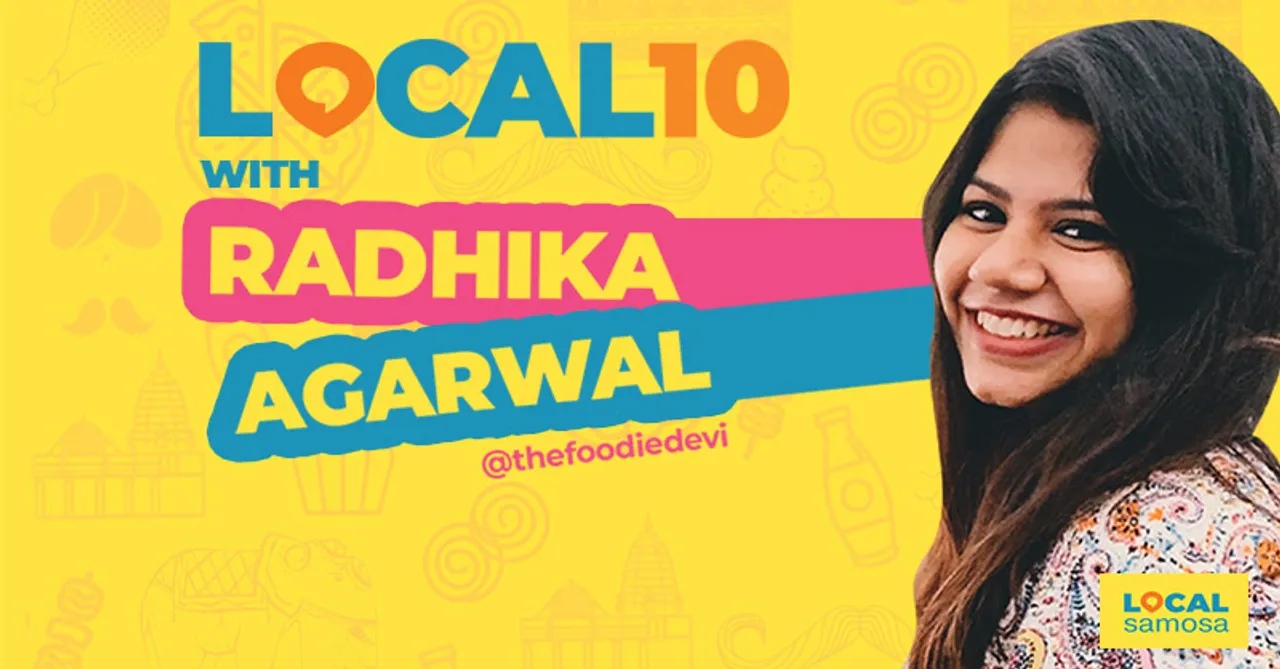 In Local 10 with Radhika Agarwal, we asked aka @thefoodiedevito share some recommendations of her favourite food and shopping places from Jaipur.
Radhika hails from Jaipur and knows the city quite well. Being a food blogger, she has explored quite a few local eateries, delivery places, and some homegrown brands. So believe us when we say to bookmark these recommendations and fill your tummy with some good food and beverages. So let's get started with Local 10 with Radhika Agarwal.
1. Favourite Chaat Place in Jaipur
Who doesn't love Chaat, and if you are not able to step out, the Chaat Shop is preparing delicious Chaats and delivering it to your home. You can order them at their WhatsApp number 7976542201/9929244456. They serve Papdi Chaat, Aloo Tikki, Vada Pav, Dal Pakwan, and many other mouth-watering Chaats.
2. Favourite Place for Coffee in Jaipur
Radhika is a coffee fanatic, and everyone who follows her knows about it and her love for the Curious Life Coffee Roasters. So, make sure to try coffee from here!
3. Favourite Home Chefs in Jaipur
If you are looking for home-cooked food, do check our Cauldron sisters and Soul Food Jaipur, recommended by Radhika. Both of them serve delicious food and are a must-try.
4. Favourite Dessert Eatery in Jaipur
For all the sweet tooths out there, have you tried desserts from Fat Guyy Patisserie.
5. Favourite Kombucha Brand
It's time to take care of your gut, and Kombucha is amazing for digestion and entails other health benefits too. Try out CommBucha by MAVI.
6. Favourite Local Food Delivery
Burp Ahead! Satiate yourself with delicious food from Cafe Bae and On The House Jaipur.
7. Go-To Place for Grocery Shopping
Radhika gets excited about grocery shopping than shopping for clothes. And if you are Team Radhika for this, then check out Shoppers Paradise in C-scheme and Tiny roots.
8. Favourite Sushi Eatery in Jaipur
Sushi eateries haven't been in the city for long. Now you can get your hands on Sushi delicacy at DOJO.
9. Favourite Local Caterers in Jaipur
Gyanjee caterers in Jaipur is a renowned name, and now they have started home delivering too. Isn't that great?
10. Favourite Namkeen Place in Jaipur
Khuteta Namkeen Bhandar in Kishanpole Bazaar is a must-visit place for any Namkeen lover. Their Kachoris are the best.
For more such stories follow Local Samosa on Facebook, Instagram, Twitter, and Telegram.