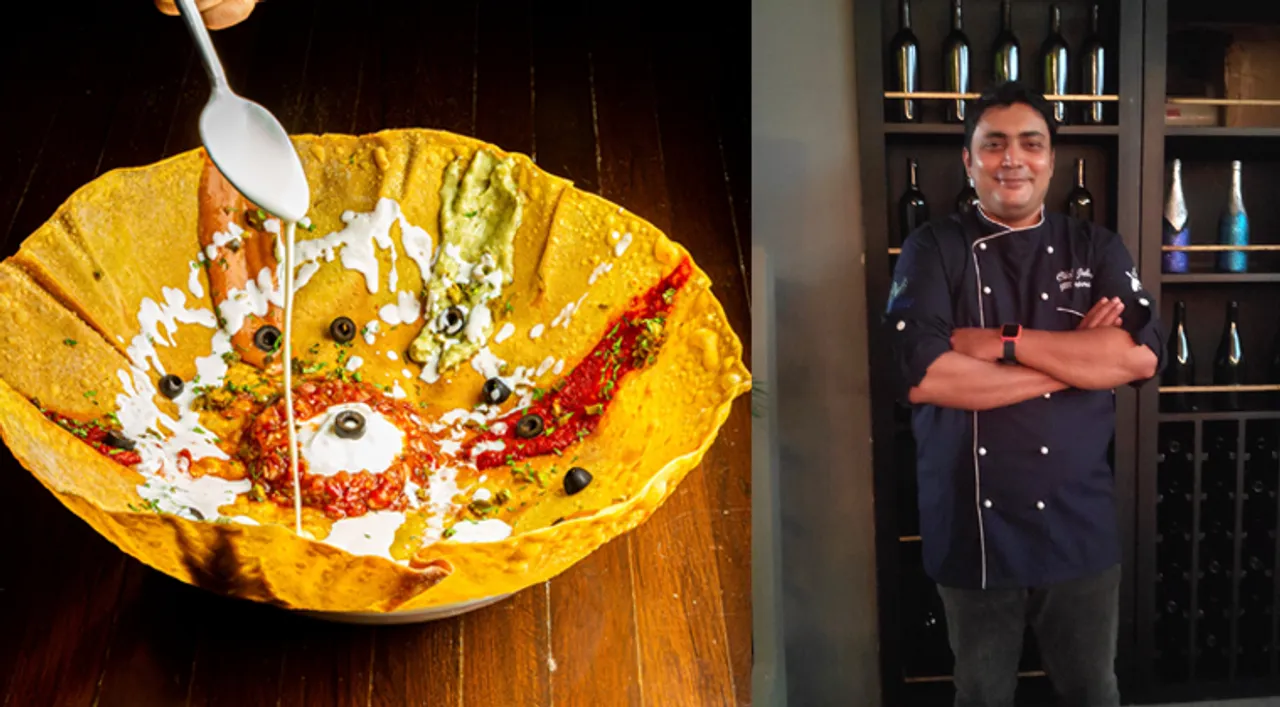 One of the famous eatery in Khar Mumbai, Out of the Blue is famous for its Mediterranean, American and Italian dishes. If you are looking to try out an interesting snack recipe, then we have got something for you. Well, you might have had Nachos earlier, but Nachos Cap Upside Down by Executive Chef Juliano Rodrigues from Out Of The Blue will blow your mind.
Nachos Cap Upside Down
Salsa
Ingredients: 
Chopped onion- 80 gm
Chopped tomatoes- 80 gm.
Chopped Coriander 5 gm
Garlic powder  1/2 tsp
Tomato ketchup 10 gm
Green chilies 1/2 tsp
Salt 1 tsp.
Lemon juice 1 tsp
Method:
In a bowl mix all the ingredients and allow it to rest in the fridge for 10 min.
Guacamole Spread 
Ingredients: 
Guacamole 2 tbsp 
Avocado 1 Nos( Cored and Seed removed )
Chopped tomatoes 1 tbsp
Lemon Juice 1 tsp
Coriander 1/2 tsp
Crush pepper 1 tsp
Method:
In a bowl mix all ingredients and place in the fridge 
Sour Cream
Ingredients: 
Sour cream 
Double cream / Cooking Cream 100 ml.
Lemon Juice 1 tbsp
Method:
Blend cream & lemon juice with a hand blender or whisk till a peak consistency.
Nachos Cap
Ingredients: 
Nachos cap (Nacho shell)
Cornmeal 100gm
Refined flour 100gm
Salt 2 gm
Water 100 ml approx.
Method:
1) Knead the dough using the above ingredients and roll an approx 18-inch circular sheet
2) Bake on upside down wok and allow it standing for 1 hour and later fry the nachos shell/ cap in oil 
White Sauce
Ingredients: 
Flour 50 gm
Butter 80 gm
Milk 800ml
Salt 1/2 tbsp
Method: 
In a thick bottom pan, prepare Roux, pour in the milk till it emulsifies to a thick sauce then add salt.
Final Assembly
Ingredients: 
Olive slices 10 gm
Chopped coriander 1 tbsp
Jalapeno 1 tbsp
Method:
1) Place the Nachos cap in a serving dish and apply all the condiments 
2) Scoop the sour cream and place it in the center of the Nachos cap. Put salsa around the sour cream in a circular shape 
3) Neatly apply a layer of guacamole and then evenly spread the cheese sauce in the cap
4) Finish it by garnishing it with an olive, jalapeno, and chopped coriander leaves
For more such stories follow Local Samosa on Facebook,  Instagram,  Twitter, and Telegram.