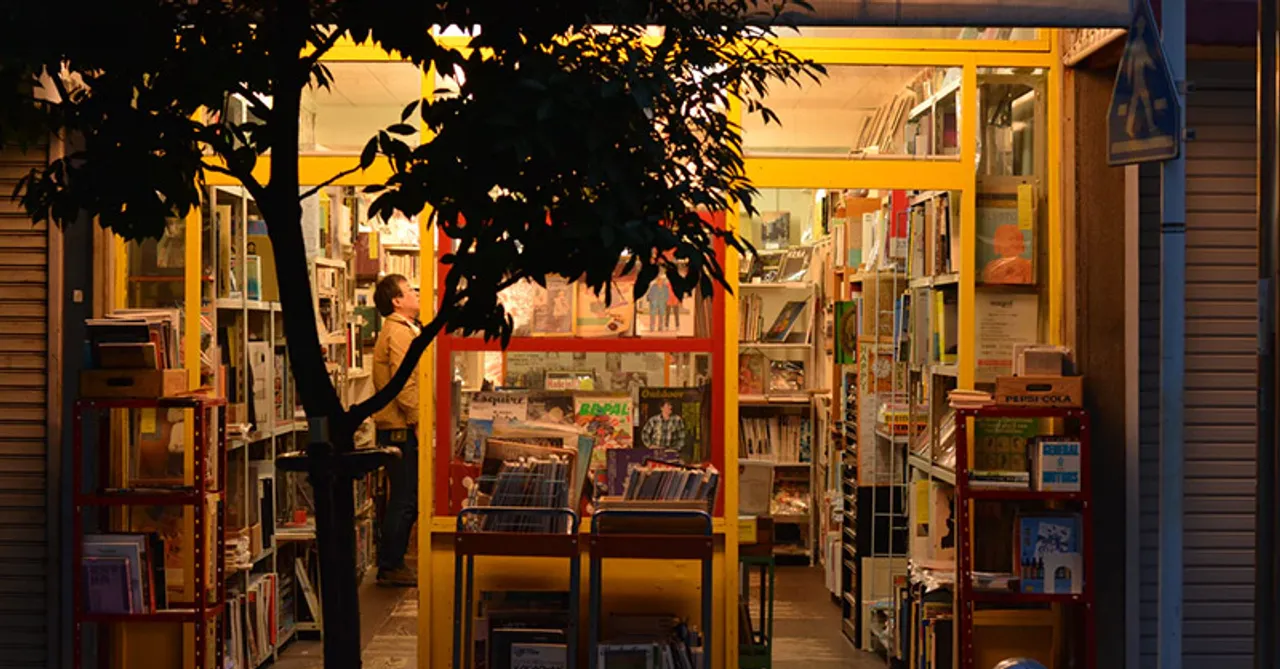 "They say money can't buy happiness, but I have a receipt from the bookstore telling a whole different story!".We don't know who said that but we absolutely believe this! If there's anything a book lover missed the most in this lockdown is not being able to buy new books. From running their hands on the bookshelf to inhaling the smell of books, the joy of buying books is just inexpressible. You'll have stayed away from books, for a way to long, not anymore. With things seeming to be coming back in normal, bookstores are now opening up. Book lovers check-out these Bookstores open for delivery in Bangalore.
1. Blossom Book House
Located right in the heart of the city is the second-hand bookstore, Blossom Book House. One can easily locate a sizable collection of titles in fiction, cooking, and other genres. Place your order through mail or WhatsApp, and get them delivered right at your doorstep. The store is now also open for in-store shopping while keeping the social distancing norms in mind. So when are you headed over to the book store?
Where: Blossom Book House, Church Street, Bengaluru
When: 11:00am to 9:00pm 
Contact Details: +91-8025559733
2. Sapna Book House
Sapna Book House is one of India's largest book mall and a paradise for book lovers. Apart from books, the store also offers a variety of stationery items and art supplies. You can either opt for on-call delivery, in-store shopping, or in-store pick-up.
Where: Multiple Locations
Contact Details: +91-080 40839999
3. Book Fair
Book Fair is a treasure chest of countless books, from new and old to rare. If you look thoroughly, you might find a few classics in the firsthand copy. The store is now open for in-house shopping, so go ahead and buy your next pile of books.
Where: KHB Colony, Koramangala, Bengaluru
When: 9:15am to 10:00pm
4. The Bookworm
Bookworms, this is for you all! You'll find a mix of all genres, bestsellers, and the latest releases. We suggest you contact the owner first for the availability of your desired book. Then, all you need to do is make the payment, and the books will reach your doorstep.
Where: Church St, Ashok Nagar, Bengaluru
When: 10:00am to 9:00pm
Contact Details: +91-9845076757
5. Champaca Book Store
Isn't the setting tempting? Reading your favorite novel with an aesthetic background seems a little too dreamy, but not with Champaca Book Store. However, they are yet not open to in-store shopping. One can opt for delivery or in-store pick-up. The categories include Queer stories, Caste, and Life in the City, and more.
Where: Edward Road, Vasanth Nagar, Bengaluru
When: Tuesday to Sunday; 11:00am to 6:00pm
Contact Details: +91-9353608989
6. Walking Bookfairs
Only a book lover knows the pain of being away from books for a long time. But Walking BookFairs, Bangalore, has been sending books to readers since April. And is now accepting book orders throughout India! Book lovers when are you ordering your new reads?
Where: 6th Main Rd, Santrupthi Nagar,Arekere, Bengaluru
When: Tuesday to Sunday; 11:00 am to 8:00 pm
7. Goobes Book Republic
Did you miss running your hands on the bookshelf and smelling the pages in between? If it's a yes, then the Goobes Book Republic is at your rescue. You can now browse through the store and select your next read while following social distancing. And if you are not sure about stepping in, you can opt for home delivery. Happy Reading!
Where: Shanthala Nagar, Ashok Nagar, Bengaluru
When: 10:30am to 9:00pm
Contact Details: +91-8040903806
8. Higginbotham
Higginbothams, one of Bengaluru's oldest book stores, is a bibliophile's heaven. If you are looking for books for children, then they have got that covered as well. You can order books through Dunzo, opt for home delivery or in-store pick-up. They allow readers to step in, provided they are wearing a mask.
Where: Mahatma Gandhi Rd,Ashok Nagar, Bengaluru
When: 10:00am to 8:45pm
Contact Details: +91-8025586574
9. Lightroom Bookstore
Looking for books for you lil' one? We've got you covered. Or rather, Lightroom Bookstore has got you covered. They offer books of almost all genres for kids aged from one to sixteen. The staff is more than happy to help you with suggestions. You can order through delivery apps, or go for in-store pick-up. Make sure you call them beforehand so that you can get your desired book.
Where: Lewis Rd, Cooke Town, Bengaluru
When: Monday to Saturday; 10:30am to 3:30pm
Contact Details: +91-8025460466
Did we miss any Bookstores open for delivery in Bangalore?
For more such stories follow Local Samosa on Facebook,  Instagram,  Twitter, and Telegram.