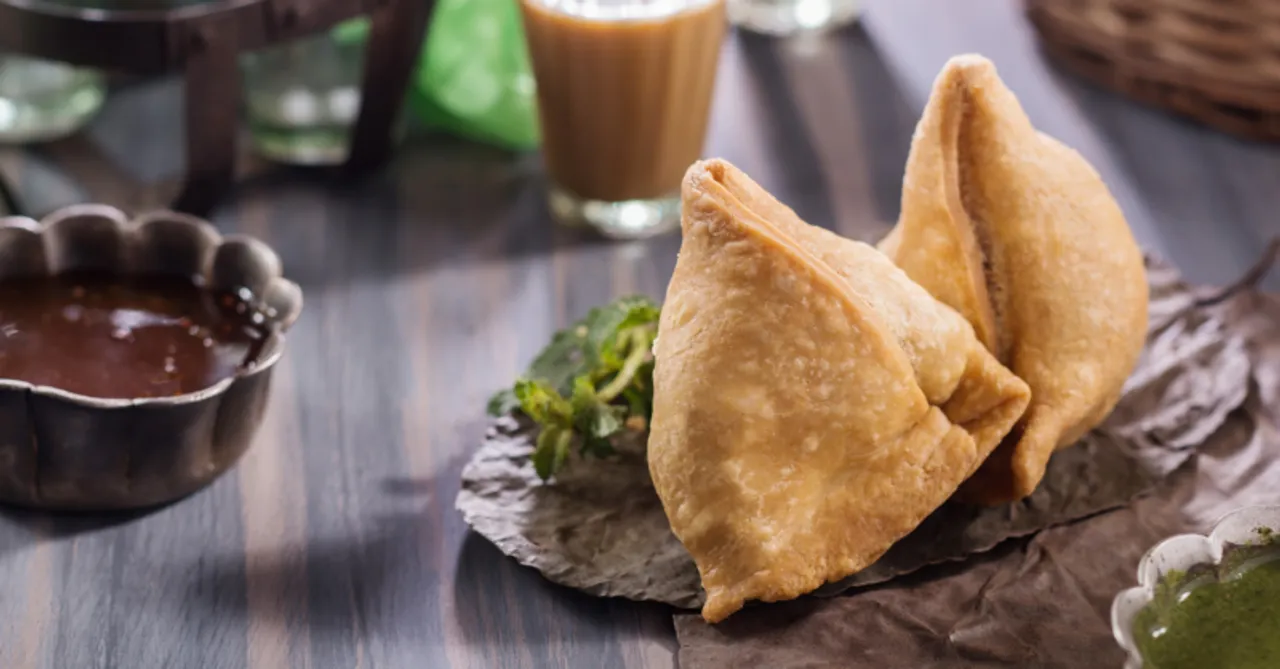 Wouldn't it be nice to enjoy a rainy afternoon with a plate of samosa and a cup of chai? Be it a rainy day snack or an on the go bite, Samosa has been with us for long. And we are never getting bored of it. Although we are used to potato filling, Samosas have different identities and fillings in different parts of the world. But the iconic triangle shape remains the same. Read on to know the story behind Samosa, and trace its history.
Story behind Samosa
The first mention of a word similar to Samosa can be traced back to the 10th-13th century. That too in Arab cookbooks by the name of sanbusak. It may come as a surprise, but Samosa is not originally Indian, but we have definitely made it our own. With roots from the Middle East and Central Asia, it reached the Indian Subcontinent around the 13th-14th century through trade routes. One of the earliest mentions of samosas can be found in Amir Khusro's writings, where he writes about enjoying the delicacy made with meat, ghee, onion, and so on.
A variant of samosas was also a popular snack for Central Asian communities, because of its convenience, especially when travelling.
How did Samosa reach India?
It is believed that in 14th-century, Moroccan explorer Ibn Batuta brought this amazing dish to our country. The description of the dish, which he referred to as sambusaks, were small pies stuffed with minced meat, almonds, pistachios, and walnuts, and were served alongside or before the Pulav.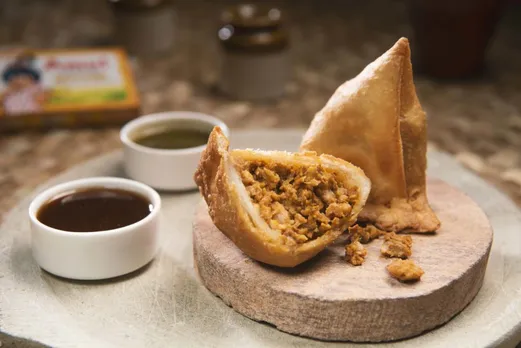 So as per the story behind samosa, they were originally filled with minced meat. But then where did the standard potato filling come from?
Well, the credit for this goes to the Portuguese, who are well-known for bringing potatoes into our cuisine. And since then, a lot of Indian dishes have accepted it wholeheartedly. Samosas were no different.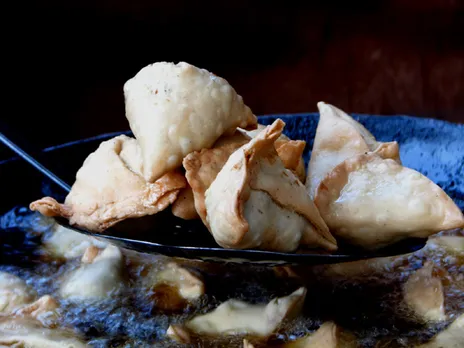 Variants of Samosa across the country
Samosa in India is quite popular, but it is not consistent across the country. Up North in places like Delhi, Punjab, Himachal Pradesh, Samosas are filled with spicy masala potatoes filling and can also include peas, green chillies, and in some cases cheese and dry fruits. These tend to be slightly bigger than average.
Whereas towards the eastern part of the country, samosa goes by a different name - shingadas. The snack is popular in Odisha, West Bengal, and Jharkhand, but is usually made in a smaller size. Here the filling is made of cooked diced potatoes (instead of boiled). Shingadas sometimes also include nuts in their filling.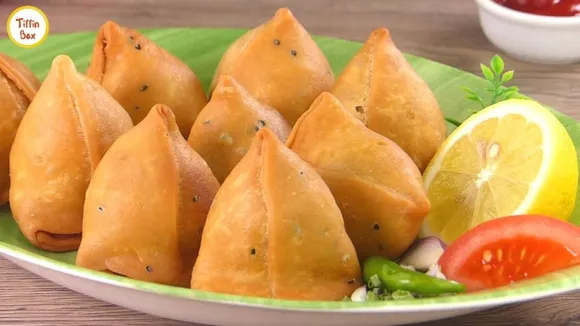 Samosas are not always vegetarian. The Hyderabadi version is called aslukhmi, and is made with a thicker crust and filled with minced-meat. They are also more flakey than the other versions.
In southern states, Samosas get a different identity in terms of it's looks. And even the filling is made keeping the local taste in mind. You can find filling ranging from potatoes with spices, fried onions, peas, carrots, cabbage, curry leaves, green chillies, etc.
Although the story behind Samosa is not very well know, we have made this Middle Eastern snack our own. Along with local twists.
Samosas across the world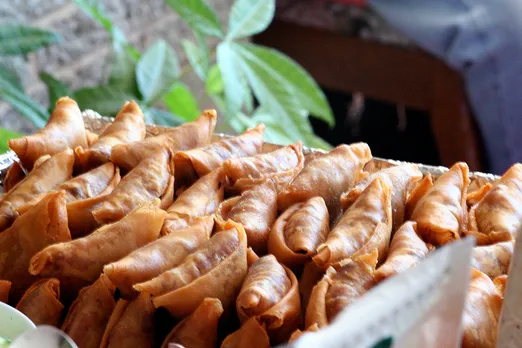 Not just a popular dish in India, Samosa can also be found in various countries across the world. You can find a filling of fish, tuna, or onion in the Maldive version, whereas the Israel version includes mashed chickpeas, fried onions, and spices. The Portuguese preferred their samosas with meat, and hence their filling ranged from chicken, beef, pork, lamb, or vegetables. Goa also offers a similar type of samosas.
Samosa recipe
Ingredients for dough
| | |
| --- | --- |
| Ingredients | Qty |
| Maida / plain flour | 2 cup |
| Salt | 1/2 tsp |
| Oil | 1/2 Cup |
| Water | 1/2 cup |
Method for dough
Mix flour and salt in a bowl and add oil to it.
Mix the flour with oil to get a breadcrumb-like texture.
Now add a small amount of water at a time and mix it with the flour to form a stiff dough.
Cover the dough with a moist cloth and let it rest for 40 minutes.
Ingredients for filling
| | |
| --- | --- |
| Ingredients | Qty |
| Potatoes boiled | 3-4 nos |
| Oil | 2 tbps |
| Cumin seeds | 1 tsp |
| Crushed coriander seeds | 2 tsp |
| Finely chopped ginger | 1 tsp |
| Hing /asafoetida | 1/4 tsp |
| Green chilli chopped | 1 nos |
| Coriander powder | 1 tsp |
| Garam masala | 1/2 tsp |
| Amchur powder | 1/2 tsp |
| Red chilli powder  | 1/4 tsp |
| Salt | to taste |
| Oil | for frying |
Method
Mashup the boiled potatoes and set aside.
Heat 2 tablespoons of oil in a pan.
Now add the cumin seeds and crushed coriander seeds.
After letting it sizzle for a few seconds add chopped ginger, green chilli, and hing. And cook for a minute.
Add the mashed potatoes in the pan and mix everything together.
Finish off the filling by adding coriander powder, garam masala, amchur, red chili powder, and salt.
Assembling and frying
Divide the dough into small balls
Roll one dough ball into a circle-oval kind of shape, around 6-7 inches in diameter, and then cut it in half.
Join the straight edges together and pinch the top to form a cone, you can use water to seal them together.
Fill the samosa with the potato filling, around 1 to 2 tablespoons.
Now seal the bottom and pinch the edges to make sure it's sealed.
Repeat the above steps with the rest of the dough.
Heat oil in a pot on low heat. And add your samosa to the pot, make sure it's not crowded.
Fry on low heat at first.
After 10-12 minutes, the samosa will become firm and light brown in colour. Now, increase the heat to medium and fry until it gets nicely browned.
Remove the samosa from the oil and lower the heat before frying the next batch.
Enjoy your samosa with your favourite chutney.
Featured Image: Source
For more such stories follow Local Samosa on Facebook,  Instagram,  Twitter, and Telegram.