Every state has a popular food which is not only well known but also a favourite dish of the locals. Be it Kolkata's fish curry or Punjab's Chole Bhature. Similarly, Rajasthan also has an iconic dish - Dal Baati Churma. The quintessential dish has been around for ages, and it has only evolved over time. Here is a little story behind the origin of Dal Baati Churma.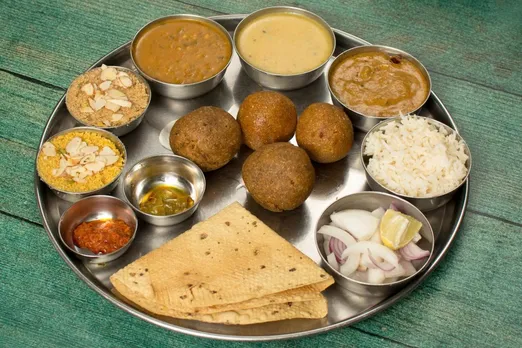 Originally, the three elements of this dish didn't go together. And the first part of this culinary puzzle, the baati dates back to the time of Bappa Rawal, the founder of the Mewar kingdom. It was a preferred wartime meal back then. As per the stories, the Rajput soldiers would put small dough balls under a thin layer of sand and leave them under the sun to bake. After returning from the battlefield, perfectly cooked baati would be ready which was brushed with ghee and commonly eaten with curd.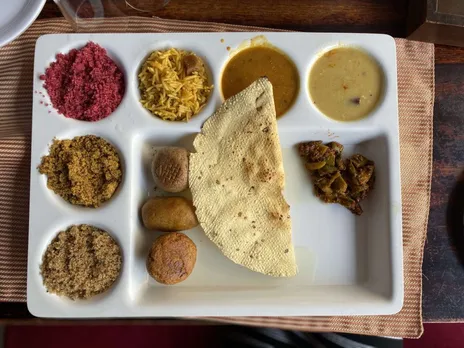 The second element of this dish, the Dal was introduced when the traders from the Gupta Empire settled in Mewar. The Guptas brought the panchmel dal, which is a mixture of five types of dal - moong dal, chana dal, toor dal, masoor dal, and urad dal, and the combination was an instant hit. 
Churma, the third element of the dish is a sweet crumb and was introduced by Mewar's Guhilot clan. As per the story, a cook accidentally poured sugarcane juice on some baatis, which made them even softer. The women adopted this technique and started dunking the baatis in water to keep them soft for their husbands. This later evolved to a cardamon flavour mixture of crushed baatis.
The dish became popular in local dynasties in Rajasthan, improvising with adding a twist to the existing dish. When Rani Jodha Bai married the king Akbar, Dal Baati Churma finally reached the Mughal court.
The chefs in the Mughal reign, recreated their own versions of this Rajsthani dish and adapting to baafla and kheech. Baafla is a softer version of the baati, it is boiled before being baked, and Kheech one the other hand, is made out of bajra or wheat and is similar to daliya.
This story behind the origin of Dal Baati Churma is quite an interesting one, and if you want to try out this recipe, we have got you covered.
Recipe for Dal Baati Churma
For Dal
Ingredients
| | |
| --- | --- |
| Ingredients | Qty |
| Moong dal | 1/2 cup |
| Masoor dal | 1/4 cup |
| Chana dal or Bengal gram dal (soaked 30 minutes) | 1/4 cup |
| Water | 3 cup |
| Ghee or clarified butter | 3 tsp |
| 1 tsp mustard | 1 tsp |
| 1 tsp cumin | 1 tsp |
| Pinch hing | 1 pinch |
| Onion (finely chopped) | 1 nos |
| Ginger garlic paste | 1 tsp |
| Tomato (finely chopped) | 1 nos |
| Turmeric | 1/2 tsp |
| Kashmiri red chilli powder | 1/2 tsp |
| Green chilli (slit) | 1 nos |
| Garam masala | 1/4 tsp |
| Salt | 1 tsp |
| Coriander  (finely chopped) | 2 tsp |
Method
Wash all the dals, and add them to a pressure cooker.
Now add salt, water, turmeric powder and mix well. Cook till 4-5 whistles.
Let the steam to escape before opening the lid.
Heat the oil/ghee in a pan. Add the Kashmiri red chilli, cumin seeds, and hing. Sauté for a few seconds.
Add onion and chillies and saute for 3-4 minutes.
Add the tomatoes and ginger garlic paste, saute for 2-3 minutes.
Now add coriander powder, turmeric powder, chilli, and garam masala along with 3 tbsp of water and mix well.
Cook for 3-4 minutes on a medium flame. Stir occasionally.
Add this tempering to the cooked dal and mix well.
Cook for 2 to 3 minutes on a medium flame.
Remove the dal from heat, add lemon juice and mix well.
Ready to serve.
For Baati
Ingredients
| | |
| --- | --- |
| Ingredients | Qty |
| Whole Wheat Flour | 1 1/4 cup |
| Semolina | 1/2 cup |
| Yoghurt | 1/2 cup |
| Baking Powder | 1/2 tsp |
| Oil/ Ghee | 4 tbsp |
| Salt | to taste |
| Ghee | for dipping |
Recipe
Preheat oven to 175°C/ 350.
Add wheat flour, semolina, ghee, salt and baking powder to a large mixing bowl, mix well and add yoghurt to it.
Knead into a semi-stiff dough.
Use warm water, if needed.
Divide the dough into 10-12 balls
Arrange baatis in a baking tray and bake for 30-40 mins or until the top turn golden brown.
Use a kitchen towel and press to crack them slightly.
Soak cracked baati in ghee for a few seconds, and drain on an absorbent paper.
Baatis are ready.
For Churma
Ingredients
| | |
| --- | --- |
| Ingredients | Qty |
| Ghee or clarified butter | 2 tbsp |
| Powdered Sugar | 3 tbsp |
| Cashew (chopped) | 2 tbsp |
| Almond (chopped) | 2 tbsp |
| Cardamom powder | 1/4 tsp |
Method
Take 3 prepared baati and break into the mixer jar and grind it till a coarse powder is formed
Heat a pan. Add ghee and roast powdered baati.
Roast on low flame till it turns golden and aromatic
Once the mixture is cool add powdered sugar, chopped almonds-cashew and cardamom powder and mix well
Churma is ready.
Order Dal Baati Churma in Jaipur
Thali and More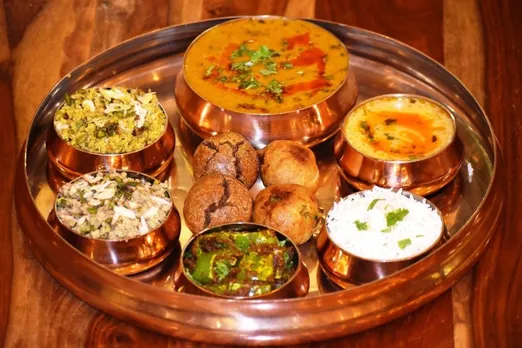 One of the best places for authentic North Indian food, you cannot miss the Dal Bati Churma Thali here. The thali includes Dal, Kadhi, 2 Masala Bati, 2 Sada Bati, Mirchi Tapore, Leshun Chutney, Sada Churma, Besan Churma, and Papad. A perfect meal for a foodie.
Price: Rs 370
Where: C-46 B, Sarojini Marg, Above Punjab National Bank, C Scheme
Order here
Dal Bati Churma Restaurant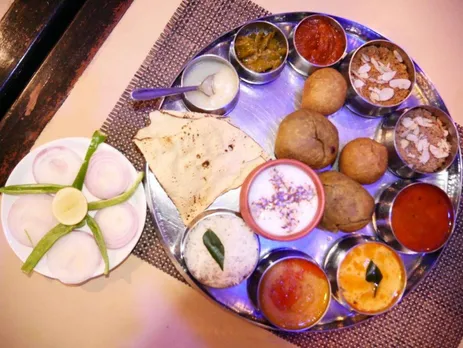 If you want to try different varieties of Dal Bati Churma, then this is the place. They have four types of Dal Bati thali including Shahi Thali, Special Dal Bati, Mini Dal Bati and Special Raj Thali.
Price: Rs 150 onwards
Where: AC 4, Gayatri Sadan, Sawai Jai Singh Highway, Bani Park
Order here
The Eclectica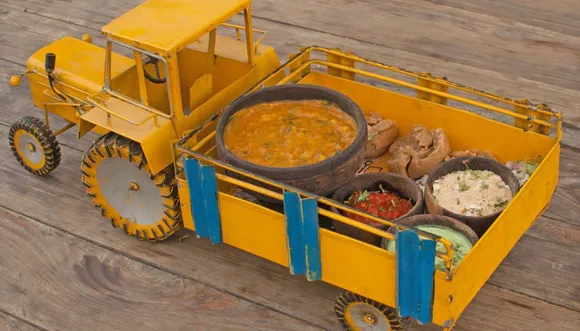 One of the hip dining spots with a diverse menu, they also serve the quintessential dish. They serve it with two baatis, dal, baafla, and atta choorma, complemented with mint sauce, lehsun chutney, and salad.
Price: Rs 160
Where: New Sanganer Road, Opposite Metro Pillar-100, Sodala
Order here
For more such stories follow Local Samosa on Facebook,  Instagram,  Twitter, and Telegram.