A popular dish in Bengal, Chicken Kabiraji, is not your regular cutlet. With mince, chicken coated in beaten eggs and fried till crispy, this dish is as unique as it sounds.
What's in the name?
This dish dates back to the British era when the British officers in Bengal would ask their desi cooks to make cutlets they were used to eating back home. This cutlet is covered with egg chiffonade, aka coverage cutlet. The name is said to be derived from the word 'coverage' that got mispronounced in the local language to 'kabiraji'. In the local dialect, Bengali, kabiraj means doctor. Well, we don't know about the Britishers, but we sure would love a bite from this.
Chicken Kabiraji Recipe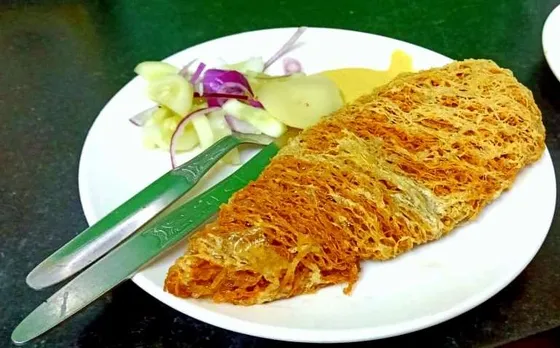 Ingredient
| | |
| --- | --- |
| Ingredients | Qty |
| Mince Chicken | 200g |
| Chopped Green chillies | 1 no |
| Chopped onion | 1 no |
| Ginger Garlic paste | 1 tsp |
| Chopped coriander | 1 tbsp |
| Tumeric powder | 1 tsp |
| Red chilli powder | 1 tsp |
| Ground pepper | 1 tsp |
| Egg | 3 nos |
| Corn flour | 2tsp |
| Bread crumbs | 2 cup |
| Salt | To taste |
| Oil | for frying |
Recipe
Make a mixture of minced chicken with chopped onion, ginger garlic paste, salt, red chilli powder and turmeric powder.
Mould the mixture into cutlet shapes and coat them in bread crumbs.
Make a mixture of egg, salt, red chilli powder & turmeric powder and dip the cutlets in it and again roll it in bread crumbs.
Warm-up some oil in a deep dish, make sure it's a wide enough for the next step
Drop the prepared cutlets in hot oil and fry till golden brown
Remove the cutlets on a paper towel
Now add some cornflour in the remaining egg mixture.
Lower the flame. Pick up a small amount of the egg mixture and splatter them on the oil.
Once a layer is formed, dip the ready cutlet in the egg batter again and place it on top of the net.
Fold the rest of the net coverage over the cutlet and remove it from the oil and on to a paper towel.
Serve with your favourite dip or go the traditional route with mustard sauce (kasundi)
Where to find Chicken Kabiraji in Kolkata
1. Apanjan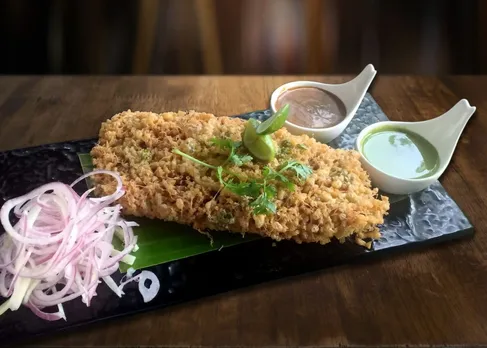 This small shack in Kalighat is known for its amazing street food. So it is no surprise that they make amazing Kabiraji. They have both a Fish and Chicken variant.
Where: 50 B, Sadananda Road, Kalighat
Price: ₹ 70 onwards
Order here
2. Mitra Cafe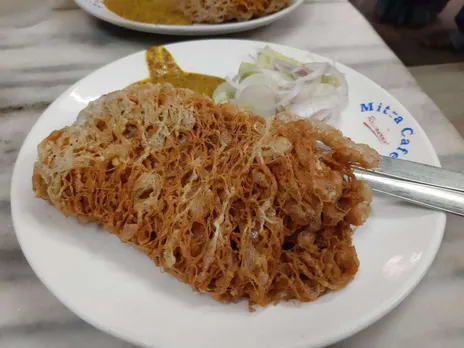 Another popular snack joint, this one is at Shobha Bazar. They have options of chicken, fish as well as Mutton Kabiraji. We are definitely trying one of each.
Where: 47, Jatindra Avenue, Shobha Bazar
Price: Rs 190 onwards
Order here
3. Hotel Taaj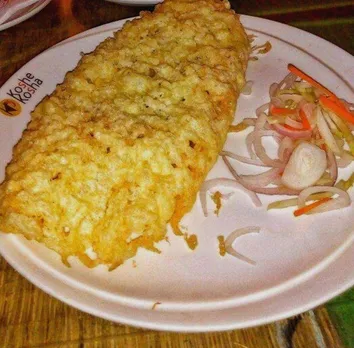 Next time you go to Nagerbazar, be sure to stop by Hotel Taaj to enjoy a nice meal. You will also get to try fish and chicken Kabiraji, as well as other amazing items on their menu.
Where: 99/8, Jessore Road, North Twenty Four Parganas, Nagerbazar
Price: Rs 220 onwards
Order here
4. Kasturi Restaurant
Known for serving authentic Bengali cuisine, you can find mouthwatering fish dishes here. Including fish Kabiraji, which is a people pleaser.
Where: 55/26, S N Banerjee Road, Maya Complex, Barrackpore
Price: Rs 170
Order here
For more such stories follow Local Samosa on Facebook,  Instagram,  Twitter, and Telegram.